Edited by: TJVNews.com
It appears that the buzz about luxury property for sale in Miami Beach is at a fever pitch. Several weeks ago, the Jewish Voice reported that the new $24 million home that Jared Kushner and Ivanka Trump along with their kids are moving into on Indian Creek Island in the Miami area is often referred to as "Billionaire Bunker" as the exclusive island is the home of wildly wealthy celebrities, sports figures, internationally recognized entrepreneurs, and politicians.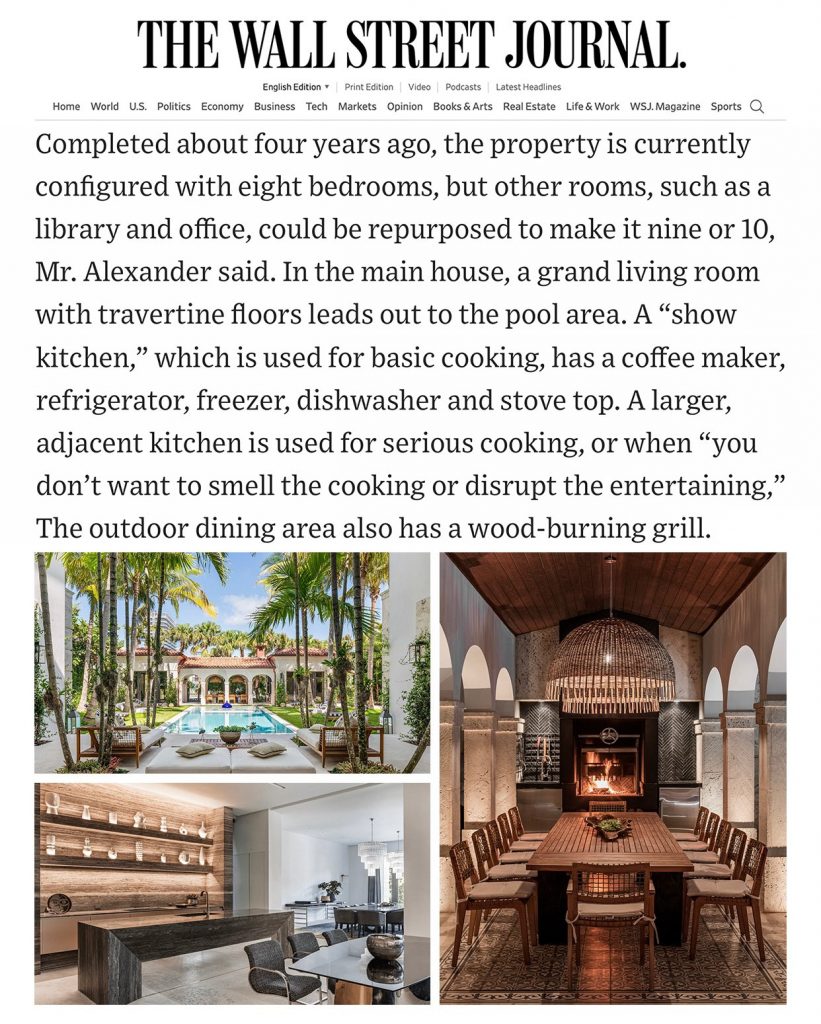 According to a Wall Street Journal exclusive report that appeared on December 23rd, a recently built estate in Miami Beach that was designed as a contemporary take on a classic Mediterranean-style home is now being put on the market for $31.5 million.
The WSJ report indicated that the approximately 11,500 square foot estate is located on Miami Beach's Intracoastal Waterway. It includes a six-bedroom main house, a coach house with a two-car garage and staff quarters, and a building with a guest suite, gym and covered outdoor dining area, the WSJ reported.
Those putting the property on the market are leading real estate agents, Tal and Oren Alexander along with a third brother, Alon Alexander who is in the security business, as was reported by the WSJ.
Having purchased the land in 2014 as an investment, the Alexander brothers plunked down $3.42 million for it. The WSJ reported that they demolished an older home that was sitting on the site and worked in conjunction with their father, Shlomy Alexander (who is a developer in the Miami area) on the construction of a new home. The home is the current residence of Oren Alexander.
The New York Times reported in November 2022 that "Tal and Oren Alexander, originally from Miami, have been involved in some of the country's most expensive residential deals. In 2019, they sold a 24,000-square-foot penthouse at 220 Central Park South for $238 million to the billionaire Ken Griffin.  The brothers, who a decade ago founded the Alexander Team at Douglas Elliman Real Estate, used their successful track record and brand to start their own ultra luxury real estate company, Official Partners."
The NYT report also indicated that Tal, 36, "lives in Manhattan with his girlfriend, Arielle Kogut, a partner at a venture capital firm. Oren, 35, is in Miami much of the year, where he lives with his fiancée, the model Kamila Hansen, and runs the Florida side of the business, much of which revolves around clients from New York."  When Oren is in New York City he stays at Tal's place in Midtown, a somewhat notorious supertall tower at 432 Park Avenue, in a 4,000-square-foot apartment. "There's ample room," Oren said, the NYT reported. Tal is currently showing the building's penthouse, for an undisclosed price, to qualified buyers. The current owner paid $90 million for the 8,000-square-foot residence, he said.
In a statement posted on their web site, Tal and Oren Alexander said of their background and experience in the world of real estate, "we were raised in the real estate and development world so when it comes to understanding how to add value to a property, our insight comes from our own experience and our father's before us. Marketing homes was always part of the discussion growing up. In return, we have an excellent understanding of high-end finishes, top-tier construction and quality architecture. Today we still work alongside our father developing exquisite luxury homes."
The Alexander Team web site also states that the company has a "record-breaking $7 billion in historic sales."
The Hollywood Reporter named Oren and his brother, Tal, among "New York's Top 20 Real Estate Agents," crowned them the "Power Brokers of Billionaire's Row," and ranked them near the top of its "NYC's Top 20 Agents Repping the A-List" feature, according to a statement on the Alexander Team web site. Additionally, the duo clutched the No. 3 spot on The Real Deal's "Top Residential Brokers on the Upper East Side."
Among the record breaking deals that the Alexander Team have conducted include a $240M penthouse, which was the largest residential sale in the U.S., a $122M London townhouse, a $100M New York townhouse, a $72M home in Aspen, Colorado, a $65M home in Coconut Grove in the Miami area, a $60M penthouse at Faena House, a $50M Indian Creek Estate in Miami and a $49M record-breaking SoHo penthouse sale, as was listed on their web site.
In terms of the luxury home that the Alexanders have put on the market in Miami Beach, the WSJ reported that the estate was designed by architect Addison Mizner, who is known for his classic Spanish-style homes and this one was inspired by that motif. The WSJ has reported that the façade of the home is made with Florida keystone.
Oren Alexander told the WSJ that Mizner's Mediterranean aesthetic came to define Palm Beach in the 1920s,  The goal was to take that style and adapt it for modern-day living, he said, with an open floor plan, 12-foot ceilings and large windows, as was reported by the WSJ in their exclusive report.
Alexander also told the WSJ that besides being the listing agent for the home, he is quite happy when people inquire as to when he renovated the Miami Beach home. "It feels like it belongs there," Oren Alexander said.
The home that was constructed approximately four years ago is currently configured with eight bedrooms, according to the WSJ report. The report also indicated that Alexander said that other such rooms in the house such as the library and office can be turned into bedrooms nine and ten if one were so inclined.
Alexander also told the WSJ that the main house which has a grand living room with travertine floors leads out to the pool area. A "show kitchen," which is used for basic cooking, has a coffee maker, refrigerator, freezer, dishwasher and stove top. A larger, adjacent kitchen is used for serious cooking, or when "you don't want to smell the cooking or disrupt the entertaining," he told the WSJ. The outdoor dining area also has a wood-burning grill, the paper reported.
Oren Alexander told the WSJ that one of his favorite spaces in the home is the main bathroom. He said it is outfitted with a heated spa bench, speaker system, a rain shower and double shower heads. One can only imagine what absolutely divine experience taking a shower in there must be.
He also told the WSJ that he was attracted to the site of the home because of its location on the waterfront and because it was fairly close to a pedestrian bridge a few blocks away that takes one directly to the magnificent Atlantic ocean.
For those who might be interested, the Miami Beach home has a porte-cochere has parking for about 15 cars and the house is being sold fully furnished, according to the WSJ exclusive report.
Alexander also told the WSJ that "he and his brothers are selling the house because he has another project nearby that is almost completed, and he plans to move in there instead."
An ultra-luxury broker for 15 years, Oren Alexander treasures his relationships with the distinguished clients, developers, architects, and agents who trust his guidance, according to a statement on their web site.  He aims to create architecturally significant properties, whether in 3D or Web3, and finds infinite inspiration in his ever-increasing art collection, which consists of works by master artists and emerging talents found around the world. His philanthropic efforts are just as considered as he deeply values the organizations he supports.
The other co-founder of the Alexander Team is Oren's brother Tal. According to their web site, "Tal is known for his astronomical sales record, which includes the most expensive residential sale in the nation and he continues to broker unprecedented deals in the most sought-after ultra-luxury markets."
The web site also states that Tal is considered a formidable industry expert and has an expansive, A-list clientele. Tal's client relationships often last a lifetime, owing to the personalized, attentive service he provides. Tal is inspired and grounded by his father Shlomy, a high-end custom home developer who is supremely dedicated to his craft. An avid sportsman, Tal enjoys snowboarding all over the world and is an accomplished tennis enthusiast, having played four years of Division I Tennis at Hofstra University.
Also on the Alexander Team is Sara Sandler Goldfarb, a marketing expert with a sales mindset who specializes in the Hamptons market. In just two years Sara has facilitated over $200M in transactions, including a $30M sellout of Gurney's Residences in Montauk.
Another key person is Andrew Krasnow who is Chief of Staff and sales agent for the Alexander Team at Douglas Elliman, according to the Alexander Team web site. With almost ten years of experience in the real estate sector and a wealth of knowledge of the New York real estate market, Andrew's background exemplifies the expertise and white-glove service that the Alexander Team is known for providing their clients.