Edited by: Fern Sidman
A surge of anti-Jewish vitriol, spread by a world-famous rapper, an NBA star and other prominent people, is stoking fears that public figures are normalizing hate and ramping up the risk of violence in a country already experiencing a significant escalation in anti-Semitism, the AP recently reported.
Leaders of the Jewish community in the U.S. and extremism experts have been alarmed to see celebrities with massive followings spew forth inflammatory anti-Semitic tropes in a way that has been taboo for decades, the AP reported. Some said it harkens back to a darker time in America when powerful people routinely spread conspiracy theories about Jews with impunity.
Generations ago, famous Americans including Henry Ford and Charles Lindbergh unapologetically expressed anti-Semitic sentiments in a way that would have shocked Americans in more recent decades, the AP reported. Now, the internet and social media make it easy for world-famous celebrities to normalize anti-Jewish hate.
Recently, some high profile celebrities and others have inflamed Jew hatred through their anti-Semitic remarks and actions, while others have unwittingly emboldened them.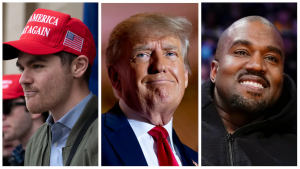 In the aftermath of the now disgraced rapper Kanye West going on an anti-Semitic tirade on the Fox News Tucker Carlson program, on Twitter and in subsequent interviews, he then lauded Adolf Hitler and the Nazis and said that "Jewish people have their hand on every single business that controls the world."  At the end of October he vowed to "go death con 3 ON JEWISH PEOPLE" but qualified his statement, saying he only meant Jews who had wronged him.
On Tuesday, JNS reported that more than 65,000 people have signed a petition to get Kanye "Ye" West's music catalog removed from streaming services.
At the time of writing, the Change.org petition launched by Nathan Goergen had 65,480 signatures, JNS.org reported. The petition was set up on Friday following anti-Semitic comments expressed by the rapper on several occasions.
"Our society has no place for people who spread that kind of hate to be making millions off of their work," Goergen states in the petition while addressing Amazon CEO Andy Jassy, as was reported by JNS.org. "I call on Apple Music, Spotify, Amazon Music and other streaming platforms to immediately remove all of Kanye West's solo albums and singles from their platforms."
Goergen went on to say that he hopes this action will limit the rapper's influence on society by eliminating his ability to make money from platforms streaming his music, JNS reported.  Ye's Holocaust denial and pro-Hitler statements are condemned as "virtually irredeemable."
Also adding to the toxic anti-Semitic mix was Brooklyn Nets player Kyrie Irving who, last month, helped promote an anti-Semitic film that features the Jew hating calumnies promulgated by the Black Hebrew Israelite movement that originated in Chicago.
Former President Donald Trump was widely criticized for hosting West and white nationalist Nick Fuentes at his Mar-a-Lago, Florida, home. Trump has claimed that he had no idea who Fuentes was but did not offer an apology for hosting West and Fuentes, who has lambasted Jews and denied the veracity of the Holocaust on his own podcast.
Fuentes was a Boston University student when he attended a white nationalist rally in Charlottesville, Virginia, that erupted in violence in 2017, according to the AP report. He became an internet personality who used his platform to spread white supremacist and anti-Semitic views. Fuentes leads a far-right extremist movement called "America First," with supporters known as "Groypers."
"These are not fringe outliers sending emails from their parents garage or idiots no one has ever heard of. When influential mainstream cultural, political and even sports icons normalize hate speech, everyone needs to be very concerned," said Miami Beach Mayor Dan Gelber, a leader in South Florida's Jewish community, according to the AP report.
The AP also reported that Northwestern University history professor Peter Hayes, who specializes in Nazi Germany and the Holocaust, said normalizing anti-Semitism is a "real possibility" when there is a "public discussion of things that used to be beneath contempt."
"I'm very concerned about it," Hayes said, the AP reported. "It's one of the many ways in which America has to get a grip and stop toying with concepts and ideas that are potentially murderous."
Jonathan Greenblatt, national director and CEO of the Anti-Defamation League, said it is astonishing and alarming that two of the nation's leading purveyors of anti-Semitism were "breaking bread with the erstwhile head of the GOP," according to the AP report.
"I would characterize this as the normalization of anti-Semitism. It has now become part of the political process in a way we hadn't seen before," Greenblatt said, as was reported by the AP. "And that is not unique to Republicans. It is not just a Republican problem. It is a societal problem."
On Thursday, Fuentes joined Ye in appearing on the Infowars show hosted by conspiracy theorist Alex Jones, the AP reported.  Ye praised Hitler during the interview, ratcheting up the rhetoric that already cost him a lucrative business deal with Adidas.
Om Tuesday, Rolling Stone reported that West, who was flanked by white supremacist Nick Fuentes participated in yet another interview. This time he sat down with Proud Boys founder Gavin McInnes on his alt-right video platform known as Censored.TV.  West demanded that the Jewish people "forgive Hitler."
McInnes' interview with the rapper coincides with a storm of media attention stemming from a Yeezy fashion show in October in which West displayed "White Lives Matter" shirts, according to the Rolling Stone report.  While McInnes' Censored.TV Twitter account has just under 16,000 followers, West had millions in comparison – before getting banned – and currently holds over 18 million followers on Instagram.
The AP reported that Amy Spitalnick, executive director of Integrity First for America, a group that backed a lawsuit against organizers of the 2017 Charlottesville rally in which white supremacists marched, said, "What's even more dangerous than Nazis with torches chanting, 'Jews will not replace us,' is when we have political leaders and others espousing those same conspiracy theories in increasingly normalized ways."
Spitalnick said the virulent hatred that Ye has been promulgating can make diluted expressions of anti-Semitism seem more normal in contrast, the AP reported.
"It's crucial that we hold Kanye and Irving and these other public figures accountable for their anti-Semitism. But it means nothing if we're not also recognizing and holding accountable the ways in which this anti-Semitism and extremism has seeped into the mainstream of one of our major political parties and become commonplace in our political discourse," she said, according to the AP report.
For somebody of Ye's status to praise Nazis and Hitler is "escalating from ugliness to a kind of incitement," Greenblatt said, according to the AP report.  He noted that Jewish institutions already have to beef up security to protect against attacks such as the one in which a gunman killed 11 people at the Tree of Life synagogue in Pittsburgh in 2018.
"Our community still has to brace for the consequences of those ideas going mainstream," Greenblatt said.
Twitter suspended Ye's account this week after he tweeted a picture of a swastika merged with the Star of David. The AP reported that Musk tweeted that Ye had violated a rule against inciting violence.
The AP also reported that Musk announced last week that his "amnesty" plan applied to accounts that haven't "broken the law or engaged in egregious spam." Online safety experts predict that the move will lead to a rise in harassment and hate speech.
Groups that monitor Twitter for racist and anti-Semitic content say toxic speech already has been on the rise in the month since Musk took over the platform and fired thousands of employees. Content moderators were among those who lost their jobs, according to the AP report.
The Algemeiner reported on Monday that anti-Semitic hate crimes in New York City during the month of November increased by 125 percent when compared to last year. The statistics were provided by the   New York City Police Department.
The NYPD recorded 45 anti-Semitic hate crimes in November 2022. In November 2021, it recorded 20. According to the data, Jewish New Yorkers were the most targeted group, accounting for 60 percent of all hate crimes that occurred, the Algemeiner reported.
There were several incidents of note in November, including a series of anti-Semitic and racist notes sent to several restaurants in the City Island neighborhood of the Bronx, the shooting of Hasidic Jews with a gel gun, and the uncovering of a plot to attack synagogues in Manhattan, according to the report on the Algemeiner.com web site.
In April, the Anti-Defamation League announced that its annual tally of anti-Semitic incidents reached a record high last year. The AP reported that the organization counted 2,717 incidents of assault, harassment and vandalism in 2021, a 34% increase over the previous year and the highest number since the ADL began tracking the events in 1979.
More anti-Semitic incidents were recorded in New York than in any other state, the Anti-Defamation League (ADL) reported in April. The Algemeiner reported that the organization noted that it tallied 416, which "accounted for an astounding 15 percent of the total reported anti-Semitic incidents across the country."
A young Jewish man was hit in the neck by a BB gun on Monday night in the Flatbush neighborhood of Brooklyn, Yeshiva World News reported.
It was the second such attack within two days on visibly Orthodox Jews in Jewish neighborhoods of the city of New York.
On Sunday afternoon, a Jewish man and his seven-year-old son, both wearing yarmulkas, were hit by a BB gun in a drive-by shooting outside a kosher grocery store in Staten Island, World Israel News reported. The father was hit in the chest, while the bullet scraped the boy's ear. Neither was seriously injured, although the child was reportedly traumatized.
According to CBS New York, the NYPD has said its investigators are still determining whether the assailants targeted the man and his son, who were wearing yarmulkes during the attack, because they are Jewish.
Meanwhile, YWN reported, the New York Police Department and volunteer Jewish civilian patrols, known as Shomrim (Hebrew for 'protectors') are increasing vigilance in Jewish neighborhoods.
The Algemeiner also reported that recently, a mobile Jewish education and social services center was vandalized in New York City during the early morning hours of October 30, with someone graffitiing "Palestine" on a "Mitzvah Tank" operated by the Chabad Jewish movement. Days later, a Jewish day school in the Upper East Side section New York City was vandalized.
On October 24, three yeshiva students were walking home in the Midwood section of Brooklyn when a gang of eleven students approached them, punched one of their group in the face and hurled eggs at the others, according to eyewitness accounts and reported on by the Algemeiner. The gang ordered them to say "Free Palestine" during the attack.
Recently, New York City Mayor Eric Adams attended the second annual "Mayors Summit Against Anti-Semitism," hosted by the Combat Anti-Semitism Movement in Athens, Greece.
The Combat Anti-Semitism Movement (CAM) is a global coalition engaging more than 600 partner organizations and nearly two million people from a diverse array of religious, political, and cultural backgrounds in the common mission of fighting the world's oldest hatred.
From November 30 to December 1, municipal leaders from over 50 different cities worldwide convened to discuss each leader's experiences dealing with anti-Semitism and other forms of bigotry to collaborate on new approaches to addressing these escalating issues.
Mayor Adams joined nearly a dozen other U.S. mayors at the summit. Cities such as Paris, Los Angeles, Richmond, Vienna, Albuquerque, Fort Lauderdale, and many more were represented.
The AP reported on Monday that Doug Emhoff, the husband of Vice President Kamala Harris, will host Jewish leaders on Wednesday to discuss a rise in anti-Semitism and efforts to fight hate in the United States.
Emhoff is the first Jewish person among the top four officials — the president, vice president and their spouses — in the executive branch of government, and he has become increasingly outspoken about growing bias toward adherents of the Jewish faith, and hate at large, in the U.S, the AP reported.
"It's painful, it hurts," Emhoff said Friday after he was asked about rising anti-Semitism during an appearance at the NewDEAL Leaders conference of state and local officials in Washington.
The AP reported that Emhoff, in his response at the conference, said he did not want this type of sentiment to "feel normal."
"I don't want people to think, 'Well, it's just words,'" he said, according to the AP report. "We have to all step up and speak out about this as leaders in your communities. So as long as I have this microphone, I'm going to keep speaking up, speaking out, and again, not just about anti-Semitism but about hatred and bringing everyone else together."
"This is not OK. It's not OK," Emhoff continued. "We cannot be silent. We gotta push back. We gotta speak up. And we cannot make this normal. We cannot."
"The roundtable will include leaders of Jewish organizations fighting anti-Semitism that represents the wide range of Jewish community from students to seniors, and including Reform, Conservative, and Orthodox denominations," said White House Press Secretary Karine Jean-Pierre.
The discussion will host leaders from 13 Jewish organizations including the Anti-Defamation League (ADL), American Jewish Committee (AJC), and Jewish on Campus, as was reported by the Algemeiner.
President Biden is not expected to attend the meeting, the Algemeiner reported. Biden recently spoke out against anti-Semitism in response to Kanye West's anti-Semitic media rants following his dinner at Mar-a-Lago with former President Donald Trump. "The Holocaust happened. Hitler was a demonic figure. And instead of giving it a platform, our political leaders should be calling out and rejecting anti-Semitism wherever it hides," Biden wrote, as was rep
orted by the Algemeiner.