Edited by: Fern Sidman
Eight months after her documentary "Jihad Rehab" was greeted with accusations of Islamophobia after its Sundance premiere from several Muslim and Arab filmmakers, Meg Smaker has told The New York Times on Wednesday that very few festivals have chosen to screen her film while she has struggled financially to promote it, according to a report on Yahoo News.
After 16 months filming inside a Saudi rehabilitation center for accused terrorists, Smaker  learned that her documentary "Jihad Rehab" was invited to the 2022 Sundance Festival, one of the most prestigious showcases in the world, the New York Times reported. Subsequently, the controversy surrounding the film rapidly escalated and a campaign to silence her voice began.
The criticism prompted Sundance Film Festival, one of the most prestigious forums in cinema, to issue a public apology for screening the movie, as was reported in the New York Post.
"We have been listening to, and reflecting on, the many perspectives shared around the inclusion of Meg Smaker's documentary film 'Jihad Rehab' at our Festival in January," the festival said in a statement.
"As with every film we show, we hope to stimulate conversation and debate that adds value to our civic society. In this case it is clear that the showing of this film hurt members of our community — in particular, individuals from Muslim and MENASA communities — and for that we are deeply sorry," the Sundance Festival added.
The NYT reported that Arab and Muslim filmmakers and their white supporters accused  Smaker of Islamophobia and American propaganda. Some suggested her race was disqualifying, a white woman who presumed to tell the story of Arab men. The report also stated that prominent festivals rescinded invitations, and critics in the documentary world took to social media and pressured investors, advisers and even her friends to withdraw names from the credits. She is close to broke.
"I don't have the money or influence to fight this out," Smaker said, according to the Yahoo News report. "I'm not sure I see a way out."
She added that, "In my naïveté, I kept thinking people would get the anger out of their system and realize this film was not what they said. I'm trying to tell an authentic story that a lot of Americans might not have heard."
Smaker, a 42-year-old former firefighter from California, traveled to Afghanistan and then to Yemen after the September 11, 2001, terrorist attacks in New York City and Washington, DC, as was reported by the New York Post.
The Post reported that after learning to speak fluent Arabic, Smaker began making a film about a Saudi facility where captured jihadists undergo rehabilitation in order to wean themselves off extremist ideology.
"Jihad Rehab" goes inside the Mohammed bin Nayef Counseling and Care Center in Riyadh, Saudi Arabia, where former members of Islamic extremist groups are rehabilitated, as was reported by Yahoo News. The film follows four former detainees at the U.S. detention center in Guantanamo Bay, Cuba, through the program and explores how young men in the Middle East are radicalized and how that process can be undone, the report continues.
The New York Times reported that many Arab and Muslim filmmakers, who, like others in the industry struggle for money and recognition, denounced "Jihad Rehab" as offering an all too familiar take. They say Smaker is the latest white documentarian to tell the story of Muslims through a lens of the war on terror, the Times reported. These documentary makers, they say, take their white, Western gaze and claim to film victims with empathy.
Of the film, Assia Boudanoui wrote in an article for Documentary magazine, "To see my language and the homelands of folks in my community used as backdrops for white savior tendencies is nauseating. The talk is all empathy, but the energy is Indiana Jones," as was reported by the Times.
She called on festivals to allow Muslims to create "films that concern themselves not with war, but with life."
The executive producer of "Jihad Rehab" was Abigail Disney, a grandniece of Walt Disney, and granddaughter of his brother and Disney co-founder Roy Disney.  The Times reported that in an e-mail to Smaker, she called the film "freaking brilliant" but now she has disavowed it.  The Times reported that Disney, in an open letter, said the film "landed like a truckload of hate."
Speaking to the NYT, Jihad Turk, the founding President and Dean of Bayan Islamic Graduate School in Claremont, California said: "My first instinct was 'Oh, not another film on jihad and Islam. Then I watched and it was introspective and intelligent. My hope is that there is a courageous outlet that is not intimidated by activists and their too narrow views."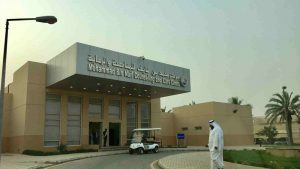 The Times also reported that Chris Metzler, who helps select films for San Francisco Documentary Festival said of the film, "What I admired about 'Jihad Rehab' is that it allowed a viewer to make their own decisions. I was not watching a piece of propaganda."
The Guardian of the UK wrote of the film: "The absence of absolutes is what's most enriching. This is a movie for intelligent people looking to have their preconceived notions challenged," as was reported by the NYT.
Variety wrote: The film "feels like a miracle and an interrogative act of defiance."