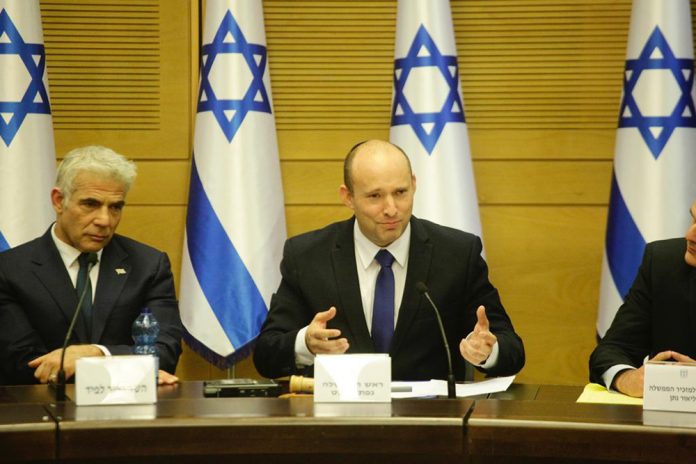 By: Andrew Isaacson
Naftali Bennett, of the right-wing Yemina party, was sworn in as Israel's new prime minister on Sunday after the Knesset approved the new government coalition by a 60-59 vote.
Bennett will replace Benjamin Netanyahu, the longest tenured prime minister in Israel's history, who has been in power for the last 12 years.
The new government will consist of members from eight parties ranging from the far left to the far right of the political spectrum and from secular to religious.
Yair Lapid, of the Yesh Atid party, was sworn in as alternate prime minister and foreign minister.
Many world leaders sent their congratulations to Bennett and the new Israeli government including US President Joe Biden and US Vice President Kamala Harris.
Biden spoke to Bennett on the phone last night after the government was approved and said Israel has no better friend than the US, indicating the continuation of the history of shared values and close cooperation between the two countries.
"My administration is fully committed to working with the new Israeli government to advance security, stability and peace for Israelis, Palestinians and people throughout the broader region," Biden said in a statement.
Bennett said to Biden that he is looking forward to working with him to strengthen ties between both countries.
"I congratulate the leaders of Israel's political parties who have come together to form a government of national unity that includes all sides of the Israeli political spectrum, from right to left, religious to secular," said Ronald Lauder, World Jewish Congress President. "I am delighted that these efforts have now come to fruition and that this new government has been established."
Angela Merkel, German Chancellor said in a statement shared by her spokeswoman Ulrike Demmer on Twitter that Germany and Israel have a unique friendship that they want to continue to strengthen and she is looking forward to working closely with the new prime minister.
"As we emerge from COVID-19, this is an exciting time for the UK and Israel to continue working together to advance peace and prosperity for all," said Boris Johnson, British Prime Minister, in a tweet.
Sebastian Kurz, Austrian Chancellor, said in response to the new government that Austria is committed to Israel as a Jewish and democratic state and will continue to stand by Israel's side.
Narenda Modi, Indian Prime Minister, said in a tweet that he hopes to meet with Bennett soon to celebrate the 30-year mark of the diplomatic relations between both countries.
Fawzi Barhoum, a Hamas spokesman, said Israel "remains a colonial entity" regardless of how diverse the government is and this new government won't change the way they view the Zionist entity.
Mahmoud Abbas, Palestinian President, said the government change is "an internal Israeli affair" and Palestine won't change any of their demands.
"Our position has always been clear, what we want is a Palestinian state on the 1967 borders with Jerusalem as its capital," said Abbas's spokesman in a statement.