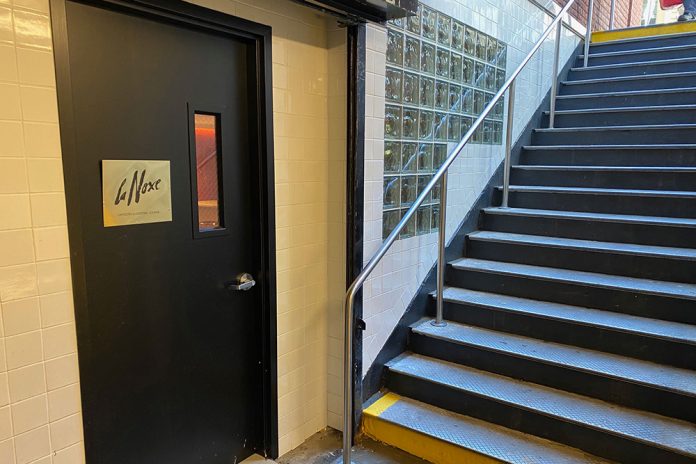 By: Rusty Brooks
While much of New York City's famed nightclubs, bars and music venues have vanished over the last two decades and much of the "scene" has moved to Williamsburg in Brooklyn, with the pandemic finishing off many more famed establishments. One trend in Manhattan that seems to keep going strong is the mock speakeasy bar. The latest success story riding the growing trend is a "speakeasy", located at the entrance to the number 1 train on the IRT line.
At the southeast corner of 28th Street and Seventh Avenue, there is a door on the platform between the staircases to the 1 train that leads to a hidden bar serving up a chic vibe along with $17 cocktails. And with a list of more than 900 reservation requests, it's also turned into one of the most coveted tickets in town.
Known as La Noxe, the popular spot is a concept created by Jey Perie, who was the founder of the former Williamsburg dance club Kinfolk.
"[In] early 2019, I was looking for any interesting locations that would allow me to develop my own take on a nightlife establishment," he tells Travel + Leisure of the space that he first saw in The New York Times commercial real estate section. "I lived in Tokyo for six years and was impacted by the restaurants, bars, and clubs I frequented while I was there." As soon as he came across the space underground at 28th Street, he instantly knew that was the spot.
In the early 1820s, the British used the phrase "speak softly shop" to describe the home of a smuggler. This phrase eventually changed to, "speakeasy shop." People used this terminology to describe places where alcohol was sold to the public illegally. Since these places did not want to attract attention – especially that of local law enforcement officers – the idea was that customers needed to keep the noise down, or "speakeasy".
Obviously, today there's no need for an illegal drinking establishment, however the allure has remained.
Budget and The Bees blog explained the modern concept of a "speak easy".
Today, modern speakeasies are popping up across the country in major cities. Spots such as The Barbershop strive to create the same atmosphere. They tuck themselves away behind secretive and elusive entrances, like an unassuming janitor door. When you step inside, you are transported into a 1920s-inspired establishment like no other.
Meanwhile, La Noxe is blowing up.
Perie told travel and Leisure, "Our goal is to build a strong community of people who love great food, cocktails, wine, and music." He adds that the goal is to eventually open until 4 a.m. to truly embrace the nightlife scene. "We are definitely not trying to be a tourist attraction," he says. "We believe the right people will always find their way to La Noxe."