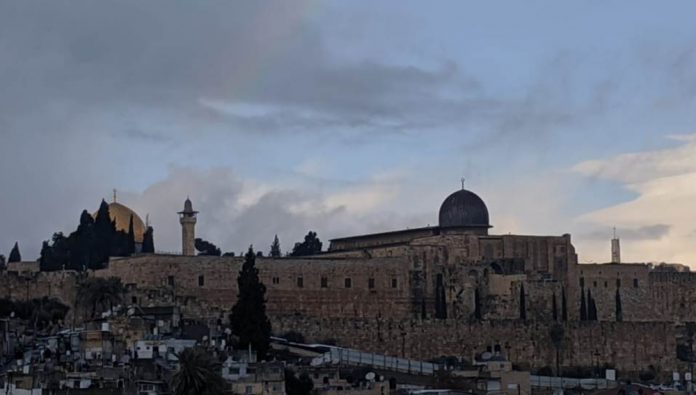 By: Baruch Yedid
Sheikh Akrameh Tsabari, head of the Supreme Muslim Council and one of the most important Muslim clerics in Jerusalem, declared that the prayer compound recently established at the Sha'ar HaRachamim (Golden Gate) area will remain open, despite the Israeli court's decision to close it immediately.
The Golden Gate area, known by the Muslims as the Bab al-Rahma, remains open despite Israeli attempts to close it.
"We do not recognize the Israeli court's decision to close the Bab al-Rahma prayer compound," Tsabari stated.
The head of the Muslim Council also said that "Muslims do not recognize the authority of an Israeli court to rule on mosques in the city, although it is clear that Israel seeks to expand its hold on the mountain [Temple Mount] at the expense of the Muslim Waqf and establish a synagogue at the Gate of Mercy."
The area was first closed by the courts in 2003 following the activities of a Hamas charity in the compound.
The prayer compound was opened by the Waqf in February 2019, despite attempts by the Jerusalem police to close it.
Tsabari also said that Israel has recently banned 250 people from the mosque area, including Waqf guards and Muslim clerics, and he now threatens that "the pressure will lead to an explosion" and has called on all Muslims to arrive at the Temple Mount compound, stay there and face any Israeli force.
He further called on Muslims around the world to regain and strengthen their hold on mosques and resume construction in them.
The opening of the compound in 2019 led to tensions in Jerusalem and Tsabari now says that the opening of the mosque in 2019 proved once again that sovereignty at this is Muslim.
On July 2, the Waqf management received a letter from the Jerusalem police which was attached to the court's decision ordering the closure of the compound.
The Waqf, which is part of the Jordanian government and has recently added Palestinian Authority Arabs to the body, has said on several occasions that Israeli courts have no jurisdiction over the All-Aqsa Mosque.
In other developments, Security prisoners from several wings of the Ofer Prison on Monday evening attempted to riot and threw objects from the cell windows while banging on the doors and shouting.
The Israeli Prison Service (IPS) guards deployed rapidly and brought order to the wings within a short time.
The reason for the prisoners' riot is the transfer of a prisoner from one of the wards to another prison and their demand to scale back the searches that are frequently carried out by the IPS in the wards.
Commander of the Ofer Prison Haim Cohen stressed that "discipline in prison cannot be violated by any factor. Order will be maintained in every situation and a strong hand will be taken against any attempt to harm the security of the prison and the security of the state."
The IPS stated Tuesday that its activity in security prisons continues at all times, including searches, operational and intelligence activities, along with the continued conduct of IPS guards and fighters during the "complex Coronavirus period."
(TPS)