By: Fern Sidman
It is with profound sorrow that we inform our readers of the passing of legendary Jewish philanthropist, Kenneth Bialkin. Bialkin, 89, is best known as the leader of a literal litany of prominent Jewish organizations throughout the course of his impactful life.
Bialkin's passing was announced on Twitter on Friday by Jonathan Greenblatt, the CEO of the Anti-Defamation League. Bialkin served as the national Chairman of the ADL from 1983-1986.
According to a New York Times obituary, Bialkin represented ADL at the World Conference on Soviet Jewry in 1983 as well as leading an ADL delegation which met with Pope John Paul II at the Vatican. Under Mr. Bialkin's leadership, the ADL was instrumental in gaining a posthumous pardon in 1986 from the State of Georgia Board of Paroles and Pardons for Leo M. Frank, a Jewish businessman who had been unfairly lynched in 1915. The ADL has stated that Bialkin will be "remembered for his leadership, deep dedication to fighting anti-Semitism and his commitment to the safety and security of the Jewish people, the state of Israel and to ADL's mission and values. We extend our deepest condolences to his wife Ann and his entire family."
A JTA report indicated that Bialkin was until recently active as a retired partner at the iconic Skadden, Arps, Slate, Meagher & Flom law firm in New York City. In addition to his leadership in the ADL, Bialkin also served as chairman of the Conference of Presidents of Major American Jewish Organizations in the mid-1980s, when it took a lead in securing the freedom for Soviet Jewry in the years before the downfall of the USSR.
Born in the Bronx to immigrant parents, Bialkin graduated from the University of Michigan in 1950 with a degree in economics and then earned a J.D. degree from Harvard in 1953. His law practice encompassed a broad range of corporate and securities law matters. He was a senior partner in the law firm of Willke, Farr & Gallagher and then with Skadden, Arps, Slate, Meagher & Flom, according to a biographical sketch of his life on encyclopedia.com.
In his law practice, Bialkin represented insurance companies, broker-dealers, investment bankers, and other financial institutions. In 1998 he represented Travelers Group in its merger with Citicorp. The year earlier, he represented Travelers in its acquisition of Salomon Inc., and he represented the stock exchange Nasdaq in its restructuring to separate it from the NASD in 2000 and 2001.
He was involved in some of the largest insurance company mergers and acquisitions in the United States, including the Metropolitan Life Insurance Company in its merger with New England Mutual Life Insurance Company. He also represented Travelers Group in its $4 billion acquisition of Aetna's property-casualty operations, according to information provided by encyclopedia.com
Bialkin was a former editor of Business Lawyer magazine and was chairman of the American Bar Association's committee on federal regulation of securities.
His wife, Ann Bialkin, who earned a master's degree in social work from Columbia University, established Elem (a Hebrew acronym for "youth in distress"), a foundation that assists teenagers in Israel who commit crimes or use drugs and who are apparently overlooked by the judicial system.
In recognition of his 16 years as a member of its board of directors, Citigroup established the Kenneth J. Bialkin/Citigroup Public Service Award at the American Jewish Historical Society.
At the same time, Bialkin taught courses in securities law at New York University School of Law for 18 years and was frequently quoted in the press on issues of Jewish interest.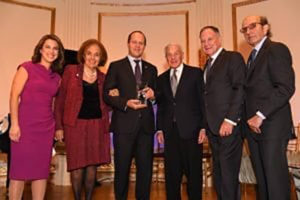 Bialkin was also the director of several corporations, including the Municipal Assistance Corporation for the City of New York, Tecnomatix Technologies, Ltd. and Travelers Property Casualty Corp. Additionally, was also chairman of the Ad Hoc Committee on Insider Trading Legislation of the American Bar Association.
He was also a past president of the New York County Lawyer's Association. Bialkin also served as an adviser to the Federal Securities Code Project and Corporate Governance Project of the American Law Institute, as well as serving on advisory committees of the Securities and Exchange Commission, The New York Stock Exchange and the American Stock exchange.
As a patron of the arts, Bialkin was elected to the Board of Trustees of Carnegie Hall in 1991 and served as secretary from 1991 to 2017. It was at that time that the Board appointed him as the first secretary emeritus in Carnegie Hall's history.
For more than a quarter of a century, Bialkin contributed enormously to the sound management of Carnegie Hall, overseeing the Hall's legal affairs with professional expertise and personal wisdom, while also chronicling the history of Carnegie Hall's governance with carefully crafted minutes rooted in a steadfast commitment to detail, precision, and respect for the written word. In a statement to the media, the Board of Carnegie Hall said, "We will remember Ken for his abiding love of Carnegie Hall, his unstinting dedication to excellence, and his tremendous personal warmth and kindness. Ken was a true friend to Carnegie Hall, and we will miss him greatly."
During his illustrious career, Bialkin also served in the capacity as president and chairman of the American Jewish Historical Society, president of the Jewish Community Relations Council of New York; and was the chairman of the America Israel Friendship League. He also served for 30 years as vice chairman of the Jerusalem Foundation, a major philanthropic builder in the Israeli city.
At the 2018 Partners for Democracy Awards Dinner at the Plaza Hotel in Manhattan, Malcolm Hoenlein, the vice chairman of the Conference of Presidents of Major American Jewish Organizations thanked Ken Bialkin for choosing him as head of the Conference of Presidents and said Bialkin was paradigmatic of the Ronald Reagan axiom "there is no limit to the amount of good you can do if you don't care who gets the credit." Hoenlein said in all his years working for organizations he never employed a publicist and noted that "true hero" Ken Bialkin was similarly focused on simply doing the right thing. Hoenlein remarked that after the Pittsburgh shooting in October of 2018, we can no longer ignore the scourge of anti-Semitism but said if we could break the iron curtain then we can break anti-Semitism.
JTA reported that Bialkin was also a longtime board member of the Republican Jewish Coalition and a donor to GOP candidates.
"A passionate defender of Israel and the Jewish community, Ken's advice and his friendship will be missed," RJC director Matt Brooks told the Jewish Telegraphic Agency.
After his first visit to Israel in 1959, Bialkin became a staunch advocate, benefactor, supporter and promoter of the Jewish state.
"I was touched by their isolation in Israel and at the enormity of the challenge they were facing and their valiance in building a state," he once told Lifestyles magazine.
Recalling his formative year to Lifestyles magazine, Bialkin said that his grandparents were actively involved in raising money for Jewish causes. "My paternal grandfather was a secular man," Bialkin recounts, "but he was deeply immersed in charity and always soliciting for what we then called Palestine."
Bialkin told Lifestyles magazine that he vividly recalled the times he spent with his grandfather, who lived in Union City, New Jersey, and referred to them as "wonderful days."
He also told the magazine that although his own family was kosher but not strictly observant, his maternal grandparents were. As a result, young Bialkin and his siblings and cousins would go to synagogue every Sabbath and then to his grandparents for lunch. In their home, too, he witnessed a spirit of charity, kindheartedness and love for the Jewish people as they were forever trying to raise money for rabbis and yeshivas.
Bialkin is survived by his wife, Ann, and two daughters, Lisa and Johanna.
Thousands packed the Park East Synagogue on East 67th Street in Manhattan on Monday morning, August 26th to send their final farewells to Kenneth Bialkin and to remember his outstanding legacy of communal participation, involvement and true leadership.
Among the throngs of notable guests were Henry Kissinger and former NYPD Commissioner Ray Kelly.
Bialkin was interred at the Jewish Center of the Hamptons' Cemetery, Gates of the Grove (Shaarey Pardes) in East Hampton, NY
May Ken's precious neshoma have an aliya in Gan Eden and may his memory always be for a blessing. He will be sorely missed by his beloved family, friends, community and the entire Jewish nation.