By: Marvin Azrak
After a six-year wait, the World Baseball Classic, essentially the sports  World Cup for those unfamiliar with the tournament, has returned. The format features four pools of five for 20 teams and will be played over two weeks, beginning on March 7th and concluding on March 21st in Miami, Florida. After pool play, the top two teams from pools A and B compete in a round-robin competition, with the top two seeds advancing to the semifinals to face the winners of Pools C&D's cluster.
POOL A:
The classic opened up with a highly anticipated affair between Netherlands and Cuba, believed to be the best two teams in the group. After the teams traded runs, the Dutch broke the game open with a three-run sixth led by RBI Knocks by Josh Palacios – who plays for the Nationals and the number nine hitter Chadwick Tromp, and Atlanta Brave, whose two-run single proved to be the difference in the 4-2 victory. On the pitching side, the Netherlands relied heavily on their gold-globe caliber defense. It recorded  17 ground ball outs, which included some nifty plays by shortstop Xander Bogarts, a San Diego Padre, and former Yankees shortstop Didi Gregorius, who operated first base in this one.
Later in the day, Panama flexed their muscles and pounded host-country Chinese Taipei 12-5, who had the backing of a raucous sellout crowd. Cheerleaders danced on dugouts; fans banged thundersticks, and songs ranged from behind the home plate to the outfield seats mid-at-bat. Yet the party would be put to rest early, as the Panamanians pulled away with a five-run fourth and six-run sixth, which showed how deep their lineup is considering all of the offense came via the "small ball" route, compared to nine off a home run ball.
With both teams riding high off of day one victory, Panama and Netherlands squared off with both teams looking to put themselves in the driver's seat atop the division. The contest included sparkling web gems from both sides, as runs came at a premium, but it was ultimately the Netherlands who walked away with the 3-1 victory. Sporting a 2-0 record heading into their off day and having defeated the two best teams within their group, the Netherlands seemed poised for a date with the quarterfinals in Tokyo, precisely when everything went wrong.
Meanwhile, looking to rebound from a tough opening day loss was Cuba, who welcomed Italy to pool play in the nightcap of day two, which produced our first extra innings game of the fortnight. It had it all, from big hits to huge strikeouts to errors and what lay in between, but Italy would emerge victorious 6-3 in 10 innings.
Now staring at 0-2 and on the brink of being mathematically eliminated, the Cubans played desperate baseball from start to finish en route to a 13-4 thrashing of Panama, which put them in a position to create chaos in the group's final act.
The defeat would be too much to overcome, as, despite their 2-0 win over Italy to finish off pool play at 2-2, Panama's total of 21 runs allowed would see them finish fourth, falling painstakingly short of the elite eight.
The groups final day featured the possibility of all five teams finishing 2-2 for the first time ever, thus setting up a complicated tiebreaker scenario, and it didn't disappoint as Cuba crushed an upstart Chinese Taipei team who stunned the Italians 11-7, Netherlands, and the Netherlands 9-5 by the score of 7-1, while Italy downed the Dutch by that same score putting the group's two advancement slots in the hands of the officials. When the dust settled, Cuba was improbably declared the pool  winner having allowed the least amount of runs at 15, while Italy also advanced having allowed two less total runs,17, than the Netherlands, 19,. Receiving the brunt of the tiebreaker was Chinese Taipei, whose fifth-place finish means they'll need to qualify for the 2026 classic.
POOL B:
There's been no team that has looked as dominant as the Japanese have thus far and it goes beyond them having two way superstar Shohei Ohtani and going undefeated in pool play. Right-hander Roki Sasaki eclipsed triple-digits on repeat, topping 100 mph a remarkable 21 times — in just 66 pitches  during Japan's  10-2 victory  over the Czech Republic. Yoshinobu Yamamoto followed suit a day later, taking tips from his teammate and MLB star all-star Yu Darvish, by scuffling a previously red-hot Australia offense in a 7-1 division-clinching win, following kickstart wins over China, 8-1, and Korea,13-4,
Offensively Lars Nootbaar of the ST Louis Cardinals has been making the most of his opportunity with hustle plays on both ends, while Japanese leaguers Kensuke Kondoh among others, wreaked havoc with their big bats.
The other team in the group that qualified for the quarterfinals was Australia, who went 3-1, first turning heads with their 8-7 upset win over Korea to begin pool play, and built on the momentum with a 12-2 mercy rule victory over China, and a round-clinching 8-3 thumping of the Czech Republic.
Meanwhile, the sting of failing to advance out of pool play will sting for the Koreans from now until 2026, they did end things on a high note, setting the WBC record for most runs scored in a game, blasting China, who went winless with a run differential of -40, 22-2 in a mere five innings. The barrage came a day after their 7-3 victory over the Czech Republic, who had nothing to lose since on their team were  made up of players who had day jobs, and will at least head home with a win to remember, as they defeated China 8-5 in their first game before simply being outclassed in the next three.
POOL C: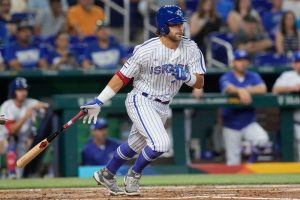 Group play in Arizona isn't yet finished, but we've already seen our share of fireworks. To kick us off, Columbia and Mexico gave us fans an extra innings thriller with a crucial Luis Robert error being the difference in a 5-4 victory for the Columbians. Later that day, Phillies  slugger Kyle Schwarber blasted a  three run bomb as team USA began  their title defense with a 6-2 win over Great Britan, who are first timers at this event and it showed on Sunday, when they were crushed 18-8 by Canada.
Nobody would've blamed the Brits if they simply folded against Columbia in game three, but they instead embraced the challenge and scored the shocking 7-5 triumph, keyed by a go-ahead 383 foot three run blast by Seattle Mariners top prospect Harry Ford in the sixth, sending the group standings into chaos. Taking advantage of the surprising turnaround was team USA, who as I write this have just responded to an 11-5 loss at the hands of Mexico with a 12-1 mercy rule thumping of the Canadiens keyed by a nine run first inning highlighted by a Mike Trout three run round-tripper.
Considering the tiebreaker is runs allowed, the Americans (2-1), had to win big and did so putting themselves in a win and in situation in their group finale against Columbia (1-1)  on Wednesday.
POOL D:
We've saved the best for last, as the teams down in Miami where the semifinals and final will take place have been enjoying the party. Team Israel entered the tournament with not much expected of them, but made noise with a 3-1 comeback win over Nicaragua on Sunday. Dean Kramer  twirled four innings of scoreless frames, giving way to the bullpen who went five frames of one run ball. Trailing 1-0 in the eighth, Israel's offense erupted against Yankees reliever Jonathan Losiga, as a  Toronto Blue Jays prospect Spencer Horwitz single plated Jakob Goldfarb to tie the score before Philadelphia Phillies backup catcher Garrett Stubbs, who played third base on Sunday, sent the fans into a frenzy with a bases loaded ground rule-double a few batters later which put the blue and white up for good.
Even if they were blanked on Monday 10-0 in eight innings  by Puerto  Rico, whose pitchers combined for the first perfect game in WBC history, Israel can still regain control of their rights to advance in the tournament when 19 year-old  Jacob Steinmetz, a Long Island native with Israeli blood, who became first Orthodox Jew to be drafted by a big league club in the Arizona Diamondbacks in the Summer of 2021 takes the hill on Tuesday against the Dominican Republic, who are 1-1 after losing 5-1 to first place Venezuela who defeated Puerto Rico 9-6 on Sunday, and defeating Nicaragua 6-1.
The loss officially eliminated  the Nicaraguans from Quarterfinal contention, as they fell to 0-3 with the 9-1 loss to Puerto Rico preceding the  ones to Israel and the DR.