Says Israel Must Prepare for Significant Attack on Iran
Edited by: Fern Sidman
Iran is "days or weeks" away from enriching uranium to the 90% military grade level required for the production of nuclear weapons and Israel should prepare for a significant attack on the rogue country, a former top official with Mossad, the Israeli intelligence agency warned on Saturday, the Washington Times reported.
Zohar Palti, a former intelligence director with Mossad, who recently retired from a 40-year career in Israel's security establishment, said Israel's military, has the capability to launch a successful strike on Iran's nuclear plants.  He noted that receiving American permission to conduct an attack on Iran would not be necessary considering the severity of the circumstances but that Israeli government officials and defense experts will have to make "serious decisions" in the near future.
"One of the things that the Americans appreciate most is our ability to make our own decisions, to ensure our security," he added, referencing Israeli strikes on nuclear facilities in Syria and Iraq that it had carried out alone without active American support, as was reported by the Times of Israel.
Speaking to Times of Israel political correspondent Tal Schneider at an event in Ramat Hasharon, Palti said Iran "is at a more advanced level than I can ever remember when it comes to uranium enrichment.
"They are days or weeks away from enriching uranium to 90 percent, which is military-grade," he said.
While speaking at the event that was hosted by The Times of Israel, Palti said, "I'm not implying that Israel is capable. I'm saying it is." He acknowledged that enriching uranium to the 90% level doesn't mean Iran is immediately able to construct a nuclear weapon  "but, it's very bad and we've never been closer to it."
The Times of Israel also reported that Iran's state media announced last month that it had begun producing enriched uranium at 60% purity at the country's underground Fordo nuclear plant, in addition to enrichment to the same level at a plant in Natanz that it said had begun in 2019.
Enrichment to 60% purity is one short, technical step away from weapons-grade levels of 90%, TOI reported. Nonproliferation experts have warned in recent months that Iran now has enough 60%-enriched uranium to reprocess into fuel for at least one nuclear bomb.
Continuing concerns over Iran's nuclear ambitions come as Israel prepares to return former Prime Minister Benjamin Netanyahu to office, the Washington Times reported. He will be at the head of a coalition of right-wing parties in Israel that are expected to take a hard line on a number of domestic and international issues.
TOI also reported Palti noted that the heated political atmosphere did not lend itself to the sort of societal cohesion needed for Israel to deal with a wartime scenario.
"If we do reach such a scenario… it won't be a matter of politics or religion. Lebanon has more than 100,000 rockets and Iran possesses precision-guided missiles. The Israeli home front will suffer… Israel will need to function as one fist," he said, as was reported by the TOI.
Last month, President  Biden let slip to a group of Iranian-American protestors that the Joint Comprehensive Plan of Action, better known as the Iran nuclear deal isn't going to happen, the Washington Times reported. "It's dead, but we are not going to announce it," Biden said in a video that surfaced in early November.
The comments from Palti marked one of the first times he has publicly addressed the Iranian issue since stepping down from his position in the Mossad, according to the TOI report.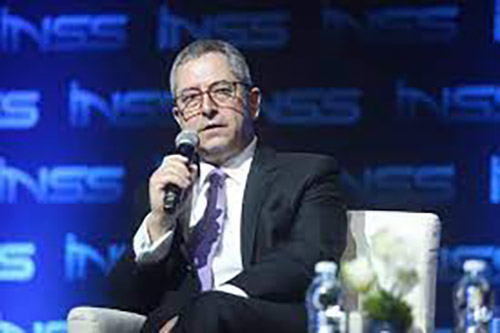 The former Mossad intelligence chief added that policymakers did not have the luxury of dealing with the Iranian issue as disconnected from other regional security concerns.
"Iran is not a standalone issue," Palti told the Times of Israel. "Everything is connected. We can't make progress on the Iranian issue without noticing what happens in our region, in the West Bank, on the issue of maintaining the status quo on the Temple Mount and protecting the rights of minorities."
He also issued a warning against inflaming tensions atop the Temple Mount, saying that Israel's relationship with Jordan is its greatest strategic asset, the TOI reported.
In November, outgoing Israeli Defense Minister Benny Gantz trumpeted the prospect of an Israeli military attack on Iran's expanding nuclear facilities, according to report on the iranintl.com web site.
Gantz told a press briefing in November that Israel had prepared "long-term processes I don't want to elaborate on." Gantz claimed the last time Israel was this prepared in terms of launching an attack on Iran was when he was chief of staff in 2012 and then prime minister Benjamin Netanyahu rejected the option, according to the iranintl.com report.
With Netanyahu set to return to office after the November 1 parliamentary elections, Gantz said he expected Likud leaders would now "act with judgment." The iranintl.com report indicated that the outgoing government led by Naftali Bennett and Yair Lapid has, since taking office in June 2021, argued that Netanyahu had left Israel ill-prepared for an attack on Iran.
According to a November report on the breaking defense.com web site, Tzachi Hanegbi a minister in the last Netanyahu government said in a Nov. 4 interview with Channel 12 that Netanyahu "would act, in my perspective, to destroy the nuclear facilities in Iran" if Israel feels that Iran is going to achieve a nuclear weapon. "In my assessment, he'll have no choice but to strike Iran's nuclear facilities like previous prime ministers ordered to destroy a nuclear facility in Iraq in 1981 and like an order was given in 2007 to destroy the nuclear facility in Syria," he said.
Hanegbi, a longstanding Likud MK and former minister who placed 46 on the party's slate in the primaries has previously threatened an Israeli strike to stop Iran from building a nuclear weapon. However, Hanegbi's ties to Netanyahu — already viewed as a hawk on Iran — meant that his comments raised eyebrows, according to the breakingdefense.com web site.
Israeli senior defense sources told Breaking Defense that at this moment, Israel is very limited in its options for such a strike, but "things are being done," as one source said, and it is expected that additional budgets will be allocated for this option, under the assumption Israel may have to act alone.
In June of this year, thedefensepost.com web site reported that the Israeli Air Force has acquired new capabilities to launch attacks on Iran and its nuclear facilities.
Jerusalem can now reportedly fly its F-35 stealth fighter jets to Tehran without needing to refuel, according to the report.
The air force has also equipped its F-35 aircraft with a new bomb that can be carried inside the internal weapons compartment to avoid jeopardizing the plane's stealth radar signature.
Developed by Rafael Advanced Weapons Systems, the one-ton bomb is protected from jamming and electronic warfare systems, as was reported by thedefensepost.com web site.
The defensepost.com report also indicated that in May of this year, dozens of Israeli fighter jets conducted air maneuvers over the Mediterranean Sea to simulate attacks on Iranian nuclear facilities.
The simulation included "long-range flight, aerial refueling, and striking distant targets," according to the Israeli Defense Forces.
Israeli jets refueled twice during the drill, circled Cyprus, and conducted mock airstrikes in Israel.
Jerusalem's elite helicopter search-and-rescue unit was also put on standby to simulate assisting pilots abandoning their aircraft, according to the defensepost.com report
These recent developments are a major boost to IAF capabilities as it prepares for future strikes against the Islamic Republic.
According to Jonathan Schanzer, a former terrorism finance analyst at the Treasury Department who now works at the Foundation for Defense of Democracies, Israel's decades-long peace with Jordan is unraveling, a development that threatens to upset a fragile regional stability that is being challenged by countries like Iran, Russia, and China, as was reported in the Washington Free Beacon last week.
"Since 2020, if not before then, the Jordanian peace has turned decidedly cold," Schanzer said, according to the WFB report.
The WFB also noted that while the relationship has been breaking down behind the scenes for some time, Jordan also began to publicly war with Israel in recent years, by refusing to sign the Abraham Accords peace agreements, attacking incoming prime minister Benjamin Netanyahu, and threatening to fully abrogate the peace deal it signed with Israel in 1994.
Schanzer's findings, published in a report two weeks ago, indicate the United States could be faced with a looming crisis in the Middle East that threatens to upset nearly 30 years of stability between the two former enemies. The fracture between Israel and Jordan could also empower American enemies like Russia, China, and Iran, which are all working in tandem to erode U.S. influence in the region, the WFB reported.
"Israel perceives the creation of a Palestinian state to be a security threat, while King Abdullah [Jordan's leader] sees frustrated Palestinians dismayed by lack of progress toward a Palestinian state as an even bigger security threat to his own hold on power," said Jim Phillips, a senior research fellow at the Heritage Foundation, as was reported by the WFB. "The king seeks to appease Palestinians, who make up roughly half of Jordan's population, because he faces additional challenges from Islamists who also demonize Israel."
Schanzer's findings are likely to distress Jordanian officials, who have cultivated deep ties in Washington, D.C., since the Arab nation announced its peace with Israel in 1994. In many ways, Schanzer told the Washington Free Beacon, this latest analysis shatters long-standing taboos about Jordan's fracturing peace with Israel that many in the U.S. foreign policy community have tried to ignore.
"I have observed a real reticence in this town to criticize Jordan in recent years," Schanzer said. "Many believe Amman is both too valuable and too weak to challenge. I refuse to be bound by those constraints. I support Jordan. But I think it can do better."
"The national security of each of the countries is intertwined," Palti argued, according to the TOI report.  It is in the interest of the State of Israel "for Jordan to be strong and unshakable. We have a strong and serious security system. The next IDF chief of staff, Herzi Halevy, will explain to the cabinet ministers what is at stake and what the meaning of violating the status quo on the Temple Mount is."
He estimated that "incoming prime minister Benjamin Netanyahu won't want to change the status quo on the Temple Mount" as well.
In other Iran related news, on Monday, Channel 12 in Israel reported that American intelligence officials believe that Russia is on the verge of a huge arms deal with Tehran that includes supplying the Islamic Republic with two dozen of its advanced fighter jets,  according to a report on the World Israel News web site.
The report indicated that Iranian pilots are already training in Russia on the Su-35 Sukhoi jets, cruise missile-carrying fighters that according to the Russians can reach a speed of Mach 2.5 and have a range of over 3,500 km, making Israel quickly and easily within striking distance from Iran.
World Israel News also reported that the planes are said to be part of a weapons deal Russia had had with Egypt, before the United States nixed the plan. Russia, under a tight weapons embargo due to its ongoing invasion of Ukraine, has been searching for customers for the $43 million jets.
The Su-35 was introduced a decade ago, and to date Russia has only 110 of them in service itself.WIN reported that the Iranians are very eager to improve their air force, as most of their fighter fleet is many decades old.
Besides the full squadron of planes, the deal is said to include the most advanced Russian anti-aircraft defense system, the S-400, as was reported by WIN.  This system was deployed to protect Russian military sites in Syria, worrying the IDF, which regularly strikes Iranian and Iranian-backed targets in the country.
It has not been used against the IAF, however, as the deconfliction mechanism is still in place and the Israelis carefully stay away from the Russian bases when they attack in Syria in what is called the "war between the wars," as was reported by WIN.
The Iranians' desire to upgrade their air defense stems from Israel's oft-stated readiness to consider a military option to take out their nuclear bomb-making program, which Jerusalem considers an existential threat to the Jewish state. The United States, angered by Iran's sanctions-evading aid to Russia, is also closer than it has been for a long time to threatening Iran militarily, as was reported by World Israel News.
Tehran's side of the deal allegedly includes supplying Russian forces with short-range, surface-to-surface missiles and 300 more "suicide" drones to go along with the 1,700 it sold Russia before its February invasion of Ukraine began, WIN reported. According to both Ukrainian and Western officials, these unmanned aerial vehicles are being used to great effect over the last two months to knock out vital electricity facilities and other infrastructure throughout Ukraine.
This is in addition to Iran signing off last month on Moscow producing its own UAVs based on Iranian designs. WIN reported that Ynet News at the time said that the Iranians agreed both because they need the cash from the deal and because "Russian scientists and engineers have a considerable ability to improve the range, accuracy and destructive capacity of the drone."
(Sources: TimesofIsrael.com, TheWashingtonTimes.com, iranintl.com, breakingdefense.com. thedefensepost.com, worldisraelnews.com)