Edited by: Fern Sidman
Florida Governor Ron DeSantis, who in the recent mid-term elections received the highest percentage of the Jewish vote of any Republican candidate in the history of the state, was warmly received Saturday night at the Republican Jewish Coalition conference in Las Vegas, according to a report on the World Israel News web site.
"If you look at our record on issues related to Israel and supporting the Jewish community, it is second to none," he said.
Considered to be a strong candidate for the 2024 U.S. presidential election, he affirmed that Judea and Samaria, the biblical homeland of the Jewish people, is not "occupied" by the Jewish state, as was reported by WIN.
"We were the first statewide elected officials to do public events in Judea and Samaria," DeSantis said. We know those are thousands of years of connection to the Jewish people.
"I don't care what the State Department said, they are not occupied territory; it is disputed territory."
DeSantis – like Nikki Haley and other popular figures thought to be potential GOP presidential candidates – has not announced his candidacy; to date, only former President Donald Trump has done so, WIN reported.
In his 25-minute speech, the Florida governor addressed key Republican talking points, such as the party's opposition to defunding the police. And he reiterated his stand on issues important to the Jewish community.
"If you look at our record on issues related to Israel and supporting the Jewish community, it is second to none," he stated, according to the WIN report.
"When I first became governor, one of the first things we did was fight back against AIRBNB, which was discriminating against Israeli Jews, and we won that fight against AIRBNB."
In 2019, the company announced it would ban listings of Jewish-owned properties in Judea and Samaria but later reversed its decision, as was reported by WIN.
WIN also reported that DeSantis noted, "We signed legislation combating anti-Semitism. We are not going to allow the universities in the State of Florida to become hotbeds of anti-Jewish sentiment, like they have all across this country."
During an address to the Tikvah Fund's Jewish Leadership Conference in New York City earlier this year, DeSantis spoke of his accomplishments while in office to quell the rapidly escalating scourge of anti-Semitism in his state.
"We have enacted robust Holocaust education requirements and standards in Florida schools. We enacted a moment of silence required in every school so that students have the opportunity to reflect. We authorized United Hatzalah to be able to provide emergency services and they're doing a great job in South Florida. In 2019, I led the largest trade mission in the history of the state of Florida, my first one as Governor, and that trade mission was to the state of Israel, and we've seen huge benefits from that trip. That's a pretty good record."
After DeSantis signed legislation on Holocaust educational requirements in Florida schools, he told an audience at a Bal Harbour synagogue in June of 2021, "Every family in our state should be able to send their children to school and know that they will be protected from harm and be able to practice their faith." He added:  "I'm proud to sign these bills today to help protect religious freedom in Florida and increase the safety and security of our Jewish communities. I will continue to make sure that in Florida we root out anti-semitism, and that every day we show our support for Israel and our Jewish communities."
He noted that, "It's something that's important to be able to provide each student the ability, every day, to be able to reflect and to be able to pray as they see fit. The idea that you can just push God out of every institution, and be successful — I'm sorry, our founding fathers did not believe that."
As to becoming an intrepid voice against "woke" culture in Florida, Governor DeSantis said:  "We have said that the state of Florida is not going to be overrun by woke ideology. It's just not going to happen. I think it's a cancer, I think it will destroy this country if it's able to get more of a foothold than it already has."
In other RJC news, WIN reported that Israeli Prime Minister-designate Benjamin Netanyahu appeared to downplay any differences of opinion with President Joe Biden, calling them "disagreements within the mishpucha [family]" during his address to the RJC on Saturday.
His address, the first he has ever given to the RJC, sparked criticism that he was playing partisan politics.
Still, Netanyahu stressed that Israel and the U.S. have maintained close ties under both Democratic and Republican administrations, and went on to express his "respect" for former president Barack Obama, who signed a Memo of Understanding securing a $38 billion military aid deal for Israel, as was reported by World Israel News.
Netanyahu pointed out that he and Biden have been friends for 40 years, since the American president's days as a senator.
"We formed an easy friendship since then," Netanyahu said, as was reported by WIN.
"While we disagree on some matters… This is disagreement within the mishpucha — within the family," Netanyahu joked, as was reported by WIN.  "I've had the privilege of dealing with several American presidents, and I can tell you, even though there were occasional differences with Republican and Democratic presidents, I valued the constancy of the American-Israeli alliance."
Addressing his bombshell speech to Congress in 2015, in which Netanyahu expressed his vehement opposition to an emerging nuclear deal with Iran, the incoming prime minister said that while it wasn't an easy decision, he wasn't going to let "ayatollahs end the Odyssey, the saga of the Jewish people." )
Also addressing the Republican Jewish Coalition's annual leadership meetings in Las Vegas over the weekend was former Secretary of State Mike Pompeo.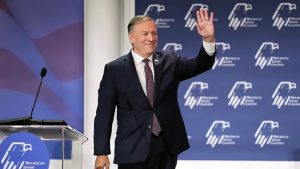 Pompeo, an Iran hawk, was also a champion of President Donald Trump's "maximum pressure campaign" of sanctions on Tehran, according to a JNS report.
In an extensive interview with JNS Jerusalem Bureau Chief Alex Traiman, Pompeo was asked his opinion of Netanyahu returning to power and his efforts to form a stable, right-wing coalition and what that means for Israel, the United States and the entire world.
The former Secretary of State said that he thinks Netanyahu's return to his position as prime minister of the Jewish state will be "great" for Israel and its citizenry.
He added: "We worked closely with Prime Minister Netanyahu during the Trump administration's time. Israel was an amazing partner and friend to the United States. I think we were great partners and friends to Israel as well. But you're right, it was unstable. We had multiple elections in Israel during those years. And now, he has a coalition that is stable and conservative, and I think that will be great for the people of Israel. It's also good for Arab nations and good for America.
This will present a pillar inside of Israel that can push back against the world's largest state sponsor of terrorism in Iran. And that's good for all of us, not just the people of Israel. And I always think, too, about the next generation of Iranians who want to live outside of being under the jack thug boot of the ayatollah Supreme Leader Ali Khamenei and Iranian President Ebrahim Raisi, and having Prime Minister Netanyahu clearly articulating his vision for the nation of Israel and for peace and stability in the Middle East is a good thing for those people in Tehran as well."
As to the Iran policy that has been implemented by the Biden administration, Pompeo said, "It's been crazy to watch as they tried to give the Iranians the money to continue their terror regime, to build out their missile systems—not just the nuclear program, not just enrichment, but their missile systems, their delivery capabilities, everything that goes around having a full-on weapons program, the Biden ministration has tried to give them a pathway to. That's not good for the Iranian people. It is terrible for the nation of Israel. I'm glad to see that it hasn't happened. But not because of the administration. But because the ayatollah has chosen not to reenter what would be a fantastic deal for them."
"But sadly, we've already begun to ease the enforcement of sanctions. You can either lift the sanctions or not enforce them—it has the same effect. The regime and its economy will grow at 6-8% this year, and that's devastatingly dangerous. The Biden administration's policy of trying to counterbalance the Sunni Arabs is a mistake. What the United States should be focused on is creating friendships between the Arab states and Israel, much like we did with the Abraham Accords, isolating the Iranian regime. They're the bad actors there. They foster instability in the region. And I pray that those protests inside of Iran today are sufficiently deep, sufficiently diversified—regionally, ethnically, socioeconomically. And I hope that the Biden administration will encourage them so they can have the leadership that they want."
Also addressing the RJC leadership summit was Texas Senator Ted Cruz. JNS reported that he focused his remarks on his pro-Israel bona fides and his grievances against Democrats.
Looking ahead to the 2024 election cycle, Cruz said, "There is no senator the people who hate Israel want to beat more than yours truly," while pushing for House Republicans to impeach Jewish cabinet members Alejandro Mayorkas (Homeland Security) and Merrick Garland (Justice).
During an interview with JNS, Cruz was asked what his thought were concerning recent reports that indicating that the American ambassador to Israel, Tom Nide, has advised the incoming Israeli government about its selections for ministerial roles and how it might impact the Americans' relationship with the Israeli government.
Cruz said that that "the Biden administration has demonstrated a deep antipathy for the government of Israel and in particular for Prime Minister Netanyahu. They loathe and despise Prime Minister Netanyahu."
He added: "One of the steps we saw just this past week is the Biden Department of Justice announcing that the FBI was going to investigate IDF officers and go investigate the government of Israel over the death of a Palestinian-American journalist. Now that's after the U.S. State Department investigated the matter and exonerated everyone and concluded the evidence did not indicate any bad conduct. And the reason the Biden DOJ did that is the radical anti-Semitic "Squad" in the House made this a cause célèbre. People who are on the far left of the Democratic Party, unfortunately, they don't hide their brazen hatred of Israel, their brazen anti-Semitism. And they demanded that the Biden DOJ go after the Israeli government."
Cruz observed that " the Department of Justice has set aside what should be the standard, which is the rule of law. Instead, they put partisan politics ahead of the rule of law. I think this investigation of the Israeli government from the Biden Department of Justice is a disgrace. I think it's an abuse of power. And I think it is the strategy we've seen here at home. The Biden Department of Justice, likewise, has been weaponized against the Democrats' political enemies here at home.
They're sending FBI agents to interview and harass parents who speak up at school boards because they're on the other side of the political aisle. That should not be happening. And so I have no reason to doubt that the U.S. ambassador is acting consistent with that demonstrated antipathy to the new government in Israel."
Offering his thoughts on the success of the RJC leadership summit, Matt Brooks, the CEO of the organization told JNS, "I think it is historic. The attendance for this event is the largest it's ever been. There's a lot of energy, a lot of enthusiasm. The fact that we were able to attract the leadership of the Republican Party is a testament not only to the commitment they have to the Jewish community, but also the value that they place on the work that we do with the Republican Jewish Coalition."
Former Senator Norm Coleman, who serves as the RJC's national chairman, praised what he said is the party's deep roster, giving party members viable alternatives should they choose to move on from Trump, according to the JNS report.
"There is a tremendous Republican bench. Listen to the folks that we had tonight," Coleman told JNS following Friday night's session with former Vice President Mike Pence, former Secretary of State Mike Pompeo, Maryland Gov. Larry Hogan and Sen. Bill Hagerty of Tennessee. "And every one of them is capable of kind of charting a course to offer a better America. So, I think the conversation about where the Republican Party goes is just beginning."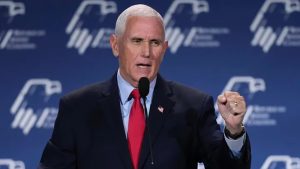 JNS also reported that Coleman acknowledged trepidation among membership for supporting Trump again, considering a pattern of election cycle losses and the baggage of legal issues and frayed personal relationships Trump has within the p
arty. He intimated that it was not easy for members to move on from what he called the most pro-Israel administration in American history.
"I think there is just a general understanding and deep appreciation that President Trump was the best friend that Israel ever had in the White House. There's no question about that. On the other hand, I think there are questions about the future, about whether he focuses too much on January 6, too much on November 2020, and not enough on today, tomorrow and the future," said Coleman, as was reported by JNS.