Reporting and Photography: Lieba Nesis
The  Lang Lang International Music Foundation (LLIMF), founded in 2008 by Lang Lang, held its gala at Cipriani 25 Broadway on September 21st 2022 with cocktails beginning at 6:30 PM. Guests arrived late due to the onerous UN General Assembly traffic. After a four year absence the dinner once again returned with some of its main actors missing in action.  Alec Baldwin, a lover of classical music, thought it best to sit the night out until his legal issues resolved; fellow dinner chairs Chris Burch and Irwin and Joan Jacobs, were similar no-shows.   A pervasive trend of honorees and chairs of dinners skipping out on the festivities, such as Georgina Bloomberg this summer in the Hamptons, has heightened since the pandemic. Contributions of cash are important yet attendance is equally pivotal for the survival of an organization.
Thankfully 400 people did show up for the $5,000 a ticket extravaganza which paid homage to matinee idol Lang Lang along with recognizing the preeminence of music education.  LLIMF has made music education part of the core curriculum for over 200 schools and 180,000 students from New York to Shanghai-while 3.8 million children are still without it. Chair John Paulson noted the positive trend of 20 million piano students in the US and a staggering 40 million in China-often referred to as the "Lang Lang Effect." The ability to fraternize with the iconic Lang Lang, whose name means brightness and sunshine, makes this evening one of the highlights of the gala season. As the Number One piano player in the world, despite music purists claiming otherwise, his performances are technically superb and palpably spellbinding due to his emotive affect.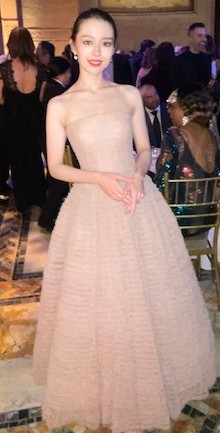 Lang Lang played for President Obama at the White House in 2011 and the opening of the Beijing Olympic Games in 2008. His current success belies a life replete with hardship.  Born in Shenyang Liaoning in 1982 he was motivated to learn piano at the age of 2 after watching the Tom and Jerry episode featuring "The Cat Concerto".  He began lessons with Zhu Ya-Fen at age three and played his first public recital at five where he won the Shenyang Piano Competition. A product of China's one child policy, Lang Lang was the sole focus of his parents with his father quitting his job as a policeman to accompany Lang Lang to Bejing to pursue his burgeoning musical career. Renting a room in a slum where five families shared one sink and toilet Lang Lang was continually harassed by neighbors unhappy with his 5 AM rehearsals.
Lang Lang longed for his mother who remained in Shenyang to support the family as his strict disciplinarian father frequently forced him to practice up to 8 hours a day. These high pressured tactics took a toll on Lang Lang's mental health.  Thankfully, it all turned out for the best with a multimillion dollar career with Universal Music Group and a successful marriage to fellow pianist Gina Alice Redlinger-welcoming their first son during the height of covid in January 2021. It was evident that Lang Lang and superlative CEO Lukas Barwinski Brown were intricately involved in every aspect of the evening.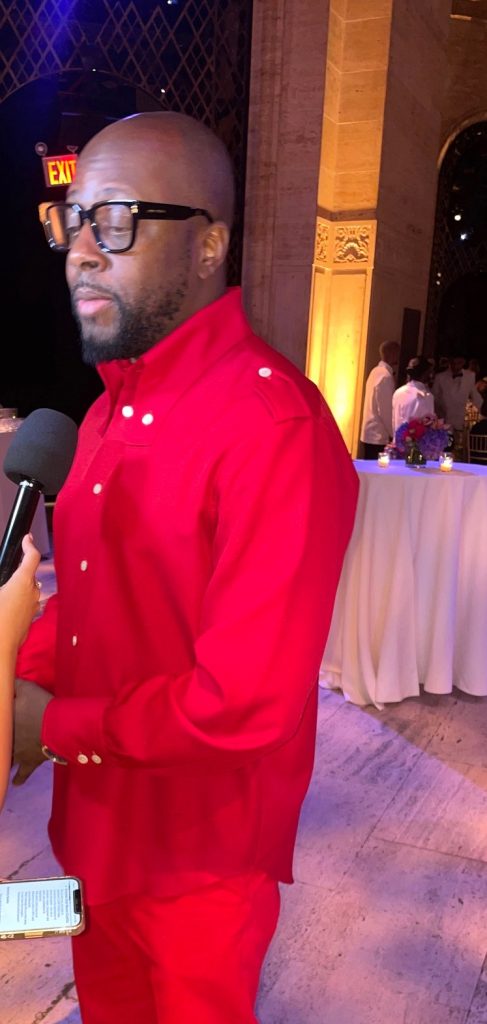 Attendees included donors to the organization John Paulson, Elizabeth Segerstrom, Barbara Tober and Judith Corrente who dazzled in a white Alexander McQueen. A  posthumous Lifetime Philanthropy Award was given to Shirley Young as well as a Teacher of the Year award to Davis Cahill.  Cahill joked that he was miffed he was only notified of the honor three weeks ago since he was unable to lose the extra 30 pounds.  Cahill movingly thanked his mother Tracy for igniting his musical interest for the past 19 years by forcing an 8-year-old Cahill to accompany her to a piano lesson due to her nerves.
Tonight Lang Lang welcomed 24 young scholars ranging in age from 7-18 who were chosen from a group of more than 350 as he lovingly performed "We Don't Talk about Bruno" with Mauro Castillo and these ingenues.  However, it was when Lang Lang took the reigns of Brahm's Hungarian Dance No. 5 along with his wife Gina Alice that the audience went wild.  His best performances are those featuring familiar tunes where his rapid hand movements can be witnessed up close. Massages and frequent finger stretching have allowed Lang Lang to continue performing at a breakneck pace. Who can forget 2017 when a bout with tendonitis in his left arm after teaching himself Ravel's Piano Concerto for the Left Hand nearly ended his career. Tonight was all good news, as the magnanimous dinner of strip loin steak and sea bass concluded and guests gleefully sang Happy Birthday to a 40-year-old Lang Lang. Grammy Award winning recording artist Wyclef Jean even surprised him on stage with a powerful rendition of his 2010 hit "María María." The Lang Lang finale had him dueting with 13 other pianists for "Rhapsody in Blue" while the baby-faced luminary promised to see attendees at the next gala in 2024.