Global reactions roll in – Left wing scared; Right wing joyous
Edited by: TJVNews.com
Elon Musk reached an agreement to buy Twitter for roughly $44 billion on Monday, promising a more lenient touch to policing content on the social media platform where he — the world's richest person — promotes his interests, and opines on a wide range of issues to more than 83 million followers, according to an AP report.
The outspoken Tesla CEO has said he wanted to own and privatize Twitter because he thinks it's not living up to its potential as a platform for free speech.
Musk said in a joint statement with Twitter that he wants to make the service "better than ever" with new features while getting rid of automated "spam" accounts and making its algorithms open to the public to increase trust, as was reported by the AP.
"Free speech is the bedrock of a functioning democracy, and Twitter is the digital town square where matters vital to the future of humanity are debated," the 50-year-old Musk said, adding hearts, stars and rocket emojis in a tweet that highlighted the statement.
A report on the Breitbart.com website said that in a press release, the Twitter board announced that they had reached an agreement with the multi-billionaire to sell 100 percent of the company at Musk's original price of $54.20 per share.
The PR Newswire report said on Monday: "Twitter, Inc. (NYSE: TWTR) today announced that it has entered into a definitive agreement to be acquired by an entity wholly owned by Elon Musk, for $54.20 per share in cash in a transaction valued at approximately $44 billion. Upon completion of the transaction, Twitter will become a privately held company.
Under the terms of the agreement, Twitter stockholders will receive $54.20 in cash for each share of Twitter common stock that they own upon closing of the proposed transaction. The purchase price represents a 38% premium to Twitter's closing stock price on April 1, 2022, which was the last trading day before Mr. Musk disclosed his approximately 9% stake in Twitter.
Bret Taylor, Twitter's Independent Board Chair, said, "The Twitter Board conducted a thoughtful and comprehensive process to assess Elon's proposal with a deliberate focus on value, certainty, and financing. The proposed transaction will deliver a substantial cash premium, and we believe it is the best path forward for Twitter's stockholders."
Parag Agrawal, Twitter's CEO, said, "Twitter has a purpose and relevance that impacts the entire world. Deeply proud of our teams and inspired by the work that has never been more important."
Musk had been slowly acquiring shares in Twitter in the first quarter, becoming the company's largest shareholder at the end of March."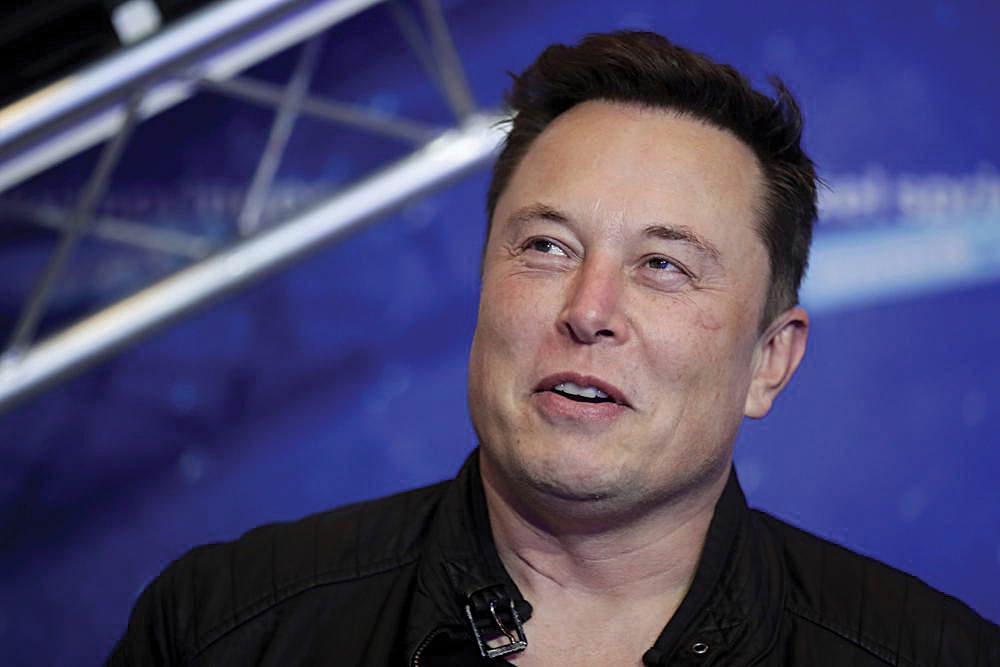 The AP reported that in recent weeks, Musk has proposed relaxing Twitter content restrictions — such as the rules that suspended former President Donald Trump's account — while ridding the platform of fake "spambot" accounts and shifting away advertising as its primary revenue model. Musk believes he can increase revenue through subscriptions that give paying customers a better experience — possibly even an ad-free version of Twitter.
Asked during a recent TED interview if there are any limits to his notion of "free speech," Musk said Twitter would abide by national laws that restrict speech around the world. Beyond that, he said, he'd be "very reluctant" to delete posts or permanently ban users who violate the company's rules, as was reported by the AP.
It won't be perfect, Musk added, "but I think we want it to really have the perception and reality that speech is as free as reasonably possible."
On Tuesday, Musk tweeted: "The extreme antibody reaction from those who fear free speech says it all," as was reported by the AP.
Musk's pledge to make Twitter a haven for free speech could dim the appeal of Donald Trump's troubled Truth Social app, which the former president has touted as a competitor to Twitter that would cater to conservatives. The AP reported that Truth Social is part of Trump's new media company, which has agreed to be taken public by Digital World Acquisition Corp. Shares of DWAC dropped 16.2% Monday and are down 46% since Musk revealed his stake in Twitter.
The more hands-off approach to content moderation that Musk envisions has many users concerned that the platform will become more of a haven for disinformation, hate speech and bullying, something it has worked hard in recent years to mitigate. Wall Street analysts said if he goes too far, it could also alienate advertisers, as was reported by the AP.
Some users said Monday that they were planning to quit the platform if Musk took it over. To which he responded on Twitter: "I hope that even my worst critics remain on Twitter, because that is what free speech means."
A report on the World Net Daily web site detailed the visceral reaction of prominent figures on the political left who weighed in on Musk's purchase of Twitter and his intent on privatizing it.
New York Times columnist and MSNBC contributor Charles M. Blow said he now will severely limit his engagement on Twitter, as was reported by the WND News Center.
"At some point Twitter may have been a town square of ideas. It's not that now. Now it's a cesspool of bots, screamers, conspiracists, and the perpetually angry. Very little is gained by engaging, and too much is lost," he wrote.
A Twitter user who responded to Blow's tweet said Musk's purchase "will be a huge, unimaginable loss for freedom, democracy and humanity as a whole,"
"Not sure if we will be able to carry on," the user wrote. "Only time will tell."
WND also reported that Watergate figure John W. Dean, who served as President Nixon's counsel, said he's not sure he is "interested in Twitter if Elon Musk owns it."
As news spread that the sale was imminent, Nikki Finke, founder and editor emeritus of Deadline.com, asked: "So if/when Elon Musk takes control of Twitter and turns it into a malevolent mouthpiece, where should Democrats and Progressives go for free speech on social media? An existing site or do we start our own?"
Dean Obeidallah, the host of an eponymous SiriusXM show, said Musk's purchase of Twitter "is a dream come true for white nationalists," as was reported by WND.
"After all musk is from the former apartheid country of South Africa which the white supremacists idolize," he wrote.
WND also reported that activist Shaun King sounded a similar note, saying Musk's desire to purchase Twitter "is not about left vs right."
"It's about white power. The man was raised in Apartheid by a white nationalist. He's upset that Twitter won't allow white nationalists to target/harass people. That's his definition of free speech."
King wrote that Musk "has openly called himself a 'free speech absolutist' and said that he wants to create a space where anything can be said about anyone."
"That's why white nationalists are giddy today," he said, according to the WND report.  "Here on Twitter and other platforms that I track daily. It's dangerous."
Advertisers, currently Twitter's main customers, have also pushed for the stronger content rules Musk has criticized, according to the AP report. Keeping them happy requires moderation limiting hate speech so that brands aren't trying to promote their products next to "calls for genocide," said Siva Vaidhyanathan, a media studies professor at the University of Virginia who spoke with the AP.
"If Musk either fires or drives away the team at Twitter that's committed to keeping it clean and making it less hate-filled, he'll see an immediate drop in user activity," said Vaidhyanathan. "I think he's going to find pretty fast that inviting the bigots back in is bad for business."
Last week, Musk said in SEC documents that the money to purchase Twitter would come from Morgan Stanley and other banks, some of it secured by his huge stake in Tesla, the electric-vehicle company he runs, as was reported by the AP.
Musk has a fortune of nearly $268 billion, much of which is tied up in Tesla stock and SpaceX, his privately held space company. The AP reported that it's unclear how much cash Musk holds.
Musk began making his fortune in 1999 when he sold Zip2, an online mapping and business directory, to Compaq for $307 million. He used his share to create what would become PayPal, an internet service that bypassed banks and allowed consumers to pay businesses directly, according to the AP report. It was sold to eBay for $1.5 billion in 2002.
That same year, Musk founded Space Exploration Technologies, or SpaceX, after finding that cost constraints were limiting NASA's interplanetary travel. The AP reported that the company eventually developed cost-effective reusable rockets.
In 2004, Musk was courted to invest in Tesla, then a startup trying to build an electric car, according to the AP report. Eventually he became CEO and led the company to astronomical success as the world's most valuable automaker and largest seller of electric vehicles.
WND also reported that there are those who are pleased as punch that Musk bought Twitter and are looking forward to participating on a platform that will allow dissenting views to be openly expressed without fear of retribution or the imposition of penalties of any kind.
Figures who had been banned for speech that countered the establishment narrative on issues such as the 2020 election and the COVID-19 pandemic, such as Dr. Robert Malone, were optimistic, according to the WND report.
Malone told WND in a text that he looked forward to seeing the types of changes to the Twitter platform that Musk has been discussing.
"Maybe the tide will turn now on the likes of Spotify, Linked In, and even old creaky legacy media publications that prefer censorship, propaganda and defamation to an open society that values free speech," he said.
Malone said Musk's purchase is an important step forward for Americans "to rescue the common town hall which Twitter has come to represent from the grasp of those who demand censorship and propaganda as a way to protect themselves from encountering other viewpoints that challenge their own beliefs and assumptions," as was reported by the WND News Center.
Internationally celebrated bestselling author and Fox Television host Mark Levin rejoined the Twitter conversation after a voluntary absence. "Thanks to new ownership, I've decided to come back!" he wrote, as was reported by WND.
However, as news broke that a deal was imminent, former President Trump told Fox News on Monday he will not return to Twitter but instead will formally join his own TRUTH Social platform in the next week, as planned.
"I hope Elon buys Twitter because he'll make improvements to it and he is a good man, but I am going to be staying on TRUTH," Trump said.
Rep. Marjorie Taylor Greene, R-Ga., called for the restoration of her personal account along with the accounts of Trump, Dr. Malone, InfoWars founder Alex Jones and activist Milo Yiannopoulos, according to the WND report.
Greene's account was suspended by Twitter in January after the company charged she had violated its COVID "misinformation policies."
The lawmaker tweeted about "extremely high amounts of Covid vaccine deaths," posting a chart based on the data in the CDC's Vaccine Adverse Event Reporting System, or VAERS.
WND reported that Twitter said Greene was permanently banned after a "fifth strike." Previously, she violated the company's policies by distributing posts saying the vaccines should not be mandated, arguing the survival rate for COVID-19 is high for most people and the shots were "failing."
Musk said in a statement after closing the deal that free speech is "the bedrock of a functioning democracy, and Twitter is the digital town square where matters vital to the future of humanity are debated."
"I also want to make Twitter better than ever," he said.
The AP reported that Musk's purchase of Twitter is not yet a done deal and still awaits stockholder approval. Twitter previously scheduled its annual shareholders meeting for May 25, but a vote on the takeover is not yet on the agenda. Typically, a majority of shareholders must approve an acquisition for it to be completed.
It will take six-to-eight months for the purchase to go through, and while there are likely to be some bumps along the way, there don't appear to be serious enough obstacles to stop the deal, according to Charles Elson, director of the Weinberg Center for Corporate Governance at the University of Delaware.
Normally when companies go private, dissenting shareholders are forcibly cashed out, according to the AP report. Some could challenge the stock price in court, contending that Musk should pay more, but that probably won't hold up the sale, Elson told the AP.
It's likely that Musk would dissolve the current board and replace it with a new one that would agree with his management direction. And once Twitter is private, Musk will face fewer gripes from shareholders that often bring lawsuits, Elson said, according to the AP report. Private companies also don't face as much scrutiny from the Securities and Exchange Commission, which has been a finger in Musk's eye for years, often because of statements he's made on Twitter.
Sources: AP, WND – (Additional reporting by: Fern Sidman)