Edited by: TJVNews.com
Each year, at the beginning of the year, Las Vegas normally draws huge crowds who flock to the annual Consumer Electronics Show. Amid concerns about the rapid spread of the Omicron variant of the Covid-19 virus, this year, more companies have cancelled in-person appearances at next month's technology industry trade show.
Scheduled for January 5th through the 8th, the trade show is held at the Las Vegas Convention Center in Winchester, Nevada and the event typically hosts presentations of new products and technologies in the consumer electronics industry.
Such technology leaders as Amazon, Facebook, Google, Intel and Microsoft have already said they will not attend in-person. The latest to withdraw are chip maker AMD, PC manufacturer MSI, BMW, and IBM.
The Verge reported that on December 22nd, exhibitor Lenovo announced that it would "suspend all on-site activity in Las Vegas," following announcements from T-Mobile, and others that had decided to withdraw from the event, even though the organizers had said that the show will go on as planned.
On Thursday, The Verge reported that a statement from BMW has said: "Out of an abundance of caution, BMW will move all planned media activities at CES to a fully online program from Germany on January 5."
IBM said it will forgo in-person appearances. In a statement, an IBM spokesperson says, "Due to the evolving COVID conditions–and out of an abundance of caution–IBM has recently decided not to participate on-site in Las Vegas this year. We do still look forward to participating virtually."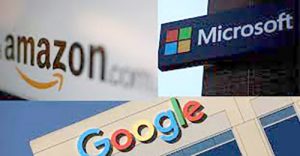 Smartphone brand OnePlus has also cancelled an in-person event in Las Vegas that was set to coincide with CES, according to reports.
On Wednesday, CNET reported that Mercedes-Benz is also pulling out of the Las Vegas show.
The Mercedes statement reflected that of many other companies.
"As the health and safety of our customers, partners, employees and guests are our highest priority. In view of the current situation in connection with the COVID-19 virus, we've therefore decided to cancel Mercedes-Benz AG's participation in CES 2022, after intensive consultations," a Mercedes spokesperson shared via email on Dec. 29. "Due to the large group of participants and the different country-specific regulations, a solid, safe and harmless planning for all participants is unfortunately not be feasible in the current situation. We deeply regret this decision but consider it necessary."
The Verge also reported that electronics giant Panasonic issued the following statement:
Panasonic North America CEO Megan Myungwon Lee said: "The health and safety of our employees, partners and customers remains our top priority. With this commitment in mind, we have updated our hybrid CES activation plans maintaining a modified physical footprint, with limited on-site staff, following CTA's health safety protocols as well as our own proactive measures to ensure the health and well-being of attendees. We have shifted our press conference to a fully-virtual platform and will continue with our plan to deliver a seamless, virtual experience highlighting our newest technology products, solutions and innovations across Sustainable Energy, Smart Mobility, Immersive Experiences, Food Tech Solutions, Lifestyle Technologies and Healthy Environments."
CNET also reported that the Consumer Technology Association, which runs CES, said on December 23rd that additional exhibitors have signed up for physical space on the show floor. "While we recently received 42 exhibitor cancellations (less than 7% of our exhibit floor)," the CTA said, "since [Dec. 17] we've added 60 new exhibitors for our in-person event."
In January 2021, the Consumer Technology Association said it was "not possible to safely convene tens of thousands of people".
Speaking to the Las Vegas Review-Journal, Gary Shapiro, president and chief executive of the CTA said, "CES will and must go on. Certainly, it will be different from previous years. It may be messy. But innovation is messy. It is risky and uncomfortable."
The CTA told the BBC that over 2200 companies were "confirmed to participate in person" at CES 2022 in Las Vegas.
"Given CES' comprehensive health measures," the CTA wrote in a statement, "we are confident that attendees and exhibitors can have a socially distanced but worthwhile and productive event in Las Vegas, or while experiencing it online"