By: Fern Sidman
Much can be said about the concept of tradition and the eternal values that it connotes, but with the changing times in which we live, we often see long-standing traditions waning, becoming obscure or totally vanishing before our very eyes. One tradition, however, still survives and even thrives, in ways that astound us, uplift us and inspire us to even greater heights.
In the Syrian Jewish community, the Torah precept of giving tzedaka to worthy causes and individuals who are in need not only holds this community together but with each passing day, with each challenge more arduous than the next, this community proudly rises to the occasion with a warm heart and an open hand, standing ready to help.
As is the tradition each summer, the Syrian community of Brooklyn moves out to Deal, New Jersey and it is there that each night, you will find a charity event being held at any one of hundreds of homes of people who gladly volunteer to host a fundraising event.
Despite the multitude of challenges that the Covid virus presented, along with economic instability, and the staggering rate of inflation, the community is still at the forefront of giving of themselves and their resources to others in need.
Last week, Daniel and Jennifer Cohen, hosted a magnificent tzedaka event at their opulent home in Deal, New Jersey to assist the internationally renowned Migdal Ohr (Tower of Light) school in Migdal HaEmek in northern Israel. In an exclusive interview with the Jewish Voice, Atara Solow, the director of the American Friends of Migdal Ohr said, "We are extremely grateful to the Cohen for allowing us to use their home for this event and everyone in this wonderfully generous and caring community for joining us in helping the work of Migdal Ohr." She particularly mentioned the tireless efforts of community members, Harry Adjmi, Joe and Trina Cayre as well as IG and Raymond Gindi for making this fundraising event the spectacular success that it was.
Among those who addressed the ebullient gathering with their inspiring remarks were Rabbi Meir Yedid, Rabbi Eli Mansour, Harry Adjmi, and Rabbi Yitzchak Dovid Grossman, the founder and director of Migdal Ohr.
As Ms. Solow explained, "Migdal Ohr is the most important and impactful social service organization in Israel because the work that is done there, helps to shape Israel's future."
Founded in 1972 by Rabbi Yitzchok Dovid Grossman, Migdal Ohr is a school that currently serves 12,655 underprivileged children in a vast network of programs in both the north and south of Israel. After witnessing the sheer awe of the liberation of Jerusalem in the 1967 war, Rabbi Grossman made it his mission to reach out to orphaned children, children from dysfunctional homes, children at risk and those not living in a loving and supportive environment. As a result he traveled to Migdal Ha'emek, assessed the situation and started teaching a small group of 18 boys.
Today, Migdal Ohr's network of services and programs provide everything from a child's most basic needs – clothing, medical care, family structure, and emotional support –  to education, vocational training, mentorship, and more.
"Rabbi Grossman came from Meah Shearim in Jerusalem and was living a wonderful life amongst other pious Jews, but he truly understood that there are so very many children who need help in order to succeed in life. His infinite love for his people and his country was the inspiration for Rabbi Grossman's efforts. Migdal Ohr is an officially recognized school by the Israeli government as they know that this very special place offers these children not only physical sustenance such as daily hot meals, clothing, healthcare, pleasant living accommodations, but we give these children the love, and emotional support in a nurturing family structure that is essential for them to become well adjusted and successful adults."
She added that, "Rabbi Grossman understood that in order for these children, who came from backgrounds in which they were abused and neglected, to realize their full potential, they had to overcome socio-economic barriers. Regardless of where they came from, Rabbi Grossman wanted each of them to have a bright future ahead of them."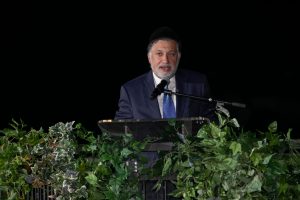 Rabbi Grossman is also keenly cognizant of the fact that a great many young people in Israel end up incarcerated in the prison system because of their onerous familial backgrounds and has engaged in extensive prison outreach programs in Israeli jails.
Ms. Solow also explained that through the efforts of Migdal Ohr, the school has graduated over 25,000 students who have gone on to become high ranking members of the Israel Defense Forces as well as professional careers as doctors, lawyers, teachers, accountants, scientists, etc.
"Today in Israel we are struggling with devastating poverty rates and Israel has become a serious welfare state, with 21 percent of its population living under the poverty level. Without an exemplary education, without the kind of loving support to succeed in life, these kids who are facing some extraordinary challenges would fall by the wayside," said Ms. Solow.
Rabbi Grossman is often referred to by the sobriquet of the "Disco Rabbi" and Ms. Solow explained that, "in order to find kids who were lost in their lives, who were at risk and those without any meaning and purpose to their lives, it was Rabbi Grossman who went to the discos of Tel Aviv and other cities in Israel and began to form relationships with these young people and brought them out of the morass that had engulfed their lives by showing them that each of them was special and had tremendous contributions to make to their country and to themselves."
She added that, "Recently, Artscroll published a biography of Rabbi Grossman called "Living Legend" which explores the nuances of his unwavering dedication to strengthening Israel's next generation from the ground up. Normally, such biographies are published in the aftermath of a person's demise, but because Artscroll truly grasped the critical nature of Rabbi Grossman's work at Migdal Ohr, they decided to publish this book while he is still alive in order to inspire others to play a highly significant role in helping to make this unique school a success through their generous donations."
Moreover, Rabbi Grossman, who is the Chief Rabbi of Migdal HaEmek and a member of the Chief Rabbinate Council of Israel has been the recipient of the auspicious Israel Prize for Lifetime Achievement for his enormous contributions to society and the State of Israel. He has also received an honorary doctorate from Bar-Ilan University and the Presidential Medal of Distinction by the late President of Israel, Shimon Peres. among many other distinguished honors.
Lauded the world over for his work with children from disadvantaged and troubled homes, and the tens of thousands of young people that he has raised over the decades, Rabbi Grossman continues to make his mark on the lives of the children who have crossed his path.
To learn more about Migdal Ohr or to make a donation, please visit their web site at: migdalohrusa.org or call them at: 212-397-3700.