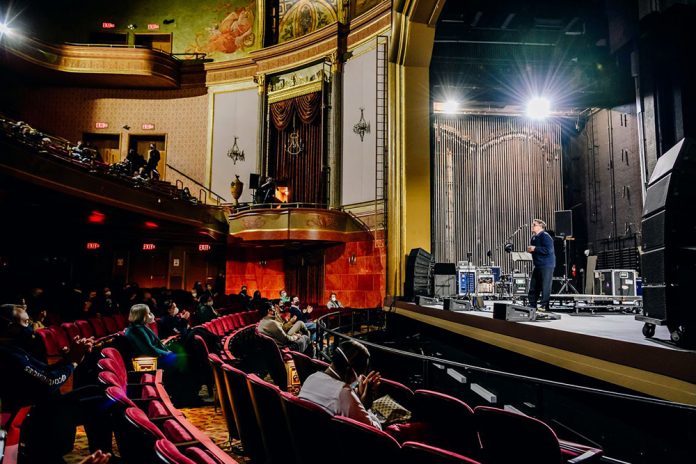 By: Jared Evan
The first Broadway theatre reopened its doors yesterday for a special performance as part of NY PopsUp. The St. James Theater welcomed Nathan Lane and Savion Glover who performed for a group of staff members from The Actors Fund and Broadway Cares/Equity Fights AIDS
Wall Street Journal reported: many of the attendees at Saturday's event were invited because of their work with two nonprofit organizations, the Actors Fund and Broadway Cares/Equity Fights AIDS, with deep ties to the theater community. But like Mr. Bullock, an office manager with Broadway Cares/Equity Fights AIDS, they were also there as fans.
This is exciting news; however, this event barely resembled a normal performance on Broadway.
Experts in the industry told TJV that until 100% capacity is allowed in NY venues, Broadway productions will not be able to financially operate, and they estimate this may not occur until the fall. Broadway would be one of the last industries open in the state, and Broadway employees, some of the last to finally return to work.
The event came during the first weekend that arts and entertainment venues were allowed to reopen in New York state, with strict limits of 33% capacity and up to 150 people indoors as per Gov. Andrew Cuomo. The program was presented as part of NY PopsUp, a state-led initiative to bring the arts community back to life during the pandemic recovery.
A requirement that attendees show proof of vaccination or a recent negative Covid-19 test for admission and a system of staggered entry for theatergoers that helped serve to avoid any crowding. Audience members were also seated well apart from each other in the spacious theater, WSJ Reported.
According to sources, TJV has learned that these NY PopsUp will be visiting many more of the 41 Broadway houses that comprise the legitimate theater circuit in NYC, leading up to a normal Broadway schedule and a grand re-opening.
The closing of the Broadway circuit in March of 2020 at the start of the pandemic has had a devastating effect on NYC's economy. To get an idea of how important Broadway is to NYC, here are some statistics from Broadway League.
In the 2018–2019 season, Broadway shows welcomed 14.8 million admissions, an all-time high.
Approximately 35% of those attendances were by people from the New York City metropolitan area.
Sixty-five percent of admissions were made by tourists: 46% from the United States (but outside New York City and its suburbs) and 19% from other countries.
This represents the highest number of attendances by foreign visitors in history— 2.8 million.
During the 2018-2019 season, the Broadway industry contributed $14.7 billion to the economy of New York City and supported 96,900 jobs. Total Broadway grosses were $1.758 billion.