"Rih'la Bidun Raja'aa!"
 رحلة بدون رجعة
By: Dana Avrish
"Get out! leave, never to return!"… How would you feel if you were told that today? that you are expelled, need to leave and never to return. You have one direction of travel, and at best you will be allowed to take one suitcase in which you will have to shrink your entire world.
This is what happened to hundreds of thousands of Jews in Arab countries and Iran, those words stamped on their exit certificates and passports of hundreds of thousands of Jews who became refugees overnight. The Jewish refugees from the Arab countries and Iran.
We have witnessed the phenomenon of refugees and vast population exchanges around the world for centuries. Such as the phenomenon of Palestinian refugees and their suffering. Throughout my life I identified with their pain, but never had any idea that there were Jewish refugees, numbering about 850,000 Jewish refugees from Arab countries who fled to Israel between 1948-1972, who had undergone a painful, and similar, displacement and that I was a descendant of them. My grandmother Latifa Abu-Rish, who fled Lebanon, say nothing about her story or about my grandfather's story who escaped from Syria, or my grandparents who fled From Iran.
It revealed to me that there was a state of imbalance in the world's treatment of Palestinian refugees towards the Jewish refugees from Arab countries. Whereas the Palestinian refugee problem is well-known around the world, the tragic fate of Jewish refugees has all but been erased from the annuls of history.
It was only in 1957 when UNHCR (United Nations High Commissioner for Refugees) declared Jews who fled Arab countries to be refugees entitled for its protection, for the first time. On 22 November 1967 the United Nations Security Council unanimously accepted Resolution 242, which determines the guidelines for establishing peace in the Middle East, including a just solution for the refugee problem.
This resolution does not distinguish between Arab and Jewish refugees. The former US presidents, George Bush and Bill Clinton, called for Jewish refugees to be compensated by Arab countries. The American Congress determined that these refugees must be compensated (2008).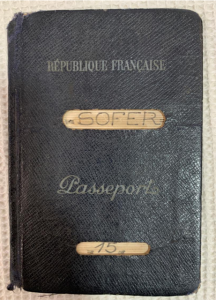 State of Israel's attitude towards the Jewish refugees
Despite this, the attitude of the State of Israel towards the Jewish refugees was a criminal neglect all these years. Too little has been done about it, too little has been said about it, too little has been raised on the negotiating table, and the silence has become more comfortable.
Today, we are entering a new period in which peace agreements are being signed between Israel and the Arab countries. Agreements in which the issue of Palestinian refugees is no longer an uncompromising condition, but still the issue of Jewish refugees is not on the agenda, nor the issue of restitution of property or equivalent. Does anyone protect the rights of Jewish refugees from Arab countries? At the cost of forgetting what was in the past, would we want to make peace with other Arab countries as well? What will be the real price we will have to pay? Do we even want to go back to the places we were expelled from?
It was not until 2008 that people in the government system in Israel began to realize that an injustice had been done here, that a Jewish Nakba had been committed here. Only in 2014 with much effort did Dr. Shimon Ohayon, director of the Dahan Center at Bar-Ilan University, and his colleagues succeeded in fighting and the law was enacted to mark the day of departure and deportation of Arab and Iranian countries, November 30, which will be celebrated worldwide this week.
However, here we are today in 2020, and this history is still disappearing from the textbooks, many documents have not yet been revealed, and the issue is not placed in its rightful place in the pages of history, and so in the matter of restoring Jewish property that the Israeli Government estimates (December 2019) at a total of $150 billion, from Iran, Libya, Yemen, Syria and Eden alone,  and more are at hand for six other communities that have not yet been estimated.
It is important to remember that the initial historical confrontation was between Judaism and Islam, so the Jews suffered under the rule of Islam, when only much later, with the establishment of the State of Israel, did the matter become a political debate that adopted an Israeli-Palestinian confrontation narrative.
The life of the Jews under the rule of Islam
Jews lived in the world as far back as antiquity, long before Islam and were divided into three main groups: the Roman Empire, the Byzantine Empire in the west, and the Sassanid Empire in the east. And there was a very large community in Babylon, and in Syria and Israel.
With the rise of Islam in the seventh century, Jews became d'imi (lower class), forced to pay skull tax – jiza, live in special quarters, wear distinctive clothing, sometimes had to convert to Islam, their legal status was low and they suffered blood libels, murders and violence, and laws that deprived them of their citizenship and forced some of them to be uprooted from their homeland, while facing many hardships, which made the lives of many refugees.
All this takes place long before Theodor Herzl – the spiritual father of the Jewish state, and long before the rise of Zionism, the examples are many, and the canvas is very wide, but if we take the example of the Iranian Jewish community – it experienced periods of peace and quiet, periods of persecution and oppression, for example In 1796 and lasted until 1925. About 129 years in which the Jews experienced persecution wherever they were.
A British diplomat named George Crozon described in detail in 1892 their lives as a life of rebellion, of ignorance, of life in Mah'-la – a ghetto, Jews were forbidden to own shops, lived in separate districts, were not allowed to ride horses, and Jews were the scapegoat in Iran, accused and suffered blood libels, in addition, a Jewish martyrs from Mashhad in 1839, then forced to convert to Islam, changed their name and lived as muslims, only secretly preserved their Judaism, later underwent a severe pogrom in Hamadan in 1860.
Another example is the Jewish community in Morocco, which has experienced ups and downs alongside waves of violence and riots. Beginning in the ninth century the Jewish community in the city prospered economically and spiritually, but its wealth aroused the envy of the Muslims. In 1033, a Muslim mob murdered 6,000 Jews in the city of Fez amid power struggles for control of the city. The rise of the Alawite dynasty (which is still ruled by Morocco) and the instability that Morocco knew in its early days led to several waves of riots among Moroccan Jews.
The worst of these was the Tetouan pogrom in 1790 which included murder, looting and rape. Community breadwinners were tied alive to horse tails and dragged around the city. We witness that in every Jewish community the stories of atrocities were many and difficult.
The Holocaust in Islamic countries
Even the tentacles of the Holocaust that befell European Jewry penetrated Arab countries, and immigrated during the 1930s. In his broadcast on Radio Berlin (Iraq), the Mufti of Jerusalem, Haj Amin al-Husseini, in 1940, urged the Arabs: "Kill the Jews wherever you find them. It makes G-d happy, history and religion. It will save your honor."
In 1941 the Mufti met Hitler and offered to take care of the extermination of the Jews of the Arab countries. Labor camps were set up, Jews in some countries were required to wear a yellow badge identifying them as Jews, a sign that it actually began under Muslim rule and from there moved to Europe. Many were murdered and the threshold of hatred against them skyrocketed. All of which eventually turned many of them into refugees.
Jewish tragedy in Muslim world
It became the Jewish tragedy of the Muslim world. A tract of massacres, pogroms, expropriations of property and deportation against the Jews of Arab countries and Islam, who were loyal citizens who did not declare war on the countries in which they lived, nor were  a hostile minority in the Muslim world.
On the contrary, "they brought peace and development with them and spread gold and prosperity in Palestine, and did not expel anyone. Despite this, the Muslims declared war on them and did not hesitate to slaughter women and children." (A letter from 1936 written by six Alawite figures from Syria to the French Foreign Minister, in which they express their concern for the future of the region).
The Jews experienced throughout the ages, hardships that forced them to move out of their places and made many of them refugees; People who were not Zionists, who loved their homeland, were patriots of their country of origin, lived in economic well-being, most were not voluntary immigrants, they did not seek to leave for economic reasons, or were interested in the possibility of immigrating to Israel. These people were mostly refugees who were forced to flee in order to save their lives. Some were deported. Some before their displacement, lived under threats, harassment and persecution. Their property was expropriated or confiscated.
The Jews who were displaced from Arab countries and Iran became victims, who suffered blatant violations of human rights in the countries where their lives were conducted. Some were forced to leave, to sign a document allowing them to leave the country while confiscating all their property, when all the property they could carry with them in their escape was confined to one suitcase.
The successes of Jews in Arab countries
But beyond all these, there were also good times in the lives of the communities in Arab countries and Iran. We also find in their lives a rich and diverse world of different cultures, of diverse ceremonial rituals, of successes, prosperity and blossoming, of customs, of sounds, tastes and smells. All of these open us up to a whole world of flourishing and cultural, economic, social and communal wealth of the communities in their countries of origin.
For over 2,500 years, hundreds of thousands of Jews lived in ancient and prosperous communities in North Africa and the Middle East; Morocco, Algeria, Tunisia, Libya, Egypt, Yemen and Eden, Iran, Iraq, Syria and Lebanon.
Jews were integrated – far beyond their relative share of the population (both Muslim and European) – into the country's economy: trade, banking, private business and the liberal professions, including doctors, nurses in hospitals and clinics, pharmacists, journalists, lawyers, university lecturers and teachers.
November 30, 2020
Moving forward to 2020; We are on the threshold of November 30, the day to mark the departure and deportation of Jews from Arab countries and Iran, being celebrated in Israel and around the world, in ceremonies, academic conferences, poetry evenings and Kaddish prayers in memory of all Arab Jews murdered or that their burial place was not known.
The story of the Jews of the Arab countries is slowly beginning to unravel, and we are even witnessing a handful of members of the community begin to tell and share, a fact that did not exist before, they kept silent, doubt they were not able to tell, doubt it was not legitimized, or alternatively silenced.
In any case, it is appropriate that we do all we can to correct the historical injustice, and in the meantime you are invited to a series of events dedicated to marking this important day:
A major event spanning the globe that will be broadcast live on 30.11.2020 at 18:00 Israel time, organized by the Ministry of Social Equality and the Ministry of Jerusalem and Heritage. During the event you can enter the various communities and learn about them, as well as enjoy a show that will take place in Jerusalem. Enter the link to register, the number of places is limited.
https://www.30november2020.com/en/
The annual conference of the Dahan Center – Bar-Ilan University – in the presence of the Minister of Social Equality, the Minister of Jerusalem and Heritage, the Chairman of the Jewish Agency, a lecture on the subject, poems by poets from various communities and the recitation of Kaddish. The conference was through the Zoom and the full recording is attached.
B'nai Brith Canada will virtually commemorate this day by presenting heartfelt stories from those in our community who were personally affected by the ruthless, mass displacements.
https://www.bnaibrith.ca/heartfeltstories
Dana Avrish is a multi-disciplinary artist, creator, curator, researcher, designer & lecturer.  Mother of two children. Works worldwide. Based in Tel Aviv. Created, curated & designed the exhibition "Leaving, never to return!" About Jews in Arab countries and Iran. MUSA, Tel-Aviv (2019) Created, curated & designed the installation "Etz o Pali(t)?" – [tree or refugee?] – about the Jews in Arab lands. ICC, Jerusalem (2016)