Like the boy crying wolf, in Aesop's fables, politicians have habitually been preaching, during each major voting cycle, "This is the most important election in history!" meaning this country's future is at stake, if the votes don't go their way. Sadly, we have to say, this year's battle for control of the nation tops all others. If the Democrats, led by Joe Biden's masters take control, life as we know it will change for the worse. It's not our assumption, they, themselves openly and boldly tell us so.
Free Medicare, college, housing for all, open borders, looking the other way, as non-citizens vote, re-friending Iran and apologizing to China for Trump's "abusive behavior." The morphing of our capitalistic system into the slide to Communism will foster no incentives for anyone outside of the politicians in power. The evidence in Cuba, Venezuela and Soviet Russia was clear. Shoddy goods manufactured by non-motivated workers in state owned and managed companies for whom the work ethic was zero, destroyed the economies.
The inspiration to achieve, to create, to be proud of one's accomplishments, to rise up the ranks, was smashed. The Russians saying as late as the 1970's was, "We pretend to work and they pretend to pay us," will envelope our labor force if the Radical Left wins this next election. As such, we at the Jewish Voice have researched the following candidates and have come up with the slate below of people who would strive and fight to maintain and even better our current way of life. Look them over and show you support by casting your votes for them for the future of all of us. Thanks!
1–President–Donald J Trump
We are endorsing President Donald Trump for re-election. A businessman and real estate entrepreneur from New York City, our nation's 45th president deserves your vote as he has not only fulfilled his pledge to "Make America Great Again" but has done so in spades. He has revitalized our economy, has stopped illegal immigration through the building of the southern border wall, has instituted historic tax cuts, has created millions of jobs, has moved the US embassy from Tel Aviv to Jerusalem, has fought against anti-Semitism on college campuses, has declared Israeli sovereignty on the Golan Heights and has defended Israel from constant degradation at the United Nations.
2–Nicole Malliotakis–Congress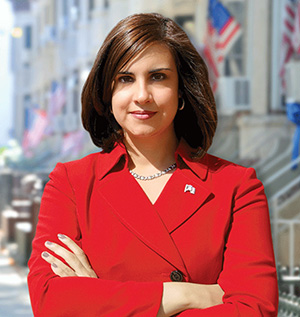 11th District–Staten Island/Brooklyn. In the State Assembly, Nicole (the Republican and Conservative candidate) has worked assiduously to find commonsense solutions to the issues that matter most on Staten Island and in Southern Brooklyn. She's been a reliable voice defending her constituents against the regressive policies advanced in both Albany and City Hall! She has also received the endorsement of President Trump and of longtime Democrat Assemblyman and Jewish community activist, Dov Hikind.
3- Cathy Bernstein–Congress
10th District–(running against Nadler–Manhattan/Brooklyn) Cathy Bernstein has lived on the Upper West Side for the past 35 years, and she is witnessing the city decline again due to the progressive policies of Mayor Bill de Blasio and Congressman Jerry Nadler of the 10th Congressional District. As a fellow constituent, Cathy cares deeply about the quality of life in the 10th Congressional District. Cathy is a lifelong New York Republican. A SUNY Albany Business graduate and CPA, Cathy has worked at a Big 8 accounting firm specializing in taxation and now works as a Financial Consultant. She is a member of the New York State Society of CPAs and has served on its Taxation of Individuals Committees.
4–Vito Bruno–State Senator
22nd State Senate District–Vito Bruno, a music industry insider who got his start at 2001 Odyssey, the Brooklyn club made famous in "Saturday Night Fever," says crime and safety are his biggest concerns as he mounts a challenge against incumbent State Sen. Andrew Gounardes (D-Bay Ridge) as a Republican. Bruno earned the support of Guardian Angels founder Curtis Sliwa as he claims inequality and safety are the two biggest issues facing Brooklyn neighborhoods such as Bay Ridge and Dyker Heights.
5–Simcha Felder–State Senator
17th State Senate District–During his tenure on the New York City Council, Felder gained popularity among his conservative Jewish constituents for advocating strongly on their behalf and for supporting Israel. Felder backed city funding for religious schools, while maintaining that he opposes displays of religion in public schools. Felder has also gained attention by calling for better labeling of caffeine content in foods and beverages, as well as a ban on the distribution of unsolicited fliers.
6–Steven Cymbrowitz–Assemblyman
45th State Assembly District–A child of Holocaust survivors, Assemblyman Cymbrowitz is involved with the international organization World Without Nazism and has been a featured speaker at conferences in Moscow, Berlin, and Riga, warning of the recent rise of neo-Nazi groups and the need for increased vigilance to deal with this threat. In his Brooklyn district, he sponsors an annual contest in which hundreds of students creatively express what they've learned about the Holocaust as well as the importance of treating all people with tolerance and compassion.
7–Gregory Marks–State Assembly
20th Assembly district in Long Island–Gregory Marks is a global public health expert and a graduate of the University of Oxford and McGill University. He has also spent time at the University of Edinburgh where he was a Leverhulme Doctoral Scholar, conducting research towards a PhD in global health. For three years, Gregory served as a lecturer in global health at the University of St Andrews School of Medicine. He taught on the Masters in Global Health Implementation leading modules on governance and complex global health emergencies, like the 1918 Flu Pandemic, SARS, and Ebola.
8–Simcha Eichenstein–State Assembly
48th State Assembly District–Assemblyman Simcha Eichenstein was elected on November 6, 2018, to represent New York's 48th Assembly District, which includes the neighborhoods of Borough Park and Midwood in Brooklyn. Before his election, Simcha served on New York City Mayor Bill de Blasio's legislative affairs team in Albany, and as part of the mayor's senior Intergovernmental staff at City Hall. During this time, Simcha played a crucial role advocating for budgetary and legislative priorities vital to the City of New York in Albany, and was instrumental in helping craft and pass many pieces of legislation in the state legislature.
9–Lee Zeldin–Congress
1st congressional district–Long Island–In 2014, following four years in the State Senate, Congressman Zeldin was elected to the U.S. House of Representatives, representing New York's First Congressional District. Immediately after taking office in 2015, Congressman Zeldin quickly became a leading voice in America on the need for a stronger, more consistent foreign policy; outspoken on the need to defeat ISIS and other terrorist threats, secure our homeland, and correct a deeply flawed Iran nuclear agreement.
10–Carolyn Maloney–Congress
12th congressional district–As a senior member of the House Committee on Oversight and Reform, Maloney's legislation has helped government work more efficiently and has saved hundreds of millions in taxpayer dollars. As co-founder of the House 9/11 Commission Caucus, Maloney helped author and pass legislation which created the 9/11 Commission and, later, to implement all of the 9/11 Commission's recommendations for improving intelligence gathering—described as the most influential intelligence bill in decades. The James Zadroga 9/11 Health Care and Compensation Act, her bill to provide health care and compensation for 9/11 first responders, residents and workers near Ground Zero passed Congress in late 2010 was signed into law by President Obama on January 2, 2011.
11–Brad Hoylman–State Senate
14th Congressional district–(running against Alexandria Ocasio-Cortez)–John Cummings was born and raised in the Bronx. He followed in his father's footsteps and was sworn in as a NYPD officer in 1983, and was assigned to NSU 7 in the South Bronx. After suffering a serious injury while assigned to the NYPD Harbor Unit, he was forced to retire in 1991 with multiple commendations for bravery and excellence in the line of duty. Following his retirement, he earned a degree from Fordham University, and later became a father to his two sons. He later returned to his high school alma matter as a History and Government teacher where he just completed his 22nd year.
13–Yvette Clarke–Congress
9th congressional district–Clarke is a leader in the tech and media policy space as co-chair of the Smart Cities Caucus and co-chair of the Multicultural Media Caucus. Congresswoman Clarke believes smart technology will make communities more sustainable, resilient and livable and works hard to ensure communities of color are not left behind while these technological advancements are made.
14–Elise Stefanik–Congress
21st congressional district–Upstate NY–Adirondacks, Utica. Elise Stefanik is a Member of the Armed Services Committee, the Committee on Education and Labor, and the House Permanent Select Committee on Intelligence. On the Armed Services Committee, Congresswoman Stefanik serves as Ranking Member for the Subcommittee on Emerging Threats and Capabilities and is a Member of the Subcommittee on Readiness. On the Committee on Education and Labor, she serves on the Subcommittees on Higher Education & Workforce Development and Civil Rights & Human Services. Congresswoman Stefanik is proudly the youngest Republican woman ever elected to Congress in United States history.
(Jewish Voice writers Alan Bergstein and Fern Sidman contributed to this article)