New York State Department of Environmental Conservation (DEC) Commissioner Basil Seggos last week offered encouragement to outdoor enthusiasts to explore less-traveled destinations instead of crowded hotspots while following the principles of Leave No Trace. In anticipation of visitors looking to get outside over the upcoming holiday weekend, Commissioner Seggos called on visitors to do their part to protect all State Lands for future generations by packing out what they bring in and not leaving litter behind. Due to the ongoing COVID-19 pandemic, DEC is also reminding hikers and visitors to use common sense guidelines for smart and safe recreation, including incorporating social distancing and wearing a face mask, planning trips ahead, choosing a destination close to home, and visiting at off hours.
"New Yorkers are desperate for a chance to get outside, go for a hike, see new sights, and get a breath of fresh air. It's fantastic that so many people are discovering the outdoors, but these lands belong to all of us and everyone can help to protect State Lands for generations to come," Commissioner Seggos said. "We're asking New Yorkers to try a trail less traveled and enjoy the many other incredible destinations across the state so that we can all recreate safely and responsibly during the pandemic."
Over the last decade, DEC has witnessed a steady increase in the number of visitors recreating on the lands and waters of the Forest Preserve and conservation easements in the Adirondacks, particularly in the High Peaks area. DEC has also seen increased use in the Catskills and on lands statewide. With this increase in use, DEC is also seeing an uptick in impacts to natural resources and recreational infrastructure, and complaints about degradation of the visitor experience.
DEC held four focus group meetings in 2018 to help identify strategies and potential solutions to responsible recreation. A stakeholder meeting in 2019 identified priorities to address including illegal parking, public safety, and trail degradation. The outcome of the stakeholder meeting was the formation of the High Peaks Strategic Planning Advisory Group, which is developing its final report to submit to DEC.
Rather than visiting the High Peaks, DEC is encouraging New Yorkers to check out the State's hidden gems.
In the Southern Tier, Cameron State Forest in Steuben County is a great place to start for those looking for an opportunity in the more remote wilderness. While there are no designated parking lots, parking is available along the edges of Pump Station Road. Wildlife spotted in the area include black bear, black-throated warblers, and brook trout. Outdoor adventurers looking for easier trails can visit Pharsalia Woods State Forest, which features the Round Pond Observation Platform in Chenango County. An accessible boardwalk leads from the accessible parking lot to the platform, which overlooks the 90-acre Round Pond wetland complex. In Steuben County, Urbana State Forest has a short loop trail with access to Huckleberry Bog.
On Long Island, the Ridge Conservation Area offers 184 acres of mixed wooded and open habitats. Trail markers and an interpretive trail help visitors explore the property that includes 81 acres of reverting farm fields, 85 acres of forest, and four acres of fishable ponds. Randall Pond is a prime site for a picnic or casting a line. In addition, Long Island visitors can check out the Clarence Hylan Beavers Memorial Trail in Smithtown. Part of Kings Park Unique Area, this 69-acre green space is open for hiking and wildlife viewing and features an accessible parking lot and trail. The longest hiking trail is the 1.1-mile Blue Loop Trail. The Clarence Hylan Beavers Memorial Trail is a 0.3-mile accessible trail made of crushed stone and sand. The trail drops one foot in elevation for every 20 feet in length.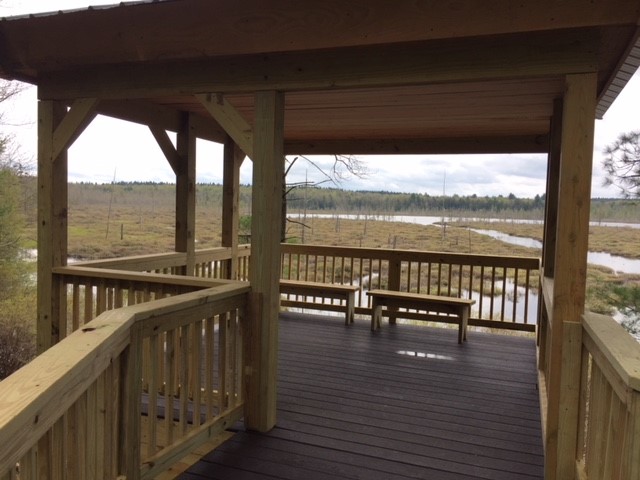 In the Finger Lakes, check out Conesus Inlet Wildlife Management Area in Livingston County, which has two trails that can be accessed from Sliker Hill Rd. The first trail connects three boardwalks that extend out into the edge of the marsh. A portion of the trail along the stream is fully accessible. The second trail is a loop trail that parallels the road for about half its length and travels through field habitat.
In Central New York, Muller Hill Historic Site in Madison County features a 0.25-mile accessible trail, which provides access to the former mansion site of Louise Muller and a wildlife viewing site on Muller Pond.
The Mohawk Valley features the Black River Wild Forest in Herkimer and Oneida counties. The 127,135 acres are located in the southwestern foothills of the Adirondack Forest Preserve and offer a broad spectrum of recreational opportunities. Elevations in the unit range from 1,350 to 2,600 feet, with the highest relief found between Nicks Lake and Woodhull Lake and around North and South Lakes. The Ledge Mountain Trail (Vista Trail) in the town of Ohio, Herkimer County, is 2.25 miles east of the intersection of NYS Routes 8 and 365, on Rt. 8. Look for the large snowplow turnaround on the north side of the road. Park in the turnaround on Route 8 and hike in on the right-hand driveway until the sign-in register/trail head sign. The Vista Trail is an easy 1.1-mile hike to a scenic view on Ledge Mountain overlooking the West Canada Creek Valley. The Bear Lake Trail in the town of Ohio, Herkimer County, is 1.25 miles down the Herkimer Landing Road from the hamlet of McKeever.
Grass River Wild Forest in St. Lawrence County is home several rivers, streams, lakes, and ponds, providing plenty of opportunities for paddling, boating, and fishing. One of the scenic features is Harper Falls on the North Branch of the Grass River. The trailhead just off the Donnerville Road is a fairly easy 1.4 miles round trip with a vertical drop of approximately 60 feet.
The WAG Trail can be found in Allegany County, in Western New York. It's a nine-mile, multi-use recreational trail and historic transportation corridor that extends between the village of Wellsville and the Pennsylvania state line. The trail follows the route of the former Wellsville, Addison and Galeton (WAG) Railroad along the upper Genesee River.
In New York City, Old Place Creek in Richmond County is home to 70 acres of land featuring a critical tidal and subtidal wetland habitat. The headwaters for the creek begin in the forested wetlands of Graniteville Swamp Woods and then slowly meander toward the northern end of the Arthur Kill next to Goethals Bridge, providing a wonderful stretch of tidal salt marsh. Also in Richmond County is Mt Loretto State Forest, 74 acres of unique and diverse green space. This property includes both mixed hardwood forest and wetland habitats, features that make it a beautiful area to hike and one of the best places in the area to spot amphibians.
The Mid-Hudson region is home to the Sundown Wild Forest in Ulster County. A series of picturesque waterfalls with pools, dropping about 30 feet in four stages can be found at the Vernooy Kill Falls. A foot bridge crosses the base of the falls for a gorgeous view. Nearby is a tall stonewall, a remnant of the Vernooy Mill which served as a major crossroads where farmers near and far brought grain for milling 200 years ago. The upper falls of the Vernooy Kill can be accessed via a multiple use trail starting at the newly constructed parking area on Upper Cherrytown Road in the town of Rochester.
For the Capital Region, check out Taconic Ridge State Forest in Rensselaer County. The Taconic Crest Trail runs 35 miles along the New York, Vermont, and Massachusetts border, with a maximum elevation of almost 3,000 feet at Berlin Mountain. A popular section of the trail begins in Petersburg, New York, and leads to the popular "snow hole," a cave-like crevice where snow is sometimes found even in summer.
Leave No Trace
Litter is both an eyesore and poses a danger to local wildlife and delicate ecosystems. DEC is encouraging visitors to the State's natural areas and facilities to keep New York's environment clean by properly disposing of waste. Follow these tips to Leave No Trace:
Carry out what you carry in. Don't leave trash, food, gear, or any other personal belongings behind.
Trash your trash. Use designated receptacles when available or carry your trash in a small bag so you can throw it out at home. Never put trash in outhouses or porta-potties.
Use designated bathroom facilities when available. If traveling, use the rest areas closest to your destination before you arrive. Learn how to dig a cat hole(leaves DEC website) and properly dispose of your human waste for the times when nature calls and a bathroom is not available.
During the COVID-19 public health crisis, take extra precautions when picking up trash you find on the trail. Wear gloves and make sure to hand sanitize when you are done.
This past summer, DEC and the Office of Parks, Recreation and Historic Preservation (State Parks) launched the PLAY SMART * PLAY SAFE * PLAY LOCAL Campaign to encourage all New Yorkers to recreate safely, responsibly, and locally this summer and to always treat fellow outdoor adventurers with respect. The campaign invites people to take the PLAY SMART * PLAY SAFE * PLAY LOCAL pledge, and promise to use common sense to protect themselves and others when enjoying the outdoors. During the State's ongoing response to COVID-19, New Yorkers across the state want and need to get outside for a nature break, which is good for physical and mental health. The campaign and pledge include common sense guidelines for smart and safe recreation, including incorporating social distancing and wearing a face mask, planning trips ahead, choosing a destination close to home because public restrooms and restaurants may not be open, and visiting at off hours. The agencies are also encouraging New Yorkers to take the pledge and use the hashtag #PlaySmartPlaySafePlayLocal when sharing their outdoor adventures on social media.
New Yorkers are strongly advised to plan their outdoor adventures ahead of time and choose alternate destinations if their first choice is closed or crowded. Check parks.ny.gov and 511 for park capacity closure alerts and visit the DECinfo locator to find the nearest DEC-managed lands. DEC and State Parks websites also feature guidelines to help New Yorkers safely engage in outdoor activities including swimming, hunting, fishing, boating, golf, and hiking. Indoor spaces and restrooms at State Parks and DEC public facilities may remain closed out of an abundance of caution to prevent community spread of COVID-19, so New Yorkers are encouraged to stay local, within their region, and use the #RecreateLocal hashtag on social media.