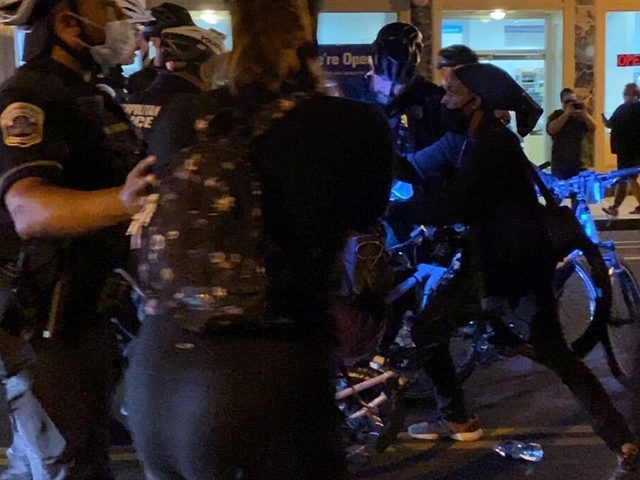 (TJV News) The Grand Jury decision involving the fate of the Louisville police officers involved with the botched no-knock warrant which resulted in Breonna Taylor's death, brought a new round of chaotic protests, across the nation. None of the officers were charged with Taylor's death, after it was determined that police identified themselves as they knocked on Taylor's apartment door, during a no-knock warrant, they knocked 3 times, as per witnesses before breaking down the door, resulting in Taylor's boyfriend firing at the police. Kenneth Walker, fired a gun at the officers he said he  believed to be intruders, who fired over 20 shots in turn. Ms. Taylor was shot five times, according to her death certificate.
On September 15, the city of Louisville agreed to pay Taylor's family $12 million and reform police practices, including ending no-knock warrants  On September 23, a state grand jury indicted officer Hankison not for Taylor's death, but on three counts of wanton endangerment for endangering a neighbor with his shots. The two other officers involved in the raid were not indicted
These circumstances lead to the following scenes across America. The protests in Kentucky, including the shooting of 2 officers was heavily reported on, however the events on many other major cities were basically only reported on by independent journalists on the ground. TJV rounded up the actual chaos of these protestrs, which most of the media will not show you !
Watch: A rioter at the BLM-antifa Portland riot throws a large Molotov cocktail at @PortlandPolice. #PortlandRiots #antifa pic.twitter.com/mRGCAbFOQe

— Andy Ngô (@MrAndyNgo) September 24, 2020
Portland: BLM-antifa rioters throw an incendiary device at police that erupts in huge flames. #PortlandRiots #BLM pic.twitter.com/qHAM5yThZI

— Andy Ngô (@MrAndyNgo) September 24, 2020
Seattle: Antifa rioters assault a cop who was knocked to the ground from his bicycle. A person then uses a metal bat to strike him on the head. This is in the middle of the former "CHAZ." #SeattleRiots #antifa #BLM pic.twitter.com/34cTbUoE9U

— Andy Ngô (@MrAndyNgo) September 24, 2020
Seattle: Rioter lays in the street to try and stop the police from moving in on bicycles. One officer rides over him anyway. #AntifaRiots #BLM pic.twitter.com/zQHC2wXJrP

— Andy Ngô (@MrAndyNgo) September 24, 2020
St. Louis, Mo.: The police headquarters was set on fire by rioters. #BLM pic.twitter.com/GoiRKDlGhk

— Andy Ngô (@MrAndyNgo) September 24, 2020
Black woman screaming at black police officer: "Shame on you! You should be out here with us!" Dude next to her holding skateboard later gets arrested. pic.twitter.com/dHtfVMLbyR

— Kristina Wong 🇺🇸 (@kristina_wong) September 24, 2020
HAPPENING NOW- protest moves to I-94 in St Paul pic.twitter.com/RQAwwGGKrY

— Sarah Danik (@Sarah_Danik) September 24, 2020
Local independent journalist named Hiriam, who spent the whole summer covering protests in Austin, mobbed and cursed out of Breonna Taylor protest at City Hall. Large ANTIFA presence. pic.twitter.com/URO9xHAnzJ

— Savanah Hernandez (@sav_says_) September 24, 2020
Local independent journalist named Hiriam, who spent the whole summer covering protests in Austin, mobbed and cursed out of Breonna Taylor protest at City Hall. Large ANTIFA presence. pic.twitter.com/URO9xHAnzJ

— Savanah Hernandez (@sav_says_) September 24, 2020

Dallas
DALLAS: "f*ck you" a few white BLM protesters yell at a black woman in her car

As she tries to pass through an intersection they are blocking

She pleads, "you're protesting the wrong person"

They continue to hurl expletives as traffic builds up pic.twitter.com/aBlRSnM3Ng

— ELIJAH RIOT (@ElijahSchaffer) September 24, 2020
NOW: Protesters are marching down Centre Avenue in Pittsburgh following a Kentucky grand jury's decision in the case of Breonna Taylor. pic.twitter.com/oaymRXscmv

— Shelby Cassesse (@ShelbyCassesse) September 24, 2020
Huge crowed right now estimating about 500-700 protesters as they march away from the white house everyone is dressed in black #BlackLivesMatter #BreonnaTaylor #JusticeForBreonnaTaylor#dcprotest #dcprotests #blmprotest #BLM #HappeningNow #BLMDC#Breakingnews #ACAB #DC pic.twitter.com/VZXd8S6QNN

— RawsMedia (@rawsmedia) September 24, 2020
~10k protesters in all lanes of Manhattan Bridge, pedestrian and traffic lanes. pic.twitter.com/cMtViRk0zs

— Matthew Chayes (@chayesmatthew) September 24, 2020
"Oink! Oink! Oink!" — several pedestrians shout at marching NYPD cops following marchers, passing East 3rd Street and Bowery. pic.twitter.com/XD6GOEHqHv

— Matthew Chayes (@chayesmatthew) September 24, 2020
Group from 59th is now headed east on 24th St.

"No cops, no KKK, no fascist USA," the crowd chants to live drums. pic.twitter.com/Yxo5BJZddY

— NYC Protest Updates 2020 (@protest_nyc) September 24, 2020
Large crowd of protesters are out in downtown Dallas demonstrating in response to the Breonna Taylor case in Kentucky. | @utashorthorn pic.twitter.com/KtOZMUbO5b

— Megan Cardona (@megancardona_) September 24, 2020
"Justice for Breonna" protesters chant at the Joe Louis Fist in Detroit. #BreonnaTaylor #DetroitWillBreathe #BLM pic.twitter.com/Q7D7m7N7CT

— Kristen Shamus (@KristenShamus) September 24, 2020