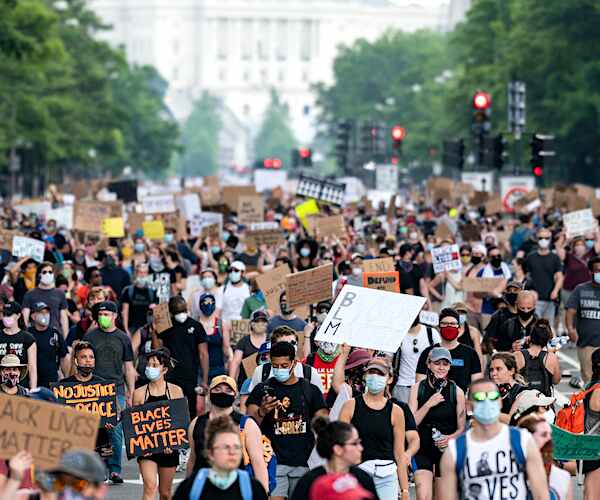 By John Gizzi (NEWSMAX)
If there was any common and unifying theme in Saturday's march on Washington to commemorate Minnesotan George Floyd, it was the call to defund local police forces.
Scores of the marchers carried placards reading "Defund the Police" or "Disarm, Demilitarize, Defund Police" and even "F*** the Police."
Most expressed similar sentiments about the men and women in blue, although at least one suggested cutting the appropriations for local police forces without defunding them altogether.
"Right now, nearly half of our funds in the District of Columbia are going toward training of police which escalates the situation [between police and citizens] instead of easing it," Priyanka Tripuraneni, a medical student at Georgetown University living in Washington, D.C. told us.
(Actually, D.C. Mayor Muriel Bowser's budget for Fiscal Year 2021 calls for a $578,069,493 Metropolitan Police Department (MPD) operating budget, a 3.3% increase from 2020. The proposed operating budget for the District in FY 2021 is roughly $13 billion.)
Despite her sign reading "Defund the Police," Tripuraneni insisted she wanted to "cut the funding of local police departments but not completely." The money that was saved from spending on items such as police riot gear, she said, "could be used for masks in public health facilities and on programs dealing with homelessness and education."
James ("I don't have a last name!"), who said he lives "just outside Washington, D.C., was much more forceful in his calls for denying police funding.
"You have some bad apples in police departments, so you defund the tree until the bad apples are gone," he told us. "Right now, you have overwhacked [sic] funding of police departments and cops are still throwing people to the ground."
He added, "one defunds completely until not a single cop can kill anyone."
Emily of Arlington, Virginia, who also declined to give her last name, said police departments need to be defunded because "they are built on racism and they continue to oppress the community. They haven't done good."
Asked who would direct traffic and other non-controversial tasks performed by local police, Emily replied: "You don't need someone with a gun directing traffic."
It was clear from Saturday's march — the 12th in Washington and by far the largest since George Floyd's killing — that the movement to defund or reduce the funding of the police enjoys a following, whether it will be embraced by Joe Biden or other Democrats seeking office this fall remains to be seen.