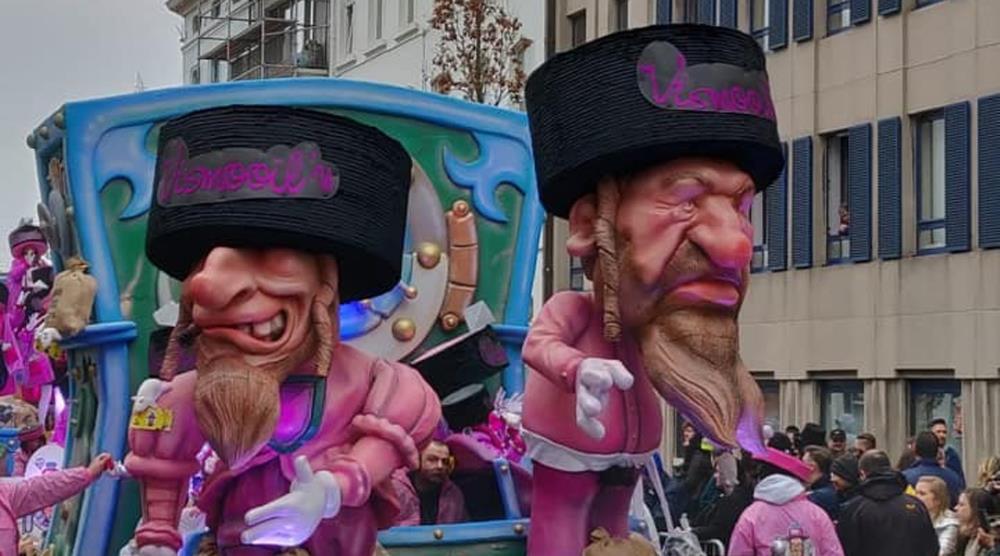 The town of Aalst in Belgium is known as a storied carnival town but now has decided to renounce its official UNESCO designation as a cultural European mecca. This decision comes after the United Nations Economic Scientific & Cultural Organization has been debating on whether to revoke that designation in the aftermath of grotesque anti-Semitic imagery that has played a major role in the town's revelry.
By: TJVNews.com
According to a NY Times report, the city's mayor, Christoph D'Haese sent the agency a letter on Tuesday, renouncing Aalst's place on the list before it could be removed.
D'Haese said Sunday that city officials "have had it a bit with the grotesque complaints and Aalst will renounce its UNESCO recognition." On a Belgian television talk show on Monday night, D'Haese added, ""We don't want to be the stage for a racist or anti-Semitic debate about a folk festival that connects people."
The Times reported that the mayor's office does not have the authority to leave the agency's Intangible Cultural Heritage list of its own accord, and such a request would have to come from Belgium's UNESCO delegation, a spokeswoman for the international group said.
The town said that it is "sick of widespread complaints that this spring's edition contained blatant anti-Semitism," as was reported by the AP.
Earlier this year at its annual parade that is held on the Sunday before Lent, one float carried two giant figures of Orthodox Jews with side curls and grotesquely large noses, along with rats and bags of money, according to the NY Times. The report added that another Carnival group dressed up as members of the Ku Klux Klan — in order, they said, to satirize a far-right city councilor in a nearby town.
The parade of floats draws some 100,000 visitors every year to the city close to Brussels. Most often it goes off without a hitch, as was reported by the AP.
The town said it was trying to make a joke and they contend no one should try to muzzle humor of any kind during the three-day Carnival, according to an AP report.
In anticipation of the 2020 carnival, hats adorned with side curls and hooked noses are for sale in the city, according to the NY Times report.
The controversy was nothing new for Aalst, as was reported in the New York Times. In 2013, a group of people took part in the Carnival parade wearing Nazi SS uniforms, marching alongside a float evoking the infamous cattle cars that transported Jews to their deaths in such notorious concentration camps as Auschwitz-Birkenau in Poland and carried what appeared to be cans of the also infamous Zyklon B poison gas that was used by the Nazis to exterminate Jews in death camps.
AP reported that Aalst is one of Europe's most famous Carnivals and it is a celebration of unbridled, no-holds-barred humor and satire. Politicians, religious leaders and the rich and famous are relentlessly ridiculed during the three-day festival ahead of Roman Catholic Lent.
UNESCO, Jewish groups and the European Union have condemned the float as anti-Semitic, with the EU saying it conjured up visions of pre-Nazi Europe in the 1930s.
The dispute was investigated by UNIA, an independent antidiscrimination group in Belgium, according to the NY Times report.
"We decided that the float was anti-Semitic," said Bram Sebrechts, a spokesman for UNIA. But he said the group had concluded that the float did not violate the law because its specific goal was not to spread anti-Semitic beliefs, nor was it meant to incite violence against Jews.
André Gantman, a Jewish city councilman in Antwerp who belongs to the same political party as Mr. D'Haese, said that the resemblance between the parade float and 1930s Nazi imagery of Jews was eerily similar, according to the Times report.
"No lessons have been learned from history," said Mr. Gantman, whose grandfather died in Auschwitz.