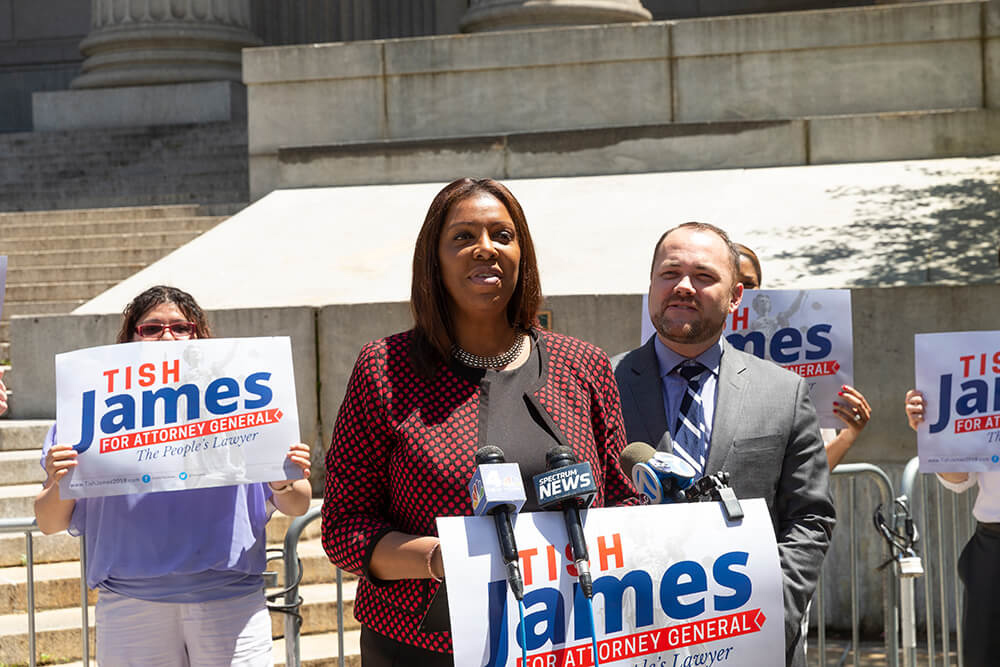 By: Henry Meier
New York Attorney General Letitia James is claiming that a federal court in Washington does not have jurisdiction – but New York State does — to consider the president's challenge to a state law making his tax records available to Congress.
Court documents were filed last week with U.S. District Judge Carl Nichols. Special Litigation Counsel Andrew Amer noted, "Mr. Trump fails to allege any facts to support the Court's exercise of general jurisdiction over the New York Defendants. They are nonresidents outside the reach of this Court's general jurisdiction."
Attorney for the president are making the case that New York State put the TRUST Act in place in July specifically in order to target Donald Trump for his speech and political views in violation of the U.S. Constitution's First Amendment.
The president has also filed suit against the House Ways & Means Committee, even though it has yet to ask for the information from New York State.
"Nichols ordered the state to file a brief after brokering a deal in which New York would wait a week after his ruling to turn over the records. He also ordered the state's lawyers to tell him if the committee asked for them," reported Crain's New York Business. "Trump's response to the state's motion is due on August 19. Nichols will hear arguments on Aug. 29."
"Plaintiff alleges no facts to support this Court's exercise of personal jurisdiction over the New York Defendants, officials who reside in New York as required by law and work primarily in New York," said James. "Nor does Plaintiff allege any facts to demonstrate that his sole claim asserted against the New York Defendants – a First Amendment challenge to New York's Tax Returns released Under Specific Terms ("TRUST") Act – arises out of any conduct by the New York Defendants occurring in the District of Columbia."
In addition, she said that if should Trump's suit not be dismissed by the count, the case should go it to a federal court in New York state. "Nor is the venue proper in this District. Neither of the New York Defendants resides in D.C., the complaint alleges no events or omissions by the New York Defendants taking place here."
"Today's motion argues what we've said from the outset — that this case has no place in the DC courts," James pointed out in her statement. "While President Trump has spent his career hiding behind lawsuits, this premature suit will not move forward until the question regarding jurisdiction is settled. We look forward to making our case during oral arguments later this month. We maintain that the TRUST Act is constitutional, and we will vigorously defend it."