If you think of youth hostels as dingy dormitories with communal bathrooms, the hostels of Israel will make you think again
Hostels have a reputation as low-budget, barebones places for traveling students to hang their backpacks and get a night's rest. In some countries, hostels mean lumpy bunkbeds and communal washrooms.
In Israel, however, hostels are equivalent to two- or three-star hotels with a fun vibe, air conditioning, free Wi-Fi and a surprising level of service. They're not just for youth but also for families.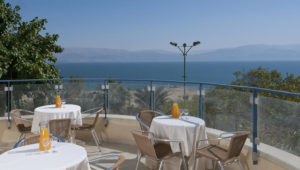 Many of the hostels listed below, where noted, are run by the non-profit Israel Youth Hostels Association (IYHA), an 18-property Hostelling International member network. All IYHA hostels are kosher, with en-suite bath facilities.
ABRAHAM HOSTEL, Jerusalem
This very popular downtown Jerusalem hostel for independent travelers has 75 rooms and 285 beds with options for private or mixed or single-sex dorm rooms. (In about four years, it plans to expand into a new location.)
All three Abraham Hostel locations (see below) offer nightly events for guests ranging from Live Music Night to Shabbat Dinner and lectures; from Travelers' Language Lectures in Hebrew and Arabic to Travel Tips for Israel, the West Bank and the Region. Guided Abraham Tours leave from the lobby daily to sites such as the Dead Sea, Galilee, Machane Yehuda Market, Petra (Jordan) and Golan Heights.
Address: 67 Hanevi'im St. (Davidka Square), Jerusalem
Amenities: Lounge, bar, 24/7 guest kitchen, 24/7 laundry room, rooftop terrace, TV room, traveler center, daily tours and activities, computer station, luggage room and safe, shuttle to the other Abraham Hostel locations
Parking: Paid lot next door
YITZHAK RABIN GUEST HOUSE, Jerusalem
Located in the Givat Ram neighborhood near the Hebrew University, Knesset, Supreme Court, and the Israel Museum and Bible Lands Museum, this IYHA hostel has 77 spacious private and dormitory-style rooms equipped with TV, mini-bar and coffeemaker. Rooms adapted for disabled guests are available on request.
Address: 1 Nachman Avigad St., Jerusalem
Amenities: Free breakfast, box lunches on request, Internet station, dining room/convention hall
Parking: On premises and on the street
CINEMA HOSTEL, Jerusalem
The former home of the Radio City Music Hall-inspired Orion Cinema was vacant for 25 years and reopened in 2018 as the 23-room Cinema Hostel smack in the middle of downtown Jerusalem near the Ben Yehuda pedestrian mall, nightlife, shops and light rail. Daily activities on offer include a pub crawl, movie night, Israeli food workshop, language exchange and jam session. The Dublin Pub is adjacent.
Address: 4 Shamai St., Jerusalem
Amenities: Guest kitchen, tour desk, computer station, laundry, terrace, safe, lounge, bar/breakfast area, indoor games
Parking: Nearby lot
FLORENTIN HOUSE
Everything from a rooftop suite to smart dorm rooms (all-female or mixed) are on offer at relatively low rates here in Tel Aviv's hippest southern neighborhood. Whether you're into vegan food, the bar scene, modern dance or street art, this is the place to be. The eco-friendly 24-room hostel also is in walking distance of the beach.
Address: 6 Florentin St., Tel Aviv
Amenities: 24-hour reception, bike rentals, Vietnamese restaurant next door, breakfast voucher for neighborhood eateries
Parking: public lot nearby
Click for reservations
ABRAHAM HOSTEL, Tel Aviv
Located in the fast-gentrifying Gan Hachashmal neighborhood just off Rothschild Boulevard in the heart of the startup and nightlife scene, Abraham Hostel in Tel Aviv offers 90 rooms and 390 beds in a variety of private, dorm and suite rooms.
This hostel doubles as an event venue hosting Israeli and international performing artists, and recently added services geared to young business travelers.
Address: 21 Levontin St., Tel Aviv
Amenities: Daily events and tours, lounge, bar, 24/7 guest kitchen, 24/7 laundry room, rooftop terrace, private and shared working spaces, TV room, traveler center, computer station, luggage room and lockers, shuttle to the other Abraham Hostel locations
Parking: Paid lot nearby
FAUZI AZAR by Abraham Hostels, Nazareth
Fauzi Azar Inn is a 200-year-old Arab mansion-turned-guesthouse in the Old City of Nazareth at the starting point of the Jesus Trail. With a total of 50 beds in 14 rooms, the inn offers a choice of mixed or all-female dorms, plus private rooms in three sizes. This hostel's goal is to be a multicultural hub for international travelers interested in volunteering in the host city.
Address: Old City, Nazareth
Amenities: Lounge, courtyard, 24/7 guest kitchen, language classes, free breakfast, dining room, laundry facilities, travel info, free Old City tour, daily regional tours, storage and lockers, local volunteering opportunities, daily events and activities
Parking: Underground and on street
AKKO KNIGHTS HOSTEL, Acre (Akko)
This 76-room IYHA guest house is a convenient and affordable base for exploring this ancient seaside Crusader city, a UNESCO World Heritage Site. There are double/twin rooms large enough to add three children's beds, and family rooms with single and bunk beds. Most rooms have balconies.
Address: 2 Weizmann St., Acre
Amenities: Free Wi-Fi and breakfast (additional meals available for a fee), cable TV, mini fridge, coffeemaker, complementary toiletries; lecture hall and classrooms equipped with audiovisual facilities
Click for reservations
ARAVA HOSTEL, Eilat
Arava Hostel offers 90 beds in dorm, family and double room styles for backpackers and independent travelers in this Red Sea resort city. All private rooms include bathroom, linen, a small refrigerator and cable TV.
Address: 106 Almogim St., Eilat
Amenities: Garden with sun beds, barbecue pits, picnic benches, communal kitchen, lobby snack & drink bar, lockers, computer station, free breakfast, hot drinks, safety-deposit box.
Parking: Free in nearby lot
                                                (Israel 21c)