Social Life Magazine celebrated its July cover story featuring Christie Brinkley with polo on June 29th at the Fishel estate in Bridgehampton from 4-7 PM. On one of the hottest days of the year, it is quite a feat to get 750 people to show up in a tent for three hours. The crowd was as varied as they come, with attendees from the world of finance, entertainment, and fashion. The 16-acre estate owned by the Fishel's has become the spot of the summer for charity soirees: including an additional polo match July 6th for Social Life and the Waxman Annual Hamptons Happening on Saturday July 13th. The Fishel's were relatively unknown when I met them two years ago as their son, Bradley, was being honored at the Jewish Museum in New York, for his extensive involvement in the Chabad of Sag Harbor.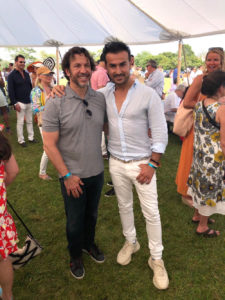 I was duly impressed by his family's laid back disposition as they joked self deprecatingly about their varied accomplishments. Bradley is a certified pilot, an NYU graduate with the looks of a movie star and will soon be heading to law school where he will thereafter take over his father's business-Renaissance Properties. The company, founded in 1961 owns and manages more than one million square feet of commercial and residential luxury space throughout New York and Southern Florida. Maria and Ken, the parents, have exploded onto the New York, Palm Beach, and Hamptons scene as they have expanded their philanthropic activities in the past years. Maria, who favors Valentino and Dolce, loves all things related to G-d and frequently opens up her homes to synagogues and churches alike.
Saturday afternoon began with a smashing 3 PM cocktail party at their home that contained more than 40 socialites dressed in their best attire with many donning off-the-chart hats. These ladies weren't missing a trick and the scene was reminiscent of the recent Royal Ascot in London with champagne and caviar being the delicacies of choice. And then party planner extraordinaire Preston Bailey arrived, and the women went nuts. He was bombarded by queries as to whether he was available this summer and if he had a card to which he responded, "no." I admonished him repeatedly for not carrying a card in Hamptons territory and he politely remarked he would be sure to bring some next week. This giant in the industry has planned the weddings of Melania, Eric and Ivanka Trump with him calling Ivanka one of the loveliest people he has encountered. Bailey, has gone global, assisting in the Ambani wedding in December 2018 which was rumored to have cost over $100 million. Bailey, said Indian weddings were in their own category- giving new meaning to the term splurge.
Ramona Singer also attended the festivities with her current boyfriend and was relatively inconspicuous for a "housewife." At approximately 4:15 PM the group walked from the house to the field where the ensuing polo match was taking place. For the reasonable price of $175 to $300 there were refreshments, an auction, a DJ, a red carpet with Christie Brinkley, Alexa Ray Joel and Jonathan Cheban and more than 53 press outlets. I am still trying to absorb the fact that the ageless Christie Brinkley is 65 as she posed patiently for photos with attendees.
Brinkley, had a lot to celebrate as she recently sold her waterfront Sag Harbor home for close to its listing price of $18 million after having spent 9 years on and off the market. Brinkley also revealed to the magazine that when she was married to Billy Joel she received a white horse for Christmas, which she grew to love. One millennial actually had the audacity to inquire as to who Christie Brinkley was, which left attendees sighing in exasperation. The sweltering heat left the poor uniform clad polo players drenched in sweat but these guys roughed it out until the 7 PM conclusion. There was a definite electricity in the air as the summer crowd fraternized enthusiastically at one of the first events of the season. If this afternoon was an accurate harbinger of "happenings" to come it is safe to say this season will be sensational.