Israel's capital city has it all: History, culture, great food and great vistas. Enjoy it all while staying at one of Jerusalem's diverse hotels
The hospitality industry is booming in Israel's capital city. The Jerusalem Hotel Association counts 10,500 rooms in its member hotels. And that number does not include dozens of small B&B and boutique hotels springing up rapidly across the city.
If you're planning a stay in Jerusalem you have a wide range of choices from downtown hotels to historic boutique hotels in quieter neighborhoods, from large chains to mom-and-pop-style accommodations. No matter where you choose to lay your head, you are likely to start your day with a classic sumptuous Israeli breakfast as part of your overnight package.
Here are our choices for 11 remarkable hotels in Jerusalem in various categories.
WALDORF ASTORIA: Jerusalem's most opulent hotel
Designed by award-winning Turkish architect Sinan Kafadar and Israeli architect Yehuda Feigin, the 225-room Waldorf opened in March 2014 as the only internationally branded luxury hotel on a street that also hosts the five-star Mamilla, David's Citadel and King David hotels. The Waldorf Astoria Jerusalem was chosen a Condé Nast Best Hotel in Israel for three years in a row and was named one of "The 10 Best City Hotels in Africa and the Middle East" by Travel + Leisure in 2018.
Order a slice of the hotel chain's legendary Red Velvet cake to savor in the jaw-dropping lobby, which includes a special Waldorf Astoria clock designed by Avraham Aborgil with four faces adorned with Hebrew, Arabic, Roman and European numerals.
Address: 26-28 Gershon Agron St.
Amenities: Two kosher restaurants, lobby bar, conference and event facilities including 700-square-meter Grand Ballroom, personal concierge, rooftop garden terrace
Parking: Valet
AMERICAN COLONY HOTEL: Jerusalem's most famous boutique hotel
One of Jerusalem's premier hospitality properties, the American Colony is located in East Jerusalem near the Damascus Gate. This 94-room, 120-year-old Ottoman-style complex has three buildings, each complemented by its own garden. The Pasha Deluxe suite comprises original rooms built by the Turkish Pasha in the 1800s for his three wives. Foreign journalists have long favored the American Colony, and celebrity guests over the years have included Winston Churchill, Laurence of Arabia, Lauren Bacall, Peter O'Toole, Richard Gere, Tony Blair and John le Carré.
Address: 1 Louis Vincent St.
Amenities: Outdoor pool, fitness center, sauna, meeting room, courtyard and gardens, four indoor and outdoor dining areas (not kosher), two bars
Parking: Complimentary parking on premises
KING DAVID JERUSALEM HOTEL: Jerusalem's most legendary hotel
Opened in 1931, the award-winning 206-room King David is a venerable landmark in Israel's capital city and consistently ranks as one of the Robb Report's top 100 hotels in the world and features on lists including Conde Nast Traveler's "Top Hotels in the Middle East: Readers' Choice Awards."
The King David is the preferred address for visiting heads of state and celebs. Among its most famous guests over the years were US Presidents Richard Nixon, Gerald Ford, Jimmy Carter, Bill Clinton, George W. Bush, Barack Obama and Donald Trump; British Prime Ministers Winston Churchill, Harold Wilson, Margaret Thatcher, John Major and Tony Blair; King George V, King Hussein, Indian Prime Minister Narendra Modi, Prince Charles, Elizabeth Taylor and Madonna.
Address: 23 King David St.
Amenities: Outdoor pool, fitness center, spa, kosher meat restaurant, kosher dairy restaurant, bar, business services, butler service
DAN JERUSALEM: Jerusalem's largest hotel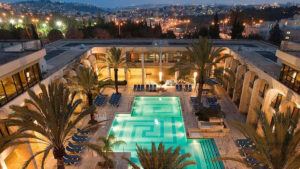 With 502 guestrooms and suites, the Dan is not only Jerusalem's biggest hotel but also one of its finest. Situated in the northern French Hill neighborhood, the Dan Jerusalem (originally the Hyatt Regency) is a magnificently terraced structure designed by Israel Prize-winning architect David Reznik on the slopes of Mount Scopus, offering easy access to the Scopus campuses of Hebrew University and Hadassah Medical Center. Yet it's only a short distance west to downtown Jerusalem or east to the Dead Sea.
Address: 32 Lehi St.
Amenities: Indoor and outdoor pools, spa, gym, Turkish bath, business lounge, Danyland children's club, three kosher restaurants, lobby bar
Parking: Outdoor lot and underground garage
RAMAT RACHEL HOTEL: Jerusalem's only kibbutz hotel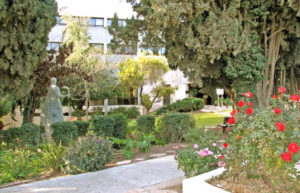 At the tip of southern Jerusalem overlooking Bethlehem and the Judean Hills, the bucolic Ramat Rachel Hotel offers 165 guest rooms and a sparkling new comprehensive Sports Center next door on the kibbutz, which was established in 1926 and boasts Israel's largest cherry orchard. Guests can take free guided tours of the Ramat Rachel archeological site, Eyal's Farm ecological and treatment center, and Olive Park.
Address: Kibbutz Ramat Rachel
Amenities: Kosher restaurant, conference and banquet halls, heated semi-Olympic-size swimming pool, fitness room, exercise classes, spa treatments, tennis and basketball courts
Parking: Free lot on premises
ALEGRA BOUTIQUE HOTEL: Jerusalem's most historic hotel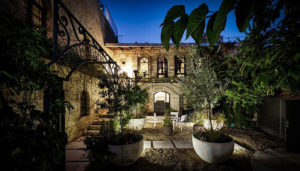 Located in a renovated authentic Crusader inn from about 1,000 years ago as well as a 200-year-old former synagogue across the lane, Hotel Alegra overlooks the forested village of Ein Karem on the outskirts of Jerusalem. Opened in 2011, this boutique hotel was the 1930s home of Alegra and Jabra Persis. Each of its six rooms and seven suites is named after a pair of historical or mythical lovers. Changing art exhibitions hang in the public spaces. Ein Karem, the birthplace of John the Baptist, contains many churches and monasteries, art studios and galleries.
Address: 13 Derech HaAhayot St.
Amenities: Chef restaurant (not kosher), spa, wet sauna, meeting room, sunbathing/observation deck, courtyard and garden with splash pools, waterfalls and fish ponds
Parking: Nearby public lot
IBIS STYLES: Jerusalem's newest hotel
Located on the Ben Yehuda pedestrian promenade in the heart of Jerusalem's city center close to a light-rail stop and abundance of eateries and shops, this new 124-room design hotel is an ideal base for exploring the Old City, Nahalat Shiv'a District, Mamilla Avenue, Machane Yehuda Market, attractions and museums. The international Ibis brand of AccorHotels chain espouses responsible environmental practices in everything from cleaning materials to prevention of water and food waste.
Address: 4 Ben Yehuda St.
Amenities: Kosher café serving all-day brunch as well as lunch and dinner, complimentary happy hour, lobby bar
Parking: Private indoor lot, public/private outdoor lots nearby
21st FLOOR HOTEL: Jerusalem's tallest boutique hotel
In a city with few skyscrapers, the 21st Floor Hotel and the 21-story Jerusalem Crowne Plaza tower above the rest and offer commanding views over the city and beyond. Take your pick: One is a small boutique hotel and the other is a large chain hotel.
Occupying the upper two levels of an office building at the intersection of King George Street and the Ben-Yehuda pedestrian mall, the 21st Floor Hotel has 14 duplex suites with full kitchens, salons and dining areas, each with a telescope pointing out of its picture window.
Address: 21st Floor Hotel, 34 Ben-Yehuda St.
Amenities: Jacuzzis, spa, children's board and computer games, business services; airport pickup service, personal stylist, personal chef, laundry and other services available
Parking: 24/7 municipal and private lots nearby
JERUSALEM CROWNE PLAZA: Jerusalem's tallest large hotel
The 21-story Crowne Plaza, located conveniently next to the Jerusalem International Convention Center and various public transportation hubs, has 396 rooms and boasts a spacious lobby (now being renovated) that doubles as a popular meeting spot. This hotel is within walking distance of the Israel Museum, Bible Lands Museum, Bloomfield Science Museum, Cinema City complex, Knesset, Jerusalem Bird Observatory and Supreme Court.
Address: Crowne Plaza, 34 Ben-Yehuda St.
Amenities: Indoor semi-Olympic pool, kosher dairy and meat restaurants, lobby café, spa, gym, tennis courts, business center, children's club on Shabbat and Jewish holidays
Parking: On premises
HOTEL YEHUDA: Jerusalem's most affordable family hotel
If you're traveling with young children, you'll appreciate the green, off-the-beaten-track location of the 126-room Hotel Yehuda near the Jerusalem Biblical Zoo, National Aquarium, Ein Yael interactive "living" museum and archeological site, and the huge Malcha mall – as well as the hotel's play room, lush grounds and outdoor kiddie pool open in the hot summer months. Older kids will enjoy amenities such as the giant chess set on the patio. Families can book connecting rooms; cribs are available.
Address: 1 Haim A. Kollitz St.
Amenities: Semi-Olympic outdoor swimming pool and kiddie pool (seasonal), kosher restaurant, lobby lounge, spa, fitness center, garden, business center, Gymboree play room
Parking: On premises
ABRAHAM HOSTEL: Jerusalem's best youth hostel
You can't beat the Abraham Hostel for location (downtown near the light rail and Machane Yehuda Market), affordable rates and top-notch backpacker-oriented services: Fully stocked bar, complimentary breakfast, large guest kitchen, free Wi-Fi and plentiful activities including guided tours, volunteer opportunities, cooking workshops, yoga, lectures, concerts, pub crawl, movie night – you get the idea. The hostel's 285 beds are divided among 75 rooms, with options for private/family or mixed or single-sex dorm accommodations.
Address: 67 Hanevi'im St. at Davidka Square
Amenities: Shared kitchen, communal Shabbat dinner, lockers, 24-hour reception, game lounge, tours, shuttle buses, bar, rooftop chillout area, traveler info center, TV room, self-serve laundry room
Parking: Lot around the corner
    (Israel 21C)