Anti-Semitic Attacks have spiked in NYC and across the country, including a recent incident at Asphalt Green's UES campus
Edited by: JV Staff
On Sunday afternoon, March 17th, Congresswoman Carolyn B. Maloney (NY-12), author of the Never Again Education Act, organized a group of elected officials, along with religious and community leaders, to join together outside of Asphalt Green's Upper East Side Campus to condemn anti-Semitism in New York City and across the country.
Last week, Asphalt Green was defaced with swastikas. This incident is part of an alarming spike in anti-Semitic attacks, hate crimes, and rhetoric throughout New York City and our nation.
"There is no place for anti-Semitism or hatred of any kind in our city," said Congresswoman Carolyn B. Maloney. "Together, through events like this, and by creating the wonderful, multicultural community we have in NYC, we stand up against bigotry in all its forms. In our fight to combat hate and anti-Semitism, we must be proactive, and not just reactive, which is why I introduced HR943, the Never Again Education Act, to support Holocaust education in all schools across this country so that the next generation of leaders can learn the horrific consequences of anti-Semitism, bigotry and hate. I will continue to work with the local community here in NYC and with my colleagues in Congress to eliminate hate in all its forms. We all must condemn Anti-Semitism where and whenever we see it. I was proud to join today with this group to show that we are unified in combatting anti-Semitism and that hateful rhetoric and violence has absolutely no place in New York City."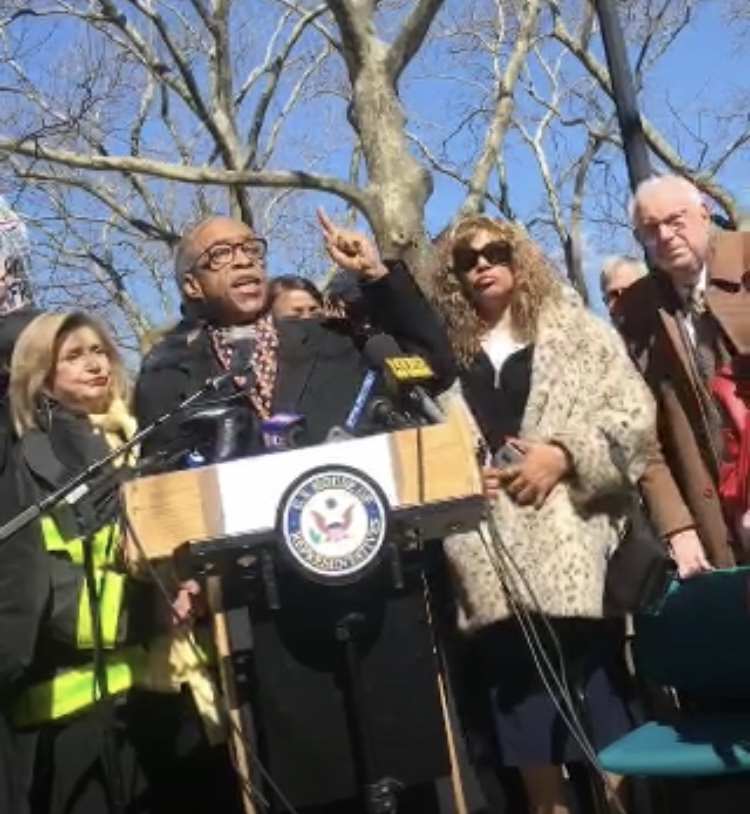 "As a Holocaust survivor, I would like to thank my friend Carolyn Maloney and all of you for not remaining silent in the face of anti-Semitism, a cancer that has metastasized and become widespread. As we stand together, let us pray in solidarity for the mourning families and those injured in the attack against two mosques in New Zealand. Men and women should not have to risk their lives to pray in their respective Houses of Worship. Whenever a church, mosque, synagogue, or temple is attacked it brings back memories of witnessing the desecration of graves and my synagogue set on fire in my hometown, Vienna on Kristallnacht November 10, 1938. Dehumanization and stigmatization of Jewish dual loyalty and conspiracy led to the burning of synagogues and the burning of my own family in the crematoria at Auschwitz. Hatred of the Jew is a cancer in society that fuels other hatred.
At this critical time, we urge governments to increase protection of Houses of Worship and religious sites, the jugular veins of faith in every community," said Rabbi Arthur Schneier, Senior Rabbi, Park East Synagogue and President, Appeal of Conscience Foundation.
"As an Interfaith Imam: I Say, 'When Everything Fails, Interfaith Hails!' said Imam Qazi Qayyoom Founder, Anti-Terrorism Awareness Unit Muhammadi Community Center of Jackson Heights, NY, USA.
"Even in New York City, where we cherish the ideals of diversity and acceptance, we are not free from the growing scourge of resurgent anti-Semitism. We must do better. We must educate our children and remind our peers that anti-Semitism is real, it is pervasive, and it must be rejected along with all other forms of hate and oppression. New Yorkers stand united against anti-Semitism, homophobia, sexism, Islamophobia, racism, and any twisted ideology that would divide us and have us believe that any person is less than fully human," said State Senator Liz Krueger.
"The recent manifestations of anti-Semitism across our city signify a resurgence of hatred that shakes our community to its very core. Not only do we condemn this vile imagery, we commit to remain steadfast, standing alongside the Jewish community during this time of uncertainty and pain," said Assembly Member Dan Quart. "Be it anti-Semitism, racism, islamophobia, or any other type of intolerance, it is not, and never will be welcome in New York City."
"I am incensed by the discovery of swastikas cowardly scrawled on the walls of the Asphalt Green Aquatics and Fitness Center in my legislative district on the Upper Eastside of Manhattan. This is where my children, who are here today, Bradley and Haley play soccer on these ball fields. These attacks on a cherished community center, serving toddlers to senior citizens from all races, religions and backgrounds, are attacks on all New Yorkers. We will not be silent in the face of rising hate crimes throughout our nation. We stand with Asphalt Green Executive Director Maggy Siegel and the people of New York City in strongly condemning such disgraceful forms of bigotry and the evil and depravity it represents," said Assembly Member Rebecca A. Seawright.
"We must stand together in solidarity and strongly denounce the murders of children, women, and men of the Muslim faith. When one faith is attacked, all faiths are attacked. Earlier this week, an anti-Semitic slur and a swastika was found scrawled on a poster in a Brooklyn subway station on the picture of Associate Supreme Court Justice Ruth Bader Ginsburg. This was just the most recent attack on a courageous jurist, the first Jewish woman appointed to the Supreme Court. She was always sensitive to discrimination, living as a Jew in America. So, when we are all challenged to confront anti-Semitism here on the upper east side, let us take inspiration from Justice Ginsburg who taught us all to never give in, never give up, and never forget where we came from," Assembly member Seawright added.
"America was always a haven from anti-Semitism, until 11 people were murdered in a Pittsburgh Synagogue. Now it is our responsibility to bring back the best values of America, and say loudly: no more swastikas, no more anti-Semitism, no more hate. Let's bring back the promise of America," said Rabbi Chaim Steinmetz of Kehilath Jeshurun.
"As Jews, we believe that each person is created in the image of God. Anti-Semitism and acts of hate of any kind are an afront to all the people of New York, and, as people of faith, we will not tolerate intolerance. We are committed to building a world of wholeness, peace, and love," said Rabbi Joel Mosbacher, Senior Rabbi Temple Shaaray Tefila.
"Mordechai says to Esther, newly the queen of Persia, who is hiding her Jewish identity as a genocide of the Jews is planned: 'if you keep silent in this crisis, relief and deliverance will come from another quarter, while you and your father's house will perish. And who knows, perhaps you have attained to your position for just such a crisis.' As proud American Jews, we have attained a position from which we can fight for not only our rights, but the rights of all under threat and oppressed. And when we do this in solidarity with our neighbors, we bring about relief and deliverance for ourselves, our neighbors, and our country. This is how we win the battle against the growing danger of white supremacist terrorism which is founded on not only antisemitism, but also racism, Islamophobia, homophobia, transphobia, and misogyny. The liberty of every group is interlinked – if one remains oppressed, all are harmed. Thank you for being here today as we embody the way forward – joining together in solidarity. Rabbi Andrue Kahn, Assistant Rabbi of Congregation Emanu-El of the City of New York
Background:
According to the Anti-Defamation League, anti-Semitic incidents in the United States have spiked roughly 60 percent between 2016 and 2017.
Just a few months ago, we witnessed the deadliest attack on American Jews in our nation's history, with 11 worshippers murdered while praying at Tree of Life Synagogue in Pittsburgh. In New York City, attacks have increased by 71% since last year and that number keeps growing. In addition to the defacement of the Asphalt Green sports facility, in the past two weeks a poster of Ruth Bader Ginsburg was defaced with swastikas at Nassau Avenue station in Rep. Maloney's district and Jewish toddlers in their stroller were struck by a man in Crown Heights.
In November a professor at Columbia University found swastikas painted in her office and a political event held at a synagogue was cancelled after anti-Semitic graffiti was discovered. Weeks later, a 9-year-old Hasidic boy was assaulted in Williamsburg and shortly after that a Hasidic man was attacked only blocks from the first attack. In February, stickers with disturbing and hateful messages were posted around Rep. Maloney's district in Greenpoint, Brooklyn and two Hasidic men were beaten and left bloodied by three men in Crown Heights.
Rep. Maloney has introduced the Never Again Education Act (H.R.943) to support Holocaust Education programs throughout the country. The bill would provide grants to fund the purchase of textbooks, take students on field trips, bring Survivors to speak to students, and provide other resources. The bill would also create a website to house Holocaust teaching materials. The program, which would fall under the Department of Education, would also help teachers navigate how to incorporate the Holocaust into state-mandated curriculums. Currently only eight states, including New York, have laws requiring we teach about the Holocaust in our schools and another 12 states recommend it.
Rep. Maloney voted to approve the recent resolution against Anti-Semitism, bigotry, and hate in the U.S. House of Representatives.