From north to south and east to west, from desert lodgings to five-star luxury, we've curated 20 outstanding hotels for your next Israel vacation
The range of accommodations in Israel is quite astounding when you consider just how small this country is. With incoming tourism at an all-time high, ISRAEL21c offers you a list of best hotels in 20 exciting categories, whether you prefer urban luxury or desert glamping.
KING DAVID JERUSALEM HOTEL: Best landmark hotel
It's no exaggeration to use the word "legendary" to describe the King David, a landmark in Israel's capital city. Opened in 1931, the King David consistently ranks as one of the Robb Report's top 100 hotels in the world and has won multiple awards.
The King David and its newer neighbors on "luxury hotel row" overlooking the Old City Jerusalem – the Mamilla, Waldorf-Astoria and David Citadel – all placed in the top 11 hotels on Conde Nast Traveler's "Top Hotels in the Middle East: Readers' Choice Awards 2018." But the 206-room King David (ranked #2 on that list) remains the preferred address for visiting prime ministers, presidents and kings.
Address: 23 King David St., Jerusalem
Amenities: Outdoor pool, fitness center, spa, kosher meat restaurant, kosher dairy restaurant, bar, business services, butler service
BERESHEET HOTEL & RESORT: Best desert hotel
Guests at this Isrotel Exclusive Collection property at the edge of the one-of-a-kind Ramon Crater enjoy breathtaking wildlife scenery from the luxury of 111 one- or two-story private-entrance villas and suites situated on 12.5 acres. Thirty-nine of the ground-floor rooms open to personal infinity pools, while the upper-floor rooms open to balconies.
Guests without a personal pool can use the large outdoor swimming pool positioned at the crater's edge, voted "Coolest Pool in the World" by Travel Agent Central magazine in 2018. No cars are allowed in most parts of the resort beyond the parking lot; guests are transported in electric golf carts.
Address: 1 Derekh Beresheet, Mitzpeh Ramon
Amenities: Outdoor pool, indoor heated pool, fitness center, spa, tennis courts, kosher restaurant
CARMEL FOREST SPA: Best spa hotel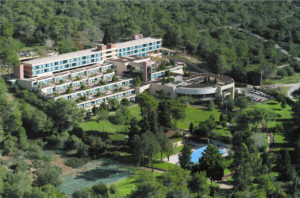 Leave the kids home, shut off your phone and prepare to be pampered at this secluded 126-room Carmel Mountains resort whose spa is so famous that its name graces every sister spa in the Isrotel Exclusive Collection.
SpaFinder named the resort Best Spa in the Middle East several years in a row.
Each day the hotel offers optional activities and classes, such as guided nature hikes, tai chi, concerts and nutrition workshops. No guests under 16 are permitted, making for an exceptionally quiet atmosphere for romantic getaways or group retreats. The only time you need to get out of your provided terry robe is for dinner, before which a rep will call you to discuss your dietary needs.
Address: HaBonim, Beit Oren
Amenities: Indoor and outdoor swimming pools, Turkish bath, fitness center, spa, kosher restaurant, wine bar, tennis court
U CORAL BEACH CLUB EILAT ULTRA ALL INCLUSIVE: Best family hotel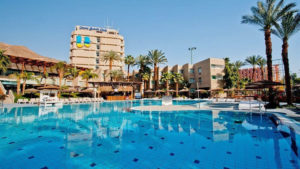 This 282-room Fattal property in the Red Sea resort town puts the emphasis on "all inclusive," offering access to a private beach and a wealth of activities for the whole family from windsurfing and snorkeling to dance lessons and archery, cooking workshops and social games. There's onsite live evening entertainment, and up to five meals per day (special meals can be pre-ordered).
U Coral is exceptionally child-friendly, offering the all-day Fattal Hotels' Kids Club, children's entertainment, and babysitting, as well as infant gear – such as cribs, baby bathtubs and bottle warmers — on request. The hotel won a Trip Advisors Travelers' Choice Award in 2018.
Address: Almog Beach Marina, Eilat
Amenities: Outdoor swimming pool, gym, spa, kosher Italian dairy restaurant, babysitting, tennis/soccer/basketball/volleyball
BAYIT BAGALIL: Best suite hotel
This Orchid Hotels property in the heart of the Upper Galilee's Biria Forest is built from local Galilee stone to blend in with the landscape.
The hotel offers 33 luxuriously equipped suites, ranging from the 85-square-meter Villa Royal with private pool and Jacuzzi to the 45-square-meter Garden Suite with large balcony. Guests can enjoy herbal tea and homemade cookies around the lobby fireplace. Children are allowed only in July and August or by special arrangement.
Address: Biria Forest, Hatzor Haglilit
Amenities: Outdoor heated swimming pool, fitness center, spa, tennis court, basketball court, kosher Galilean-style restaurant, free bicycles
ELMA HOTEL AND ARTS COMPLEX: Best arts hotel
An exciting trend in Israel's hospitality industry is art hotels showcasing local talent as part of the permanent design concept. Most are found in Tel Aviv: Diaghilev Live Art Boutique Hotel, Artplus Hotel, Leonardo Art Hotel and new Link Hotel & Hub.
The Elma takes the concept a step further with two large painting and sculpture galleries, four studios for artists-in-residence offering master classes, and two full-size concert halls. And while the Tel Aviv art hotels have a young urban vibe, the Elma is situated on a hilltop in the picturesque, pastoral wine country of Zichron Ya'akov. It offers 84 rooms, suites and freestanding cottages.
Address: 1 Yair Street, Zichron Ya'akov
Amenities: Outdoor and indoor swimming pools, Turkish bath, spa, kosher chef restaurant, poolside restaurant, espresso bar
NYX HERZLIYA: Best business hotel
The seaside city of Herzliya has several top-notch hotels geared specifically to business travelers, given its substantial high-tech ecosystem and its proximity to the startup capital in Tel Aviv.
Fattal's new concept hotel for business travelers is situated in walking distance of the Herzliya Pituah high-tech center and Mediterranean beaches, offering a balance of work and play. NYX Herzliya was built with smart meeting rooms with fully-equipped workspaces, a business lounge and an expansive conference hall. The hotel's public areas host modern artwork collections by Israeli artists.
Address: 19 Abba Eban Boulevard, Herzliya
Amenities: Rooftop bar, kosher dairy chef restaurant, fitness center, spa, indoor pool
HAGOSHRIM HOTEL & NATURE: Best kibbutz hotel
Many Israeli kibbutzim supplement their income by running guest houses or hotels, some of them quite luxurious. Hagoshrim Hotel & Nature is one of the fancier ones, with 184 uniquely decorated rooms and suites and a lot of extras such as a nature trail and sculpture garden.
Built on the ruins of an Ottoman-era winter palace, the hotel is surrounded by streams, springs, a spice garden, waterfall and restored windmill.
Nearby are popular nature sites including the Banias Reserve, Mount Hermon and Hula Lake. Notably, Hagoshrim Hotel has ecology-minded installations such as recycling stations, and donates food and equipment to local social-welfare organizations.
Address: Kibbutz Hagoshrim, Upper Galilee
Amenities: Spa, sports and health center, lobby bar, kosher restaurant using local ingredients
THE NORMAN: Best boutique hotel
This consistent award-winner featuring individually designed rooms, hand-painted tile floors and original Israeli artwork was named best hotel in Africa and the Middle East in Condé Nast Traveler's "Top Hotels in the Middle East: Readers' Choice Awards 2018" and was cited in Travel + Leisure's "25 Rooftop Pools to Dream About While You Sit in the Office."
The 50-room boutique hotel, opened in December 2014, occupies a prime location in two restored 1920s Bauhaus buildings with a citrus garden between them. It's on a quiet side street off bustling Rothschild Boulevard and 10 minutes from the beach. The friendliness and efficiency of the staff is frequently noted in online guest reviews.
Address: 23-25 Nahmani St.
Amenities: Rooftop infinity pool and deck, Japanese tapas restaurant, French-Mediterranean brasserie, Library Bar, gym, spa, yoga and Pilates classes,
KFAR HANOKDIM: Best Bedouin-style accommodations
Consistently a favorite with tourists, Kfar Hanokdim in Arad offers 46 desert-style air-conditioned rooms with indigenous handcrafted furniture and en-suite bathrooms, with a small cooking area nearby.
There are also sleeping tents and nine goat-hair heated guest lodges sleeping four to eight people, featuring wood floors, sleeping futons, coffee-making facilities and an elevated veranda from which to savor the desert views (bathroom facilities are nearby along with a small cooking area and place to build a campfire).
Address: PO Box 1568, Arad
Amenities: Breakfast buffet, grapevine-roofed lounging zulas, Bedouin coffee-making ceremony and Arab feast, camel and donkey rides
THE SETAI: Best Sea of Galilee hotel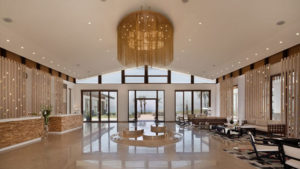 The Setai Sea of Galilee, which claims to have the largest spa complex in Israel, opened in mid-2017. One of its first guests was Conan O'Brien, who was in Israel that August to film an episode of "Conan Without Borders."
Situated on the eastern shore of the Sea of Galilee (Lake Kinneret), the pastoral hotel includes 110 rooms and "villas"; the ground-floor villas have private infinity pools while the second-floor villas have outdoor hot tubs. Guest-room balconies afford views of the Golan Heights to the northeast and the city of Tiberias across the sea.
Address: Tza'alon Beach near Ein Gev
Amenities: Outdoor infinity swimming pool, spa with indoor pool and Turkish bath, fitness center, kosher chef restaurant featuring locally sourced ingredients, wading pool, children's club, free bicycles
BEIT SHE'AN GUEST HOUSE: Best youth hostel
The 18 properties that make up the Israel Youth Hostel Association are well-known as spacious, well-maintained and economical accommodations for groups, families or any travelers on a budget.
Beit She'an Guest House in the Jordan Valley, near the major archeological national park at Beit She'an, boasts many of the features you'd find at a hotel — a swimming pool, free Wi-Fi and kosher breakfast — and has the added advantage of a stunning view over the valley and the Gilboa mountain range.
The 62 rooms (private rooms and dormitories are available) are air conditioned/heated and have a TV, mini-bar, electric kettle and bathroom with bath and shower. Besides breakfast, additional meals can be ordered in advance to take on the road or eat in the 250-seat dining room.
Address: 129 Menachem Begin Blvd., Beit She'an
Amenities: Outdoor swimming pool, snack bar, Internet stations, cinema system, basketball court, TV room, lecture halls equipped for audiovisual presentations
SHKEDI CAMPLODGE: Best glamping accommodations
Two guest tents, six wooden cabins and – best of all – a romantic "Dream Bus" with a private yard make up this quaint site located between the Dead Sea and the Arava region. It's an ideal and convenient point of departure to the many hiking trails in the area as well as the ever-popular Dead Sea, for those looking for a more rugged experience than the luxury hotels provide.
Groups, families, couples and individuals can be accommodated. Each cabin has a private dining and seating area, including a BBQ stand and outdoor lighting. Except for the bus, restroom and shower facilities are shared.
Address: Moshav Neot Hakikar
Amenities: Fully equipped shared kitchen, central bonfire dome, hammock dome, bar with free Wi-Fi
POLI HOUSE: Best urban hotel
Opened in 2016, this 40-room Brown Hotels property next to Tel Aviv's Carmel Market is housed in a meticulously restored Bauhaus building with a storied history as a commercial office space, clandestine printing press and children's shoe store. It appeared on the New York Times' 2016 list of 7 Notable New Hotels and on Wallpaper's Best Urban Hotels 2017 Shortlist.
Wallpaper enthused about the interior design by Karim Rashid, who "has taken his cues from the tech-savvy, forward-thinking city, with neon colors, mesmerizing graphics and ultramodern shapes," and about the rooftop "where an infinity pool and sweeping city views make for an impressive first impression."
Address: 1 Nahalat Binyamin St., Tel Aviv
Amenities: Rooftop heated swimming pool and cocktail bar, spa, breakfast garden café, business services, free bicycles
EFENDI: Best Western Galilee Boutique Hotel
Nestled in the picturesque narrow lanes of coastal Acre (Akko) overlooking the sea and the historic city walls, the Efendi Hotel was opened in 2012. Its wine cellar is based on bricks from the Byzantine era more than 1,500 years ago. The main lobby includes a foundation from the Crusader era (900 years ago) in its midsection and restored walls and foundations from the Ottoman period (more than 400 years ago). Italian artisans were flown in to restore the hand-painted ceilings and a fresco of Istanbul painted in 1878 in honor of the new Orient Express train station.
The boutique hotel is the fulfillment of a dream long held by Uri Jeremias, chef and proprietor of the famed Uri Buri fish restaurant in Acre. The layout consists of 12 suites spread out over three levels, each of which has four uniquely decorated guestrooms and a central communal salon with a sitting area.
Address: Louis IX St., Old Acre
Amenities: Spa, restored 400-year-old Turkish bath found on site, wine bar in a renovated Crusader-era wine cellar
THE COLONY: Best Heart-of-Haifa Hotel
The 40-room Colony Hotel is smack in the middle of the German Colony, the restored historic center of Haifa, in a preserved edifice built as a hotel in 1920.
Completely renovated by new owners in 2006-2008, The Colony affords a breathtaking view of the world-famous stepped Baha'i Gardens only a two-minute walk to the south, while the beach promenade beckons five minutes to the north. Restaurants, cafés and shops also surround the hotel, and the city's tourist info center is right next door.
Address: 28 Ben-Gurion Blvd., Haifa
Amenities: Spa, 24-hour business center, kosher breakfast room and lobby bar, events rooftop, garden
THE WELL INN: Best Beersheva B&B
A five-minute walk from the Central Bus Station and Abraham's Well tourist center in this unofficial capital of the Negev, the Well Inn is in a quiet area of the artsy Old City in two century-old stone homes that once housed the midwife and the chef, respectively, of Hadassah, the first hospital in the city. They were restored in 2014 by the new owners and currently encompass five spacious studios and suites, each decorated uniquely.
Address: 24 Gershon Duvenboim St., Beersheva
Amenities: Free breakfast, outdoor courtyards, Wi-Fi, kitchen facilities
CNAAN VILLAGE: Best Golan Heights Boutique Hotel
Chosen for three years in a row as one of the leading small hotels in the Middle East by Trip Advisor, the Cnaan Village Boutique Hotel & Spa features five double suites, each with a private terrace, large Jacuzzi, fireplace, kitchenette and complimentary fruit, chocolate and wine. A full Israeli breakfast is served by the pool, and in the lobby there are homemade cakes and cookies , fruit, coffee and tea, chilled Lambrusco in summer and hot cider and wine in winter.
Address: Had Nes, Golan Heights
Amenities: Spa, outdoor/indoor heated pool, hot tub, wine-tasting at local boutique winery
HERBERT SAMUEL: Best downtown Jerusalem hotel
Boutique hotels, hostels and B&Bs are springing up in downtown Jerusalem like mushrooms. Sitting in the middle of it all is the 5-star Herbert Samuel, occupying an iconic location at the junction of the Zion Square and Nahalat Hashiva pedestrian promenades, conveniently close to a light-rail stop.
>The hotel's 137 rooms and suites are decorated with local Jerusalem stone and the 11th-floor restaurant offers 360-degree panoramic views of the capital city.
Address: 25 Shamai St., Jerusalem
Amenities: Spa, gym, indoor pool, wet and dry sauna, free bicycles, kosher restaurant
DANIEL DEAD SEA HOTEL: Best Dead Sea hotel
The Daniel Dead Sea's 302 luxury rooms, including 12 suites, are floored with locally produced ceramic tiles and feature breathtaking views of the desert scenery and the Dead Sea against the backdrop of the Moav Mountains. There's a paved walkway to the recently expanded beach for hotel guests. The hotel offers daily activities ranging from fitness classes and walks to nutrition workshops.
Address: Ein Bokek
Amenities: Spa, gym, indoor and outdoor pools, pub, children's club, tennis and basketball courts, kosher dairy and meat restaurants, poolside grill, solarium, business lounge, classes on health, beauty, nutrition, fitness.
               (Israel 21C)