By Lieba Nesis National Jewish Health held its 50th annual Real Estate and Construction Industries Dinner Dance on Saturday December 8, 2018 with cocktails beginning at 6:30 PM at the Grand Hyatt hotel in New York City. National Jewish Health is the leading respiratory hospital in the nation. Founded in 1899 as a non-profit hospital it is the only facility in the world dedicated to conducting groundbreaking medical research and treatment of patients with respiratory, cardiac, immune and related disorders. Patients come from all over the globe to avail themselves of the cutting edge technology and care of this unique institution.
Michael Salem, the CEO and President for the past 13 years, spoke proudly of their vast accomplishments in precision medicine and noted the base of operation is in Denver, Colorado with more than 25 locations providing on-site care, along with a recent collaboration with Mount Sinai five years ago to provide two centers in Harlem and Union Square. This evening is also the largest Real Estate and Construction dinner and contains a who's who of moguls who dominate the New York real estate scene.
Entering the crowded cocktail hour which contained shrimp and salami (I almost found out too late the food wasn't kosher) I bumped into Mitchell Rudin, Larry Silverstein, Stanley Chera, Gary Jacob, Matt Lustig, Woody Heller, Stephen Siegel and Jonathan Mechanic. This was the glitterati of the real estate scene and many had come to pay homage to honoree Lloyd Goldman who heads BLDG Management which commands a portfolio that consists of more than 400 properties and 7,000 residential units. Moreover, Lloyd is a partner in the World Trade Center leasehold which owns Towers 2, 3, and 4 whose cost to develop was more than $7 billion.
Lloyd joins an illustrious group of past honorees including Donald Trump (1976), Richard Lefrak (1975), Gary Jacob (2016), Larry Silverstein (1978 and 2013) and Cookie and Stanley Chera (2017). While all of Lloyd's holdings are quite impressive, his most astounding trait was his lavish gold locks that had attendees oohing and ahhing. There are plenty of real estate moguls in New York but very few possess a full head of hair and a 6 ft. 4 inch frame. Lloyd was the "Tom Cruise" of the evening as guest after guest requested a picture with him as he nonchalantly obliged-all in a days work for a real estate titan.
Kudos to Lloyd and his wife Victoria for funding a pediatric allergy and respiratory care and research wing at the National Jewish Health center to assist children living with cystic fibrosis, asthma, eczema and food allergies. After the extravagant cocktail reception, guests headed to the ballroom which was decorated in gold (the theme of the evening) with dancers bedecked in gold sequins enlivening the festivities along with a magical band that performed the greatest hits from the 90's as robots danced nearby.
This dinner which cost $750 per person allowed guests to mingle with the best and brightest, provided a delicious cocktail and dinner reception where lamb chops and other meat dishes were served, and concluded with an elaborate dessert table as well as continued entertainment. Additionally, if you had the right ticket you left with a gold knapsack containing goodies like solid milk chocolate, a scented candle and some weird coloring book. This annual dinner which occurs the second Saturday every December has remained one of the premier events of the year thanks to moguls such as Larry Silverstein, who has participated for the past 50 years, and Executive Director for the past 25 years, Wendy Siegel, who works tirelessly for this pivotal organization.
Wendy who has leukemia and required a bone marrow transplant after being comatose for six days a number of years ago remarked on the excellent care she received at National Jewish Health and how thankful she was to the numerous donors who had taken $100,000 tables. Wendy looked resplendent in a gold Valentino sequined gown but joked to the crowd that she hadn't used the gold tablecloths to make her dress. Wendy, whose husband Stephen Siegel is the Chairman of Global Brokerage at CBRE, is one of the most down to earth accessible woman even intervening on my behalf so I could receive a much desired goody bag.
Wendy begins working on the dinner right after the Christmas holiday concludes so she can secure access to entertainment the following year during the busy holiday season. Tonight Wendy spoke proudly of the more than 800 people who came to the sold-out event to support National Jewish Health and the real estate industry and how more than $2 million had been raised.
She commended Stanley Chera for his significant contributions to the organization. Chera, founder of real estate company Crown Acquisitions, was inducted into the Council of Trustees this evening as he and his wife Cookie have been ardent supporters of the organization and started a fund for Chronic Obstructive Pulmonary Disease last year.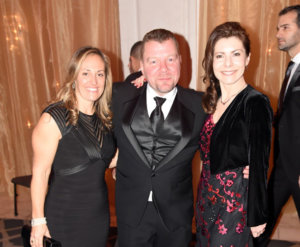 Another great supporter, Larry Silverstein, introduced his good friend Lloyd Goldman, and gave a lengthy speech on the importance of the organization and what it has meant to him and his family for the past 50 years. Silverstein, 87, is remarkable for both his philanthropy and for staying betrothed to his wife Klara whom he married in 1956. While other real estate titans exchange wives quicker than they turn over properties, Larry was hugging and adoringly dancing with his low-key wife the entire evening. Another happily married handbag and took one last look at Larry and Klara Silverstein who were sharing an enthusiastic dance arm-in-arm-a moment that will be etched in my memory for a long time to come.