In the hotly contested national midterm elections, pundits predicted a "blue wave" as pushback against President Trump and his agenda. As the results came in on Tuesday night, it appeared that the "get out the vote" campaign had more than a measure of success.
Democrats took control of the House of Representatives for the first time in eight years on Tuesday night, dealing a major setback to President Trump's legislative agenda — but Republicans were able to hold onto their narrow Senate majority in a crucial election night that dramatically split power in Washington, according to a Fox News report.
In a boost for Trump, the GOP's continued hold on the Senate gives Republicans control over all critical federal judicial appointments, including nominations to the Supreme Court.
But Democrats' win in the House gives fresh hope to liberals who want to investigate and perhaps even impeach the president.
Although the exact size of the parties' respective majorities in the House and Senate are not clear, Democrats will soon have to decide whether to restore Nancy Pelosi to her old job as speaker of the House, which she held from 2007 to 2011.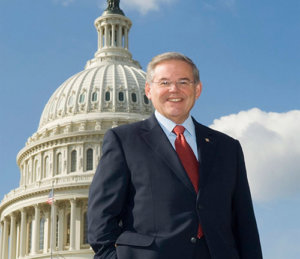 On the local front, in a hotly contested senatorial race in New Jersey, voters pulled the lever for the incumbent Democrat Bob Menendez, despite his checkered past in terms of corruption charges that were leveled against him in 2017.
Republican challenger Bob Hugin, who had President Trump's support fought a fierce race and during the campaign the polls tightened at times.
The Justice Department accused Menendez of using his office to benefit a Florida eye doctor named Salomon Melgen, who had been convicted of defrauding Medicare of more than $90 million. Menendez was tried but not convicted.
Meanwhile, Hugin spent all summer attacking Menendez as corrupt, and it made an impression with voters.
New York State Governor Andrew Cuomo roundly defeated Republican challenger Marc Molinaro on Tuesday to win a third term and an opportunity to create a legacy as one of New York's longest-serving governors.
Cuomo had sought to portray his opponent, the county executive of Dutchess County, as an extreme conservative and repeatedly mocked him as a "Trump Mini-me." It was a successful tactic in a state where registered Democrats outnumber Republicans by more than 2-1 and where the president remains largely unpopular.
He offered relatively few new proposals for a third term, instead touting his work to rebuild bridges and airports, lower taxes, increase the minimum wage, jumpstart the upstate economy and take on Albany's reputation for dysfunction. He also vowed to continue his work to push back against Washington.
Sen. Kirsten Gillibrand, the junior Democratic senator from New York defeated Republican challenger Chele Farley Tuesday to win re-election to a second full term in New York.
Gillibrand was the overwhelming favorite over Farley in polls heading into the election. When asked about her presidential aspirations during a recent televised debate, Gillibrand said she will serve out her six-year Senate term.
Gillibrand, 51, was a congresswoman in eastern New York when she was appointed in 2009 to the Senate seat vacated when Hillary Clinton was named secretary of state. She easily won election in 2010 to serve the remainder of Clinton's term, and took 72 percent of the vote in 2012 to win a full term.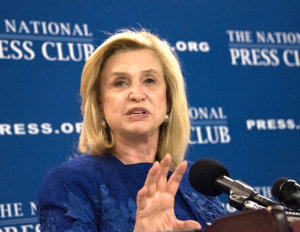 In other New York races, it was reported that with over 55% of precincts reporting, incumbent Democratic Congresswoman Carolyn Maloney was winning handily over Republican challenger Eliot Rabin. She was leading at 86.3% of the vote as compared to a little over 12.2% for Rabin.
In a shocking loss, Staten Island Congressman Dan Donovan lost his seat to his Democratic challenger Max Rose.
New York City Public Advocate Letitia James was elected New York state attorney general, making the Democrat the first African-American in history to be the state's top legal official and the first black woman to hold statewide office
Thus far, Democrats have picked up seven seats in the House of Representatives.
Voters in Virginia's 10th Congressional District elected Democrat Jennifer Wexton to the House of Representatives, defeating Republican incumbent Barbara Comstock.
Republican Mike Braun defeated Indiana Democratic Senator Joe Donnelly, flipping a key Senate seat coveted by the GOP for six years.
Braun had 54 percent of the vote to Donnelly's 42 percent when three networks called the race with about half of all precincts reporting.
Sherrod Brown of Ohio and Bob Casey of Pennsylvania also won re-election. They were among four Democratic incumbents facing the voters in Midwestern states that Trump carried two years ago, stunning Democrats. The victori
es by Brown and Casey underscored that Trump's 2016 dominance of that swath of the country, once a Democratic stronghold, was not a lock.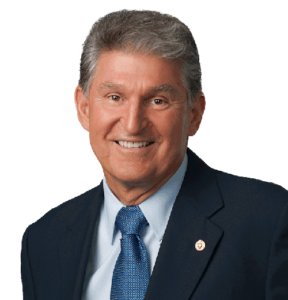 Democratic Sen. Joe Manchin of West Virginia has turned back a challenge by Republican Patrick Morrisey to win his second full-term in a state carried by President Donald Trump.
Manchin survived the most difficult re-election campaign of his career against the comparative newcomer Morrisey. Manchin is a former governor who has held elected office in West Virginia for the better part of three decades.
Manchin heavily outspent Morrisey and portrayed himself as loyal to his home state rather than party ideology. Manchin was the only Senate Democrat to vote to confirm Supreme Court nominee Brett Kavanaugh.
Republican Congressman Ron DeSantis won the Florida's governor's race with 49.9 percent of the vote, defeating his progressive opponent Tallahassee Mayor Andrew Gillum in one of the mostly closely watched races in the country. Despite the blue wave of support that showed up for Gillum and across the country, the Trump-backed former prosecutor won of men and older voters, continuing a two-decade-long legacy of Republican governors in the Sunshine State.
In the Florida US Senate race, Republican governor Rick Scott successfully edged out Democratic opponent, the incumbent US senator Bill Nelson.
Sen. Nelson has held the Senate seat since 2000. This race is the most expensive Senate race in the 2018 midterm election.
The Fox News Decision Desk projected that Republican Rep. Kevin Cramer will unseat one-term Democratic Sen. Heidi Heitkamp in North Dakota, scoring a crucial Senate pickup for the GOP. Heitkamp, who had long struggled against Cramer in the reliably red state, may have sealed her political fate last month when she voted against Supreme Court Justice Brett Kavanaugh.
In Texas, the incumbent Senator Ted Cruz is narrowly defeated his Democratic opponent Beto O'Rourke. With 19% of the vote counted, Cruz is leading O'Rourke by 50.6% of the vote as compared to 48.8% of the vote.
In the traditionally Democratic south, Brian Kemp, the Republican Georgia Secretary of State is leading Democratic challenger. With 52% of the vote counted, Kemp is leading with 54.7% of the vote as opposed to 44.5% of the vote going to Democratic challenger Stacey Abrams.
In Missouri, the two time Democratic incumbent US Senator Claire McCaskill lost in a very tight race with Republican challenger Josh Hawley.
Democratic Senator Tammy Baldwin of Wisconsin has fended off a challenge from a Republican who ran as a staunch supporter of President Trump. Baldwin led Leah Vukmir in fundraising and polls throughout the race.
Democrats won at least five of the roughly two dozen seats they needed to claim House control with dozens more competitive contests remaining, but victories in contested House races in Florida, Virginia, Pennsylvania and Minnesota gave them cause for optimism, according to an AP report.
Public opinion polls suggest opposition Democrats will retake the House but will be unable to seize the Senate from Republicans in a congressional and gubernatorial election that evolved into a referendum on President Trump's first two years in office.
Media outlets project that, as expected, Virginia Senator Tim Kaine and Vermont Senator Bernie Sanders will retain their seats.
Voter turnout appeared to be very high, despite bad weather in virtually the entire Eastern United States. Polling stations across the country saw long lines, and in some cases there were problems with voting machines, in part because of wet conditions.
Long lines and malfunctioning machines marred the first hours of voting in some precincts, including in Georgia, where some voters reported waiting up to three hours to vote in a hotly contested gubernatorial election. More than 40 million Americans had already voted, either by mail or in person, breaking early voting records across 37 states, according to an AP analysis.
Nearly 40 percent of voters cast their ballots to express opposition to the president, according to AP VoteCast, a national survey of the electorate, while one-in-four said they voted to express support for Trump.
The nationwide survey indicated that nearly two-thirds said Trump was a reason for their vote.
Main issues for voters are health care, immigration and the economy, according to polls. However, Trump, who has barnstormed across the country spurring fear of a cavalcade of Central American immigrants moving north toward the U.S.-Mexico border, was also on the minds of most voters, according to exit polling.
Trump conceded in an interview on Monday that he could have taken a softer tone in his rhetoric, but denied any suggestion that his stump speeches had fostered racism in the country.
About half of voters say Trump's immigration policies are too tough, while around a third think they're just right, according to a CNN national exit poll.
The CNN poll suggested 55 percent of voters disapprove of Trump's performance, while 44 percent approve of it. Moreover, 56 percent of those surveyed believe the country is on the wrong track and only 41 percent said it was on the right track.
If Democrats do win enough House seats to reclaim the majority, Trump would be forced to deal with a shift in the balance of power in Washington.
The president spent election night watching returns with family and friends at the White House, after concluding a six-day rally blitz in Missouri late Monday. Trump packed his closing argument with hard-line immigration rhetoric and harsh attacks on Democrats as he stared down the prospect of Republican losses that could shadow his presidency.
"Everything we have achieved is at stake," he said. "Because they can take it apart just as fast as we built it."
Faced with the possibility of keeping the Senate but losing the House, aides have begun laying out the political reality to Trump, who could face an onslaught of Democratic-run investigations and paralysis of his policy agenda. In turn, Trump has already been trying out defensive arguments, noting that midterm losses are typical for the party in the White House, pointing out a high number of GOP retirements and stressing that he had kept his focus on the Senate.
In the hours after the first polls closed Tuesday, White House press secretary Sarah Huckabee Sanders told reporters that the administration was cautiously optimistic and downplayed the possibility of a Democratic rout, saying "maybe you get a ripple, but I certainly don't think that there's a blue wave."
By: Fern Sidman