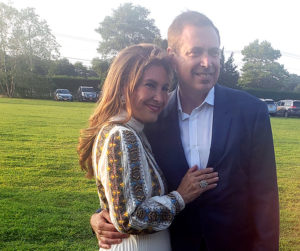 The Southampton Chabad held its seventeenth annual dinner benefit on Sunday August 26, 2018 at the Bridgehampton home of Maria and Ken Fishel with cocktails beginning at 5:30 PM. The Fishel's magnanimously opened up their Gatsbyesque estate to host the Rabbi and his supporters. Ken Fishel is the CEO of family based luxury Real Estate company Renaissance Properties which contains trophy properties in New York's downtown section and throughout Brooklyn. Maria and Ken have exploded onto the Palm Beach, New York and Hamptons social scene hosting upwards of four events on their 16-acre Bridgehampton estate to benefit the Waxman and Prostate Cancer Foundations. Their son Bradley was recently featured in The Hamptons magazine as an up and comer in elite society circles. Bradley's movie star looks belie his significant accomplishments which include attaining a pilots license and graduating NYU's Real Estate School.
His blonde hair blue eyed sister is similarly gifted attending Medical School and working hard to help the underprivileged. Tonight Maria wore a magnificent Valentino gown as she graciously greeted her guests with enthusiastic pride. Bradley remarked that while they have held numerous events this summer this one was especially close to his heart because it was for G-d. The Southampton Chabad founded in 1994 by Jacqui Eckstein is the first and only Synagogue in the historic Village of Southampton. Rabbi Rafe and Chany Konikov lead the congregation with a gentle kindness and non-judgmental openness that welcomes all. Chany who singlehandedly raises 8 beautiful children can often be seen delivering Challahs to members of her congregation before the Sabbath begins. She is also at the helm of Camp Gan Israel Southampton which she has been running for the past 12 years for children ages 2-14-the only Jewish Day Camp in the Hamptons. The evening began with a delectable cocktail hour where I was finally able to consume the meat hors d'ouevres.
The more than 300 guests stopped by the silent auction which included such goodies as a ruby ring, tickets to Fiddler on the Roof, and a painting by artist William King. Emcee and comedian Keith Barany introduced award winning musical artist Itzik Dadya whose voice astounded the crowd with its sweet and powerful intonations. After an award was presented to the Fishel family for their hospitality we were introduced to the evening's honorees Michael and Lyanne Saperstein and Matthew Simon and Brooke Goldstein. Michael and his family joined Rabbi Konikov on stage as Michael recalled his illustrious 40-year career at Bear Stearns. Michael remarked that despite the robust economy and relative peace in the world it was necessary for Jews to remain vigilant. He also exhorted the audience to encourage their children to speak freely about being Jewish and to openly show their love for Israel. He praised our current President for actually moving the Embassy to Jerusalem while other Presidents have been promising to do so for the past 50 years-to which an audience member roared approval for Trump.
The following honorees husband and wife power couple Matthew Simon and Brooke Goldstein thanked the Rabbi for providing a home away from home. Brooke, a human rights lawyer and award-winning filmmaker recalled meeting her husband at an art event in New York, asking him for a lift to the Hamptons and getting married not too long after. Brooke said Chabad was a place where everyone was welcome and where Jews could manifest their proud Zionist identity. Matthew Simon reiterated his support for the Rabbi and thanked his wife for being at the heart of the Jewish identity in his family. After a live auction was held which featured a trip to Costa Rica and floor tickets to a Billy Joel concert guests were treated to a delightful dessert table and some more tunes by Itzik Dadya-not bad for the paltry price of $360.
By Lieba Nesis