Following the international launch of the film When The Smoke Clears: A Story of Brotherhood, Resilience and Hope on Israel's Memorial Day, Jerusalem U, released the film for community screenings in time for Tisha B'Av, July 22. The announcement comes during a month of international activities highlighting the condition, culminating in PTSD Awareness Day on June 27th.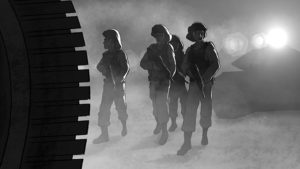 The feature-length documentary tells the true stories of three young soldiers whose injuries force them to forge new identities and rebuild their lives – both physically and emotionally. By confronting daily – and ongoing- challenges, the soldiers work to rediscover meaning in their lives – while coping with the challenges of their injuries and the losses they suffered in battle.
Tisha B'av, the Jewish day mourning for the destruction of the Temple in Jerusalem, is often a day of self-reflection and communal mourning. Screenings of films focusing on Israel, the rebuilding of the Jewish people and hope have become a popular way for communities and synagogues to commemorate the solemn day.
The film's producers say that screenings on Tisha B'Av are part of the recognition that the day is specifically about both loss and renewal. "The modern Jewish experience often makes relating to Tisha B'Av a challenge because the reality is that we are living in a time of rebuilding our nation and country at a pace like never before in our people's history," says director of When the Smoke Clears, Rebecca Shore. "But this film reminds us that the challenges are far from being behind us and people are continuing to make painful sacrifices for the Jewish nation. As much as we have achieved, we cannot dismiss these stories and these modern-day heroes."
Since 2009 Jerusalem U has produced and distributed film-based Israel and Jewish education resources seen by hundreds of thousands around the world.
When The Smoke Clears: A Story of Brotherhood, Resilience and Hope focuses on three IDF combat veterans who experienced injuries during recent battles and how those events continue to impact on their lives and their personal identities. Following the international launch of the film in over 100 locations on Israel's Memorial Day, 75% of the students who watched the film reported feeling more connected to Israelis, and 96% said they had a better understanding of the price of war on the Israeli people.
"The feedback from students and educators around the world has been overwhelming and gives us the confidence to continue to share this story with new audiences of all ages," said Shore. "We know that this film will help people better relate to the sacrifices that Israel's soldiers are making on our behalf and allow people to better appreciate the importance that our country plays for the greater Jewish nation."
To find out more about hosting an event in your community– https://wsc.jerusalemu.org/TishaBa
Edited by: JV Staff