By: Ariella Haviv
photos courtesy of Ashkenazy Acquisition Corporation
Attaining a coveted placement on the annual Forbes list of the world's wealthiest individuals has now become even more challenging than in previous years. This year the stakes have been notably raised and one needs to have a nice little nest egg of $2 billion just to make the prestigious cut. This is $300 million more since a year ago. And to sweeten the proverbial pot, this year there are 22 newcomers to the "Wealth Salon"
The folks who are safely ensconced on the Forbes list derive their fortunes "from an array of sources, from fish to makeup to financial technology. Four made their money in beverages, and three of those in booze. That includes the creator of Tito's Vodka and a set of brothers who have turned Constellation Brands into one of the biggest alcohol companies in America," according to an article on the Forbes web site.
Forbes also duly noted that "the most notable loser was President Donald Trump, whose fortune fell $600 million to $3.1 billion. A tough New York real estate market, particularly for retail locations; a costly lawsuit and an expensive presidential campaign all contributed to the declining fortune of the 45th president."
This year there are several immigrants to the US on the list and that includes real estate tycoon Ben Ashkenazy who comes in on the Forbes list with a net worth of $4 billion.
According to a profile of him on the Real Deal web site, Ben Ashkenazy, 48, is the chief executive, chairman, and founder of Ashkenazy Acquisitions, a New York City-based firm that invests in retail and office real estate and says it has a portfolio of over 100 buildings.
Ashkenazy, who grew up in Lawrence, Long Island, founded his firm in 1987. Ashkenazy focuses on the management operations side of the business, Ashkenazy President Michael Alpert told the New York Times in 2012.
The firm's portfolio now includes 660 Madison, which is occupied by the luxury department store Barneys New York, and many other retail condominiums in shopping districts throughout Manhattan. Ben's father, Izzy Ashkenazy, is a businessman also involved in real estate.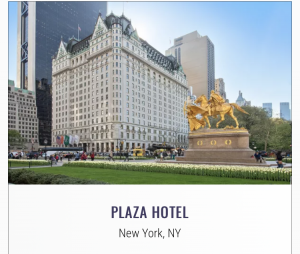 Ashkenazy Acquisition also owns 656 Sixth Avenue, an erstwhile church that housed the Limelight nightclub in Manhattan. His firm is known for investing in iconic real estate, including Boston's Faneuil Hall, New York City's Plaza Hotel, the Marriott East Side, Barney's New York, Bay Harbor Mall in Lawrence, the Toms River Center in New Jersey and Washington, DC's Union Station.
Moreover, the Ashkenazy Acquisition Corp's portfolio also includes such New York City properties as 1110 3rd Avenue at 65th Street, 145 Greene Street in SoHo, 115 7th Avenue in Chelsea and 601 8th Avenue near the Port Authority building.
Ashkenazy began his lucrative real estate career trajectory at age 17 when he purchased his first building. He has told media outlets that his decision to buy the building came after he went to a Bronx shopping center to check out a site to open a fast food restaurant. Having recently graduated from high school at that time, Ashkenazy came to the realization that the lease that offered was below market value and then decided to search for a lender and buy the property instead.
In between his real estate ventures, Ashkenazy took night classes at Adelphi University but ended up six credits shy of graduating.
Since that juncture in time, everything has looked up for Ashkenazy is terms of crafting his empire. According to Forbes, he has built a $12 billion portfolio via his eponymously named real estate firm, Ashkenazy Acquisitions. He owns a majority stake in the company and has now seen an impressive global expansion. In July of 2017, Ashkenazy's company purchased London's storied Grosvenor Hotel.
According to the Ashkenazy Acquisitions web site the company's investment strategy aims to acquire irreplaceable properties in premier locations with the potential for significant increase in cash flow and residual value. The company's diverse portfolio and in-house team are well-positioned to maximize opportunities throughout the country.
As a privately held company, Ashkenazy Acquisition is flexible and able to respond quickly to new opportunities, allowing for significant increase in the size and quality of holdings. Strong banking relationships and significant discretionary equity allows Ashkenazy Acquisition's finance team to expedite analysis and accelerate the closing process.
In August of this year, Ashkenazy Acquisition Corp announced that it had acquired the 98-year leasehold for Boston's South Station concourse and upstairs office space. Blackstone Group had put the space on the market earlier this year. The Boston Business Journal reports it was around $120M.
South Station is one of Boston's most-visited landmarks. Almost 24 million passengers go through the hub each year, and 75,000 Amtrak and MBTA riders pass through the station daily. There is more than 59K SF of retail space in the building and 117K SF of office space.
"It is fitting that AAC is taking over another of Boston's most beloved landmarks, with the Rose Kennedy Greenway anchoring South Station at one end, and Faneuil Hall at the other," AAC President Michael Alpert said in a statement. "The synergies between the properties will assist us in our management efforts and our plans to make this a sustainable asset for the next 98 years and beyond."
AAC has operated Faneuil Hall Marketplace for the last six years. It launched a restoration campaign to enhance the visitor experience while also attracting more locals to the complex, one of America's busiest tourist attractions.
Along with beefing up Faneuil's events calendar, it has worked to lure a new mix of restaurants and retailers to the downtown property. It also intends to make significant capital improvements like glass canopies to give seating areas a more open look and extend the outdoor seating season.
The South Station addition is not AAC's first transit play. It paid $160M in 2007 to control the office and retail space at Washington, D.C.'s Union Station for 84 years. It unveiled a $20M restoration of the station's main hall last year and announced plans to redevelop the office space into a boutique hotel.
In July of 2017, Business Wire reported that the Grosvenor House Hotel in London, was acquired by the Ashkenazy Acquisition Corp in what constitutes the most significant single asset hotel deal in U.K. history. Financial terms were not disclosed.
About The Grosvenor House Hotel: The Grosvenor House Hotel, featuring a tradition of luxury, was built in the 1920s and opened in 1929 on the site of Grosvenor House located on Park Lane, Mayfair. Fully refurbished with a world-class architectural design, The Grosvenor House Hotel brings 350 years of London history and tradition to life in one of the most prestigious luxury markets globally.
In May of 2017, the Real Deal reported that Ashkenazy Acquisition Corporation has teamed up with Plaza Hotel owner Saudi Prince Al-Waleed Bin Talal to buyout the storied property's jailbird partner. The New York Post reported that the "partnership could give a jolt of new life to the hotel, which has been in a rut for years as the famed Oak Room and Oak Bar have sat dark."
Ashkenazy and the Saudi prince are looking to wrest control from the hands of Subrata Roy, who's been locked up in India over allegations he scammed billions of dollars from investors, leaving the landmark hotel to languish over the last five years.
Ben Ashkenazy and Michael Alpert bought a controlling portion of Al-Waleed's stake in the hotel, and is moving forward with the prince to buy the remaining stakes from Roy and a tangled web of other stakeholders.
"They are now partners with Prince Al-Waleed," a source told the Post. "That stake has significant rights including rights to purchase the hotel and its other components."
Sources told the newspaper that Ashkenazy and Alpert want to spruce up hotel rooms and re-open the Oak Room and Oak Bar as well as the vacant Edwardian Room, which had briefly been home to the Italian designer Angelo Galasso.
The Post also reported that Prince Al-Waleed, one of the world's richest people, holds a 50 percent stake in the Plaza's 130 rooms, public areas, restaurants and retail component. His company held a 25 percent interest in 100 hotel condos and manages 51 hotel condos owned by others.
A state Supreme Court judge last month dismissed a lawsuit Hong Kong-based JTS Trading Ltd. had filed against Subrata's Sahara India Pariwar and prospective Plaza buyer Trinity White City Ventures, claiming the two cut JTS out of a deal to buy the Plaza and two other hotels.
By: Ariella Haviv