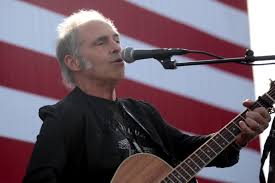 Nils Lofgren, famous for years for playing a guitar while standing next to Bruce Springsteen as part of his E Street Band, has reportedly filed a lawsuit against a nursing home in New Jersey.
In the suit, Lofgren alleges that his mother-in-law became infected with the coronavirus at the facility located in Morris County.
The 83 year old mother of Lofgren's wife Amy, Patricia J. Landers, became a resident of the Brookdale Senior Living facility in Florham Park. According to the lawsuit, she had been promised round the clock security and that staff members were fully equipped to care for dementia cases.
According to the wording of the suit that has been filed, Landers escaped from the home for several hours during the night back on April 8. She was eventually recovered by law enforcement – confused and with bruises – approximately three miles from the residence. Afterward, the lawsuit contends, she tested positive for coronavirus. She was also diagnosed with pneumonia. She has since recovered her health, and been sent to live in another institution.
Brookdale had reported having just 10 confirmed cases of coronavirus as of the end of last week.
"Lofgren, 68, who is also a member of Neil Young's band Crazy Horse, told the New York Times, "Shining a light on this problem is important," the New York Post reported. "This is not to take the light off what has been a very demoralizing, tragic story for my mother-in-law that's still being written" he said.
"It's a nightmare because 99 percent of most people can't even afford a lawyer," Lofgren told the Times. "And they just take it, and their families are decimated by it. It's unconscionable and immoral and disgusting. I hope we can hold them accountable."
The lawsuit "involves every child's worst nightmare" and comes amid a pandemic overrunning nursing care homes across the state, exposing the weakness in the elder care system," the Post added.
Lofgren has been a member of Springsteen's E Street Band since 1984, a member of Crazy Horse, and founder/frontman of the band Grin. He was inducted into the Rock and Roll Hall of Fame as a member of the E Street Band in 2014. He originally joined the E Street Band as the replacement for Steven Van Zandt on guitar and vocals, in time for Springsteen's massive Born in the U.S.A. Tour. In 1989 Springsteen broke up the E Street Band, but Lofgren and Van Zandt rejoined when Springsteen revived the band in 1999 for their Reunion Tour.
According to the New Jersey governor's office, the latest numbers show the total number of lab confirmed cases at 148,039; total lab confirmed deaths at 10,435; and the total tests reported at 505,569.