Iconic Bklyn Dem Party Boss Leader Frank Seddio Reported Set to Retire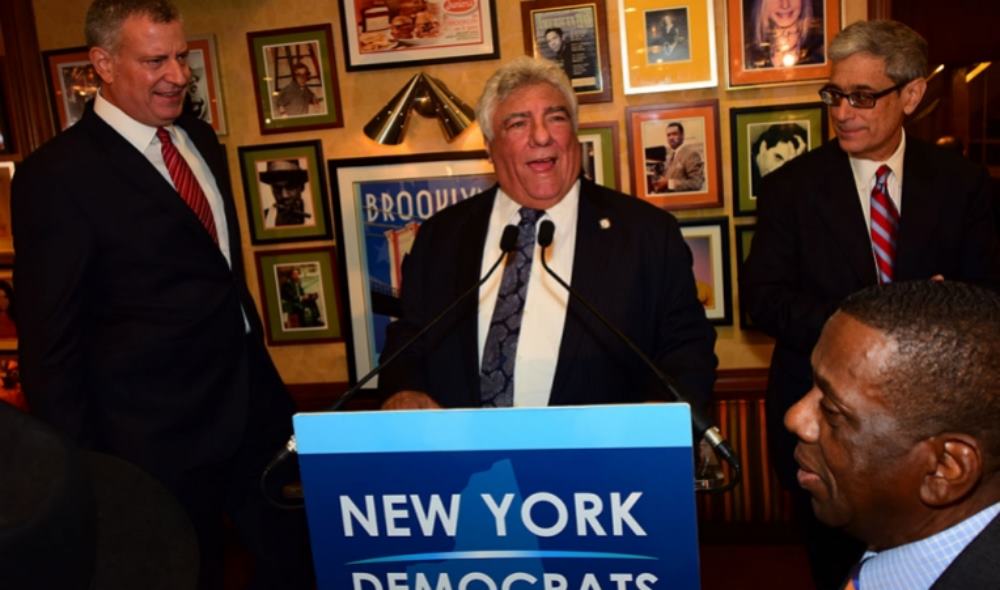 By: Hans Van Fracht
Longtime Brooklyn Democratic Party boss Frank Seddio is resigning.
Sources reportedly told the New York Post that the 74-year-old Seddio, chairman since 2012, is going to make the announcement on Wednesday. His term in office was scheduled to have concluded in eight months anyway.
"I'm announcing I'm stepping down," Seddio told the Post in a telephone interview. "I've been the chairman for [eight] years. It's been fun. It's been a good run. I'm retiring as the chairman and semi-retiring from my law practice. I hope God gives me a few more years."
He will reportedly stay on as the 59th Assembly District leader.
Seddio has been a community activist his entire adult life. "There has been no one more influential and important to the quality of life in Canarsie than Frank Seddio," noted the web site brooklyndems.com. "For almost 25 years Frank Seddio has treated the community to the largest and most elaborate Holiday Display in the City of New York. Each Christmas season Frank's house on the corner of East 93rd Street and Flatlands Avenue has been the center of attention as he and his family members spend almost two months constructing this Holiday tradition. For decades he has delighted and brought smiles to thousands of people from all over Brooklyn.
Seddio began his community work as a member of the Knights of Columbus, a fraternal organization dedicated to charitable works. He served in many offices and was the youngest Grand Knight (President) of the organization which has been a part of fabric of Canarsie since its inception in 1958. He was the founder and first President of the Canarsie Volunteer Ambulance Corps. For over 25 years this organization has provided free ambulance service to the Canarsie community with over 100 volunteers who have given their time and talents, dedicating themselves to insuring life saving medical care to the people of Canarsie.
When Seddio was chosen to lead Brooklyn Democrats back in 2012 it was on the heals of controversy. As the New York Times reported then, "Though some Democratic leaders had tried to rally around another candidate for chairmanship of the executive committee of the Kings County Democratic Committee, Mr. Seddio had gathered support by the time the vote took place. His strongest challenger, Assemblyman Karim Camara, the head of the Assembly's Black, Puerto Rican, Hispanic and Asian Legislative Caucus, decided to back Mr. Seddio. He said Mr. Seddio had promised he would broaden the party's leadership and conduct open party meetings.