Bezalel Academy of Art in J'slm Presents Materialness: US Premiere of Transformative Art & Design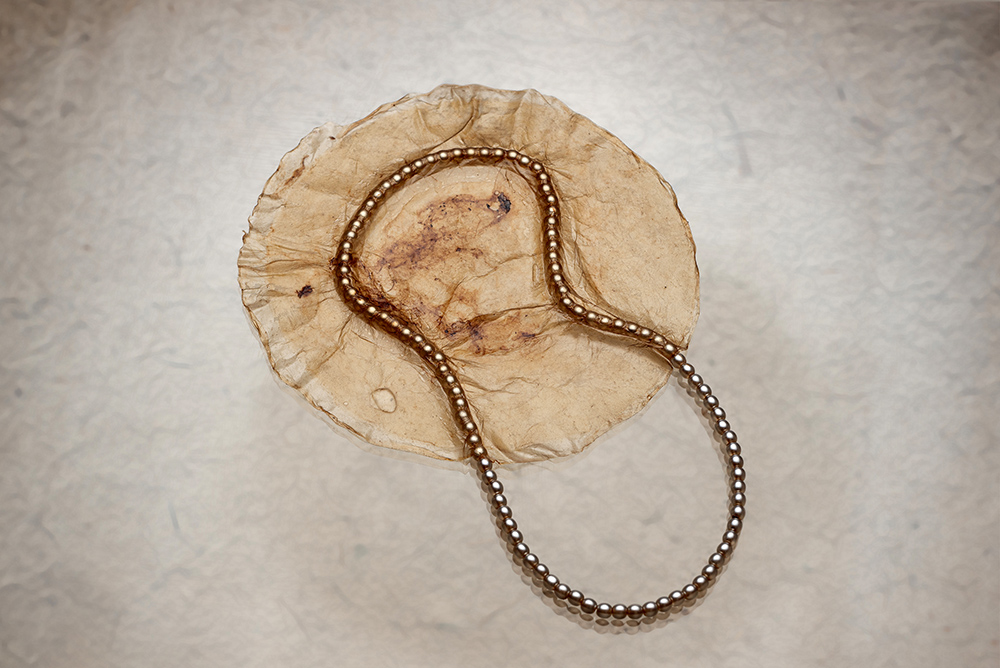 Over 60 Original Works of Art Represent the Meaning and Identity of Natural Materials as a Base for Creation
Edited by: TJVNews.com
Exploring the meaning and identity of natural materials from bacterial cellulose and fungus to cultured pearls and volcanic rock as a base for creation, "Materialness" is an original art installation premiering in New York City at the Parasol Projects Gallery from January 28- February 3. Presented by the Bezalel Academy of Arts and Design in Jerusalem, Materialness investigates the effects and ramifications, both positive and negative, of the earth's natural resources and the process on the environment, both on the social-consumer level and the physical-environmental level. The installation features jewelry, vases and one-of-a-kind works by artists representing the Bezalel Academy, Israel's oldest art institution. It includes nine projects totaling 60 original designs based on natural earth elements as they grow and transform, including some "living" pieces.
"The exhibit considers the complex triangular relationship between material, process and environment, and tries to shed light on works that, at their core, find a tension between earth, growth and source of the material; and process, product, and effects," explains Udi Urman, Executive Director, Friends of Bezalel. "In an age when most things seem to be accessible, fast, and replaceable, the exhibit presents projects that focus on the process itself, its duration, the raw materials used, and alternatively the environmental results of the processes that occur as part of and/or following the production. Bezalel Academy is a pioneer and innovative force in arts and design. The exhibition offers a unique way to look at the materials we use in design, while raising questions about sustainability, climate, and other social issues."
Some of the projects presented at this exhibit investigate and study new ways of using, processing, or growing of material; others, through their use of materials, criticize the ways in which we, as a society relate, to the resources around us.
"One artist searched nature to find a unique element in which her intervention would be limited but would still give it a new shape, choosing the fungus 'Auricularia auricula-judae' with the awareness that the objects in this project will fall apart and new objects will be born," says Arial Lavian, Materialness Curator. "Another project explores the environmental damage and pollution that occurs behind the scenes of the fashion industry through a series of stools made of textiles and iron. The fabrics used were leftovers gathered from fashion houses and sewing workshops. "
Materialness features works designed by lecturers, graduates, and students from various departments of the Bezalel Academy of Arts and Design in Jerusalem, who present the subjects in a broad spectrum and study them from different and various perspectives . Artists featured include Adi Farber, Anaelle AA, Maavan Fima, Natalie Feldesman, Arial Lavian, and Nitzotz Saranga, with Arial Lavian also serving as curator. The pieces may be purchased, and many are available for under $500 USD. The installation is open to the public 11 am – 7 pm daily from January 28-February 3, 2020 at the Parasol Projects Gallery, 213 Bowery in NYC. For more information, please visit https://www.bezalelfriends.org/.
About the Bezalel Academy
The Bezalel Academy of Arts and Design in Jerusalem is one of the world's most prestigious art schools representing over 100 years of innovation and professional training to over 2,500 undergraduate and graduate students. The Bezalel Academy is a world renowned institution that has inspired and shaped Israel's physical and cultural world. It offers a wide range of degrees in art, architecture and design. Bezalel Academy prepares students to effectively cope with the challenges presented by the global world of the 21st century and succeed in blazing their own unique and individual trails through the demanding fields of art, architecture and design.
About the Curator
Arial Lavian earned a B.A. in Jewelry and Fashion and a master's degree in industrial design from the Bezalel Academy. His works are exhibited in many exhibitions and collections in Israel and internationally.
Project: "Symbiosis" Brooch–Materials- different types of plastic from domestic waste- LDPE (polyethylene), Avocado shell, 925 silver, stainless steel. Artist: Maayan Fima. Photo credit: Yosef Chaim Ollech
Project: "Obsessidian" "Saki" jugs. Materials: Porcelain and Black Scoria volcanic rock. Artist: Nitzotz Saranga. Photo credit: Nitzotz Saranga
Project: "Toxtiles" – Materials: Iron and Scraps of Fabric. Artist: Ariel Lavian. Photo credit: Ariel Lavian