Jeffrey Epstein, a hedge fund billionaire with links to top politicians and celebrities, was charged Monday with running a sex trafficking ring that allegedly exploited dozens of underage girls, according to a VOA report.
In an indictment, Geoffrey Berman, a federal prosecutor in New York, accused Epstein of allegedly paying the girls hundreds of dollars for nude or partially nude massages that "increasingly were sexual in nature" at his mansion on New York's Upper East Side and at his estate in Palm Beach, Florida.
VOA reported that the prosecutor said Epstein often paid some of the victims, some as young as 14, to recruit other underage girls that he then also abused from 2002 to 2005.
"The alleged behavior shocks the conscience," Berman said of Epstein who was arrested on Saturday night when he flew back to the U.S. from Paris on his private jet. The prosecutor said that after Epstein's arrest, investigators searched his New York home and found nude photos "of what appeared to be underage girls."
Despite the fact that the allegations against Epstein stem from incidents that occurred more than a decade ago, Berman said, "We want to make sure the accusers have their day in court by bringing these charges," according to a VOA report.
The 66-year-old Epstein faces two charges, conspiracy to commit sex trafficking and sex trafficking. If convicted, Epstein faces up to 45 years in prison, which Berman said, because of Epstein's age, amounts to a life sentence. In a court appearance, Epstein pleaded not guilty to the charges.
Epstein is a well-connected financier whose friends have included two U.S. presidents, Donald Trump and Bill Clinton, and Britain's Prince Andrew.
VOA reported that in 2002, years before he entered politics, then real estate magnate Trump told an interviewer, "I've known Jeff for 15 years. Terrific guy. He's a lot of fun to be with. It is even said that he likes beautiful women as much as I do, and many of them are on the younger side."
Clinton often flew on Epstein's plane to the Little Saint James island owned by Epstein in the U.S. Virgin Islands, as was reported by VOA. No one has alleged that either Trump or Clinton engaged in underage sex activities, although Andrew in 2011 was forced to quit his role as a British trade representative after a report surfaced that Epstein had arranged for Andrew to meet a 17-year-old girl.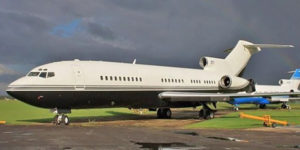 The Daily Caller reported that former President Clinton said he "knew nothing" of billionaire Jeffrey Epstein's alleged sex trafficking, according to a statement issued Monday.
"President Clinton knows nothing about the terrible crimes Jeffrey Epstein pleaded guilty to in Florida some years ago, or those with which he has been recently charged in New York," the statement read.
Clinton only took four trips aboard Epstein's private airplane and has "not spoken to Epstein in over a decade," according to the statement.
Flight logs from 2015, however, put Clinton on the "Lolita Express," Epstein's private airplane, more than a dozen times. Many of these flights were shared with a woman who is believed to have been involved with getting underage girls to perform sex acts for Epstein and his friends, Gawker reported.
According to the report on the Daily Caller web site, "the Secret Service was involved in every part of the trips, Clinton's statement read. The four trips "included stops in connection with the work of the Clinton Foundation," the statement read.
Clinton has taken at least 26 trips on Epstein's plane, according to a Fox News article in 2016.
Additionally, on some of the trips the Secret Service was absent, Fox News reported.
"Bill Clinton … associated with a man like Jeffrey Epstein, who everyone in New York, certainly within his inner circles, knew was a pedophile," said Conchita Sarnoff, of the non-profit Alliance to Rescue Victims of Trafficking, according to Fox News.
I'm saying, sadly, that he (Clinton) is not telling the truth," Sarnoff said. "First of all, Gerald Lefcourt, who was one of Epstein's attorneys back during the original arrest and the original investigation, wrote a letter which has been made public."
She added: "In that letter, Gerald Lefcourt claims that Epstein was one of the original funders of Clinton Global Initiative. He gave President Clinton four million dollars, according to a source who knows a story about that."
Fox News reported that Sarnoff said she requested interviews with Clinton about the matter, but he "would not agree" to talk to her.
Clinton has been accused of sexual misconduct in the past, including by Juanita Broddrick, who says he raped her in 1978 (Clinton has denied this).
According to a report on the Vox.com web site, "Clinton took international trips on Epstein's plane in the early years of his post-presidency, including a trip to several African countries with Kevin Spacey and Chris Tucker."
Vox also reported that Trump allegedly attended Epstein-hosted events in New York and Florida, and Epstein patronized the Trump owned Mar-a-Lago Club in Palm Beach, Florida.
On Tuesday, Trump said of Epstein, "I knew him like everybody in Palm Beach knew him. I had a falling out with him a long time ago, I don't think I've spoken to him for 15 years, I wasn't a fan."
Epstein dodged significant jail time in Florida more than a decade ago when allegations against him of child sex trafficking first surfaced.
In that case, a federal investigation was halted when Epstein pleaded guilty to Florida state charges of a soliciting and procuring a person under 18 for prostitution. He ultimately served 13 months but was allowed to spend half of most days at his Palm Beach office on a work-release program, a disposition of the case that the Miami Herald newspaper called the "deal of a lifetime."
Epstein's defense lawyers negotiated his plea deal with then U.S. Attorney Alexander Acosta, appointed by Trump in 2017 as labor secretary in his Cabinet.
Acosta has defended the resolution of the case, in part because it required Epstein to register as a sex offender.
But this year, a judge reviewing the outcome of the case in Florida ruled that Acosta and his fellow prosecutors violated the law by not informing the victims in the case that they were resolving the case with the state charges as the federal investigation ended. The Department of Justice, which oversees federal prosecutors, has opened an investigation into whether the lawyers committed "professional misconduct" in the way they resolved the case.
On Monday, Berman, the federal prosecutor in New York, said he was not a signatory to the Florida agreement and that there was no legal impediment to bringing the new charges.
In a related development, the townhouse that sits at the center of the Jeffrey Epstein underage sex scandal may soon be on the market.
Located at 9 E. 71st St. and priced at roughly $77 million, it is alleged that some of the abuse of which Epstein stands accused happened there.
"Epstein created a vast network of underage victims for him to sexually exploit, often on a daily basis, in locations including New York and Palm Beach," prosecutors charged. "Moreover, Epstein knew that many of his victims were under 18, including because, in some instances, victims expressly told him they were underage."
"Prosecutors have asked Magistrate Judge Henry Pitman to deny Epstein bail at a hearing later Monday because he is an "extreme flight risk." Epstein is unmarried with no children or any known immediate family, the feds say. He has six residences, including his own private island in the U.S. Virgin Islands, 15 cars and access to two private jets. In the past 18 months he has taken 20 trips abroad," according to Crain's New York Business.
On Monday, it was reported that investigators had taken possession of nude photographs of underage girls from the Manhattan townhouse. "That detail was disclosed by federal prosecutors on Monday as they unsealed an indictment charging Mr. Epstein with sex trafficking and made an appeal to other women who may have been abused by him to come forward," said the New York Times.
The Times report continued, "Hundreds, and possibly thousands, of "sexually suggestive" pictures of nude or partially nude girls were found during a search of Mr. Epstein's Manhattan townhouse on Saturday, conducted at roughly the same time the financier was arrested at Teterboro Airport in New Jersey, prosecutors said. The cache of photos, some of which were discovered in a locked safe that also contained CDs with labels like "Girl pics nude," demonstrate the predatory attitude that Mr. Epstein, a registered sex offender, had toward young women, prosecutors said in a detention memo filed on Monday."
"The defendant, a registered sex offender, is not reformed, he is not chastened, he is not repentant; rather, he is a continuing danger to the community and an individual who faces devastating evidence supporting deeply serious charges," prosecutors from the United States Attorney's Office for the Southern District of New York wrote in their filing.
Epstein, wearing navy prison garb and without handcuffs, pleaded not guilty to the sex trafficking charges in Manhattan federal court on Monday afternoon.
"To us, this indictment is essentially a do-over," Epstein attorney Reid Weingarten said. "This is the very stuff that was investigated by the feds in Florida." The parties and judge agreed that Epstein will be detained until a detention hearing on Thursday," noted CNN.
(VOA)