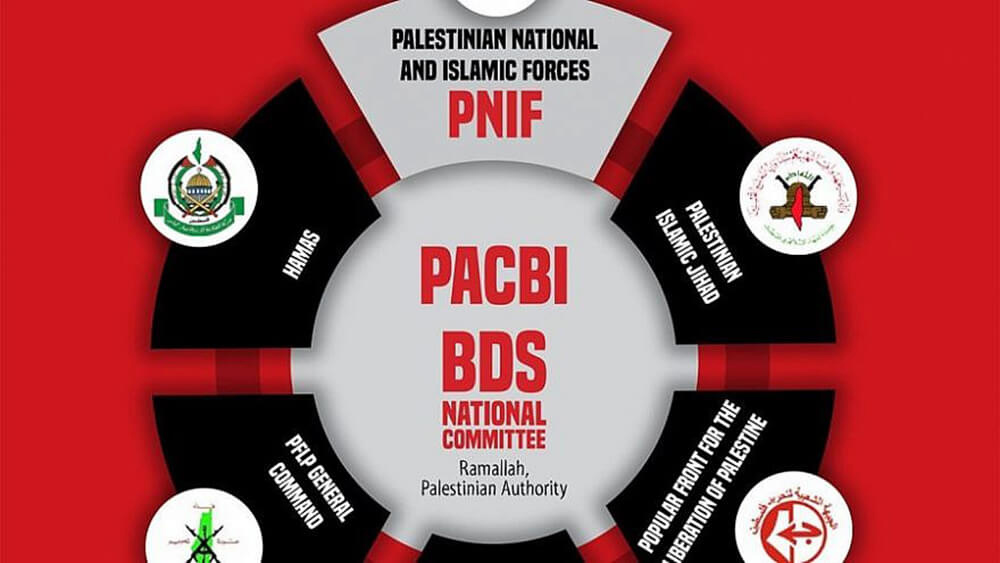 It reveals the intentions behind political warfare against Israel, which have nothing to do with human rights, illustrated by the movement's links to terror groups
In the wake of Iceland's pro-Palestinian gesture at Eurovision and related discussion promoted by the Palestinian Academic and Cultural Boycott of Israel (PACBI), Dan Diker and Adam Shay of the Jerusalem Center for Public Affairs have published an English book titled The PACBI Deception: Unmasked.
The book reveals PACBI's intentions of political warfare against Israel, illustrated by the movement's links to terror groups, and calls out the movement for "masquerading as human rights."
According to Diker, project director for the Program to Counter Political Warfare and BDS at the JCPA, PACBI is an "anti-Semitic organization that sits with five designated terror organizations together on the BDS national committee in Ramallah." PACBI, he explained, "exploits international figures, groups and activists to achieve its own Palestinian anti-Semitic and terror linked goals of destroying Israel."
While masquerading as a grassroots coalition of European and American pro-Palestinian organizations that rally for justice, equality and human rights, Diker told JNS, "in fact, PACBI is not pro-Palestinian at all." He said "their goal is not to establish two states but to replace Israel through non-military means, pursuing the same goals as Hamas and Islamic Jihad, and accusing Israel of being an apartheid entity that should not exist."
According to Diker, the campaign is "a mere expression of a 50-year old political warfare strategy of Palestinian leader Yasser Arafat."
Today, PACBI is largely orchestrated from Ramallah, and sits on committees together with Hamas and other Islamic movements, which are also constituent members of the BDS National Committee.
Even the Palestinian "March of Return," the weekly mass protest campaign along the Israel-Gaza border in which "Hamas operatives are sent to the fence to kidnap and kill Israelis," noted Diker, "is a PACBI strategy by steering committee member and well-known Hamas supporter Haidar Eid."
Those who care about human rights and academic freedom should not be fooled, warned Diker. "These boycotts violate the most sanctified principle of academia—namely, the free and civil exchange of ideas," he said. "And that is a privilege that Palestinian students enjoy in Israel."
Moreover, cautioned Diker, radicalizing student populations towards cultural boycotts, "thereby violating the very principle that they themselves enjoy on their universities," was a strategy employed by Nazis against Jews before it engaged in the Final Solution against the Jews.
"This incitement is the worst form of hatred, racism and collective anti-Semitism against the Jewish people," affirmed Diker. "And we are seeing this same strategy being used by NGOs against Israel in the name of human rights."
'The European state of mind'
While PACBI may be more successful among campus populations, where students do not yet understand that these boycotts are to "eradicate the Jewish collective," said Diker. In the case of Eurovision, PACBI was unsuccessful, as the Icelandic BDS-supporting team failed in their efforts of preventing and then disrupting the song contest in Tel Aviv.
Following Iceland's pro-Palestinian display of Palestinian flags at Eurovision, PACBI rejected their protest on Twitter, calling it a "fig-leaf gesture of solidarity from international artists crossing our peaceful picket line."
Diker viewed Iceland's display as "revealing PACBI's weakness in its international efforts to try to prevent and sabotage Eurovision" and applauded the European Broadcast Union for taking steps to "deter political acts" by warning participants of disqualification if they do not follow Eurovision's rules, thereby "underscoring its serious commitment to not politicize Eurovision."
Following Iceland's poor form, the European Broadcast Union does have the ability, as stated in its rulebook, to fine the Icelandic Broadcasting Authority and ban them from Eurovision. However, co-author Adam Shay posed expressed his skepticism that any further actions will be taken.
He told JNS, "the question relies on the current European state of mind," which would determine "if they want to kick up a fight on our behalf."
"When I ask myself this question, I come up with a negative answer," said Shay. "Taking any action may raise more of a kickback against the European Broadcast Union than they will want to deal with."
According to Diker, the ultimate deterrent against people boycotting Israel will occur when those "interested in human rights and creating a Palestinian sovereign entity recognize what we have exposed and magnified."
Unfortunately, and especially in academia, he maintained, "we are not quite there." While the administrations on American campuses often oppose academic and cultural boycotts, students, he said, are "being used as tools in the narrow political agenda of the PLO and Hamas-affiliates in Ramallah and Gaza."
Nevertheless, Diker is optimistic that after learning more about the topic—perhaps through JCPA's new book—"people of good will in North America and on European campuses will reject PACBI, and understand and condemn this deception."
                (JNS.org)