Despite Anti-Semitic Comments, Rashida Tlaib Becomes 1st Muslim Woman to Preside Over House Floor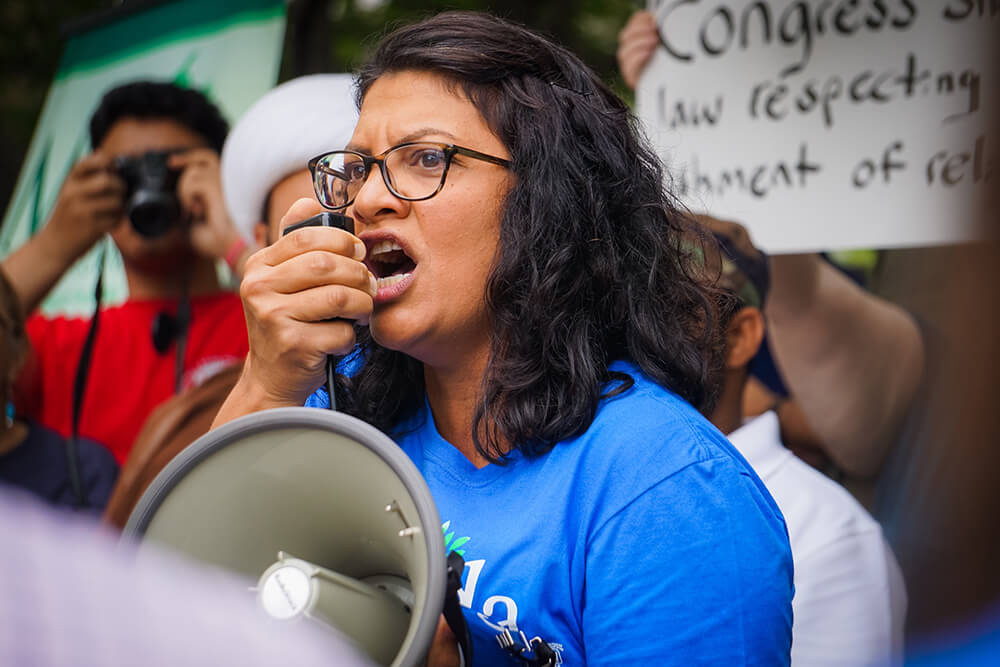 Despite her flurry of anti-Semitic statements and bizarre views on the Holocaust that were completely dismissive of the horrors that were inflicted on the Jews by the Nazi barbarians, it appears that that leadership of the Democratic party has seen fit to bestow the honor of presiding of the House floor to freshman Congresswoman Rashida Tlaib (D-MI). Thusly, Tlaib made history on Wednesday afternoon, becoming the first Muslim woman to take this kind of leadership in the House chamber.
Edited by: JV Staff
Her turn in taking the reins of leadership in the proceedings came months after she, along with Minnesota Democratic Rep. Ilhan Omar, became the first Muslim women to join the US Congress. Omar has distinguished herself for her own vile and putrid manifestations of anti-Semitism as she has referred to Jews are money grubbers, (It's all about the Benjamins!) and influence buyers. She has also unloaded her own vitriolic rhetoric against Israel and called for funding to the Jewish State from the US to cease, among other related matters.     
Tlaib told CNN ahead of the moment that her family would be tuning into C-SPAN to watch from home.
"I'm excited, my family's excited," Tlaib said.
CNN reported that proceedings on the House floor are led by the speaker of the House or people presiding in her sted from the speaker's party. House freshmen, like Tlaib, have been worked slowly into the rotation recently of learning how to preside over the floor.
Last Friday, Tlaib's fellow freshman Democrat, Rep. Alexandria Ocasio-Cortez of New York, presided for the first time, becoming the youngest woman ever to do so.
"Today I presided over the House floor for the first time. Every day here is a sacred privilege + responsibility entrusted to me by my community. I never forget that, and moments like these drive it home. Thank you to the people of NY14 + beyond. This House belongs to all of us," Ocasio-Cortez tweeted after she was through.
CNN reported that Iowa Democratic Rep. Abby Finkenauer also presided over the House for her first time last week, and afterward, she tweeted that when she texted her parents about watching, she found out they record C-SPAN "all day, every single day we are in session."
"Today, I learned that my parents record CSPAN, all day, every single day we are in session. So, that's adorable," Finkenauer tweeted.
Tlaib has made waves since joining Congress, and has recently found herself in the center of a growing controversy from prominent Republican leaders and Israel's ambassador to the United Nations (Danny Danon) for hate filled comments about Israel and the Holocaust that she and top Democrats said were misconstrued for political ends.
"Policing my words, twisting & turning them to ignite vile attacks on me will not work. All of you who are trying to silence me will fail miserably. I will never allow you to take my words out of context to push your racist and hateful agenda. The truth will always win," Tlaib said in response to the backlash.
In her comments, Tlaib did indeed make ahistorical claims about Palestinians providing a "safe haven" for Jews fleeing Europe ahead of the establishment of the modern state of Israel, despite deep-seated opposition at the time to Jewish settlement there and the ongoing conflict between Israel and the Palestinians.