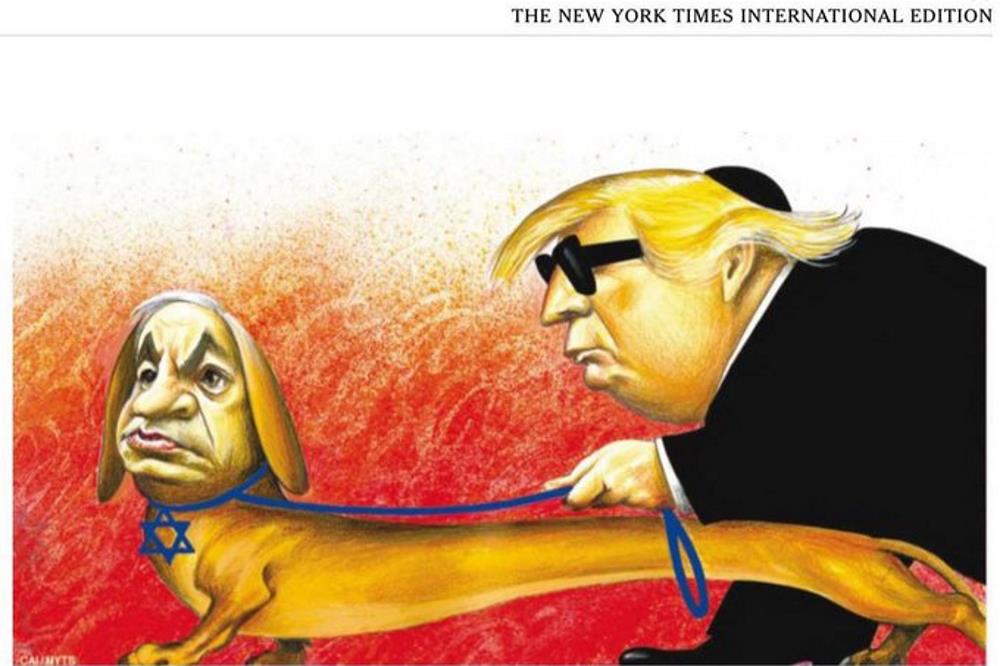 The New York Times announced Saturday it was deleting an anti-Semitic cartoon from its international edition featuring Prime Minister Benjamin Netanyahu as a guide dog leading a blind Donald Trump.
By: David Rutz
Netanyahu is depicted with a Star of David collar, while Trump holds his leash and is depicted as blind by wearing sunglasses. The Times said in a statement from its opinion page's Twitter account that it was an "error of judgment to publish it" and admitted it "included anti-Semitic tropes."
"A political cartoon in the international print edition of the New York Times on Thursday included anti-Semitic tropes, depicting the prime minister of Israel as a guide dog with a Star of David collar leading the president of the United States, shown wearing a skullcap," the Times said. "The image was offensive, and it was an error of judgment to publish it. It was provided by The New York Times News Service and Syndicate, which has since deleted it."
The newspaper said the note would appear in Monday's international edition. The Times responded to a request for comment by directing the Free Beacon to the above statement. At the time of publication, it had not disclosed who the cartoonist was.
Trump and Netanyahu have forged a strong alliance since Trump took office. The Trump administration moved the U.S. embassy in Israel to Jerusalem and recognized the city as Israel's capital, and it also has recognized Israeli sovereignty over the Golan Heights. Netanyahu won a fifth term as prime minister in part by campaigning on his partnership with Trump.
Netanyahu and his right-wing Likud Party have come under fire from liberal outlets, including the New York Times editorial board. An April 10 editorial following his party's success acknowledged Israel's economic and technological advances under Netanyahu but panned his campaign strategies and said Trump "inserted himself on behalf of an Israeli leader in ways no previous American president has." (Washington Free Beacon)