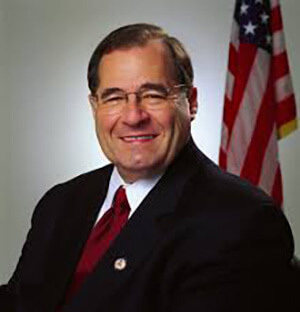 At hearing official reports this past Friday, that the Mueller investigation was at an end, that there was no indication of any collusion between President Trump and Russia, that we could finally get on with our lives and put two years of political lunacy on the shelf. Sadly, that is not the case. Without missing a beat, our own Jerrold Nadler posed for the cameras to read his conclusions that Attorney General William Barr's summary of the report was misleading. No handcuffs? No charges? There must be a cover-up, it doesn't smell right, he insinuated, with there being no criminal indictment against Trump.
Something is wrong with this "incomplete" report. Nadler: "His (Barr's) conclusions raise more questions than they answer. The American people are entitled to a full accounting of the president's misconduct referenced by the special counsel." So, according to Nadler, if the conclusions arrived at by a bevy of left wing lawyers under Mueller's charge were not congruent with the expectations of himself, Schiff, Schumer, Pelosi, Sanders and the rest of Trump's ankle biters, continue the hunt.
The D.C. stabled Democrats are threatening to bring Attorney General William Barr to the witness stand, under oath, to grill him on what they claim must be the overlooked contents of the report. Now the new mantra-theme to be thrown around by the Left is "obstruction of justice." Already questions concerning Barr's opinion on obstruction of justice, citing a memo he sent to the Justice Department arguing that it would be "fatally misconceived" that Trump's firing of FBI Director James Comey could be the basis of an obstruction of justice inquiry. After all, it is within the president's rights to hire and fire. Under the Constitution, all executive power is endowed in the president of the United States. The president may terminate any executive officer, for any reason or no reason. The FBI director is no different.
It is our hope that in any future congressional hearings at which Mr. Barr is called upon to testify about Mr. Mueller's findings, he will elaborate on the contents of the FISA warrants: how they were compiled and issued by the judges involved, Fusion GPS's involvement and how Hillary's campaign figured into having Christopher Steele's dossier used by the Obama Justice Department in applying to the FISA court for a surveillance warrant targeting Trump and his campaign workers for political purposes. If the House Democrats want to find out what is hidden in Mueller's findings, let it all hang out. Openness is for all sides.