Bluetooth-compatible suspension training gear with embedded sensors sends live motivational messages as well as feedback about your workout results
Getting serious about getting into shape? You could invest in a gym membership or a basement full of workout equipment, but it's hard to stay with the program unless you have sufficient time, access, motivation and feedback.
Two ambitious young Israelis set out to solve that problem with a product called the Hyfit Wearable Gym, a portable smart workout ecosystem incorporating IoT technologies.
It's the first in a line of connected fitness products that cofounders Guy Bar and Dan Strik declare will never collect dust in your basement.
The Bluetooth-compatible suspension training system, which looks a little like a TRX suspension trainer, builds full-body strength and core stability using a system of ropes and webbing that works against gravity and one's own body weight. There are 250 possible exercises that can be performed with the Wearable Gym, which is constructed of waterproof materials and comes with a wireless charger.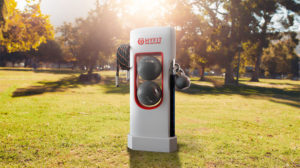 Embedded sensors send live motivational feedback – to you and, if you have one, your trainer — about your workout results such as repetitions accomplished, resistance used and calories burned. A companion app uses that data to plan your next routine so you won't get stuck in a boring rut.
Though the patented Wearable Gym is still in pre-order phase, with the first batch expected to ship in March, Bar and Strik have raised about $880,000 and aim to be no less than the next Apple of fitness.
Seven years ago, they were selling imported TRX suspension training equipment to Israeli army bases. After a while they recognized a need for more advanced gear that would motivate people to keep up their fitness routine, work out wherever and whenever they wanted, and track their performance.
They started developing the Wearable Gym three years ago despite having no capital or business connections. They chose to headquarter Hyfit in Los Angeles because of its proximity to Santa Monica, the unofficial "capital of fitness."
The company's software developers are based in Tel Aviv along with COO Elad Elkalai and Itai Segev, international sales and business development manager. Elkalai is heading to China shortly to oversee production.
The founders have also been to the Far East, to discuss a possible distribution deal in Asia with consumer electronics maker Xiaomi. Industry forecasters predict the workout equipment market in Asia-Pacific will grow rapidly in the coming years, especially in India and China.
One of the most promising startups in the world
Segev says the Hyfit team is full of ambitions for revolutionizing your workout.
"We had a successful campaign on Kickstarter for our first product, the Wearable Gym, in April to May 2018. We had $120,000 in pre-order sales from the first month only. Forbes named us one of the most promising startups in the world," he tells ISRAEL21c.
The pre-order price for the Wearable Gym is $119.
Hyfit is soon launching a Kickstarter campaign for its second fitness product, the Atomic Smart Medicine Ball, with a projected delivery date of September 2019.
Next in the Hyfit pipeline are the Dragon Advanced Kettlebell (end of 2019), Python Smart Battle Ropes (2020) and pay-per-use Gear Station Hubs intended to be installed in public parks, gyms chains and US military bases (2021).
"After finalizing the development and manufacturing of the upcoming four products, Hyfit will be ready to launch its true added value to the market — our pay-per-use platform," explains Segev. "By 2022, we aim to have 800 stations spread around the world."
Renting the theft-proof hubs on demand for 60 minutes would give users accessibility on their own schedule without buying and storing the equipment. The workout tracking data would also be available to the facility.
At the same time, the flagship product will continually be upgraded to include additional features, says Segev. "By the second or third version of the Wearable Gym, some of our sensors will be able to tell if you did the move correctly," he says.
Keep your eye on this high-energy group, whose management is flexing its muscles with the rather lofty stated intention of becoming a billion-dollar Israeli "unicorn."
            (Israel 21C)