Bibi Meets Bolsonaro in Historic Visit to Brazil; Receives Highest Nat'l Award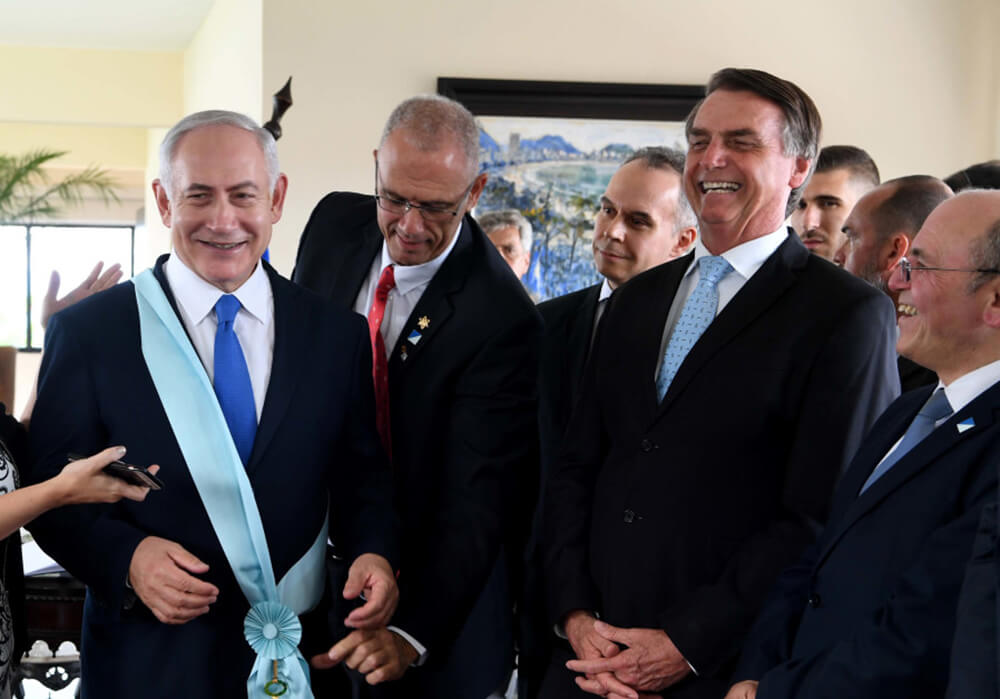 On Friday, Israeli Prime Minister Benjamin Netanyahu became the first Israeli head of state to visit Brazil. In a historic move, Netanyahu met with Brazilian President-elect Jair Bolsonaro (who is considered to be the Brazilian version of President Donald Trump) at Fort Copacabana in Rio de Janeiro.
The Israel Government Press Office reported that the two held a private meeting and then an expanded one in which Brazilian Foreign Minister Ernest Araujo, Defense Minister Fernando Azevedo e Silva, Finance Minister Paulo Guedes and Congressman Eduardo Bolsonaro – the President-elect's son — also participated.
"This is the first time an Israeli Prime Minister visits Brazil, and we are forming an alliance with a superpower that has close to a quarter of a billion civilians," Netanyahu said. "This is another sign that Israel is a rising power in the world."
Prime Minister Netanyahu invited President-elect Bolsonaro to visit Israel; the President-elect accepted. They agreed to tighten – inter alia – economic, security, water management, agricultural and technological cooperation.
Following the meeting, President-elect Bolsonaro awarded Prime Minister Netanyahu Brazil's highest and most important national award for high-ranking guests, which is awarded to prominent and influential people and was previously granted to former US President Dwight D. Eisenhower and Queen Elizabeth II.
Netanyahu said of the historic reception, "It's the first visit by an Israeli prime minister to Brazil ever. It's hard to believe that we had no such contact before. Because the brotherhood, the alliance that you mentioned is real and can carry us to great heights. Israel is the Promised Land; Brazil is the land of promise. And you've been given the stewardship of this country to realize that promise.
"We want to be your partners in this effort. We think our cooperation can give both our peoples tremendous benefits in the economy, in employment, in security, in agriculture, in water, in industry, in every domain of human endeavor. So as the first step of realizing this I have invited President Bolsonaro to come to Israel and he has accepted, and you will be welcomed as a great friend, as a great ally, as a brother.
"This is also a sad day. We bid farewell to one of our literary giants, Amos Oz. We will always remember his contribution to Hebrew literature and the Hebrew language."
"Today I would like to tell you, with the perspective of thousands of years, that we are experiencing here at this moment, our people, the Jewish people, a breaking of the rules of history. Many peoples were exiled from their lands; they all disappeared, found new lands or were absorbed into other peoples.
The Jewish people are the only one that refused to find a new land, or be absorbed. We remained faithful to our land and for thousands of years we said 'Next Year in Jerusalem.' We did not lose hope even through pogroms, the expulsion from Spain, the expulsion from Portugal and pogroms in Europe, and not even during the awful pogroms under the Nazis. We always said 'Next Year in Jerusalem.'
"Jewish communities around the world, who supported their brothers, shared in this hope. This included the Jewish community in Brazil the roots of which go back to the Portuguese migration here and afterwards, after the expulsion from Spain. They came and were welcomed here in the new world, but supported the dream of the return to Zion. Be proud of Brazil, love Brazil and want to see the return to Zion – 'Next Year in Jerusalem.'
"We have returned to Jerusalem and – like in the Biblical prophecies – we rebuilt Zion. We overcame many enemies. We gathered in our exiles and we rebuilt our land. We built a strong military, among the strongest in the world. We built an economy that is among the strongest in the world. We built industry, science, culture and now we are building with our friends around the world. 'For Israel is not widowed.'
"We now have a new friend who knows the hardships of history, the sources of our mutual culture and the great challenges that face us in ensuring the future. Therefore, at this occasion, the first visit by a Prime Minister of Israel to Brazil, I am honored to tell you that very soon we will host the President of Brazil, a friend of Israel, Jair Bolsonaro, in Jerusalem. Next year in our rebuilt and united Jerusalem."
At a Sabbath eve service in Rio De Janeiro, Netanyahu said, "We are on a historic visit. There is a cumulative, breakthrough change, from the situation in which Israel was a small country, inward looking, fighting for its existence against boycotts and isolation.
"This is a fundamental thing that we have been working on, and which I am leading, very methodically and orderly, for over 20 years. We are taking the genius latent in our people and translating it into strength of our state.
Bolsonaro said in the synagogue: 'I come to learn from you what you are doing.' They have so little and do so much. We have so much and have done so little. Countries look on us with admiration, there is no other word, in all fields."
"I remember that the gap between us and Brazil was so great and today it is not. It is great in the sense that, as President Bolsonaro said: 'I want to close the gap, also by you. Not just, but to close the gap with an alliance.' I think that this is a certificate of honor for the State of Israel and it says very much."
A US State Department press release said that, "While in Brasilia, Secretary Mike Pompeo will also participate in bilateral meetings with Peruvian President Martin Vizcarra and Israeli Prime Minister Benjamin Netanyahu."
The Brazil visit includes a bilateral meeting with Bolsonaro and Foreign Minister Ernesto Araujo before Pompeo leaves for Colombia, where he will meet Colombian President Ivan Duque, the release said.