In a shocking revelation on Tuesday, U.S. ambassador to the United Nations, Nikki Haley announced her resignation from her post at the world agency, and thusly, has fueled speculation concerning her future career endeavors.
"It has been an honor of a lifetime," Haley said, addressing both the President and journalists in the Oval Office. "I am such a lucky girl to have been able to lead the state that raised me, and to serve a country I love so very much. It has really been a blessing, and I want to thank you for that."
Haley formally submitted her letter of resignation on Wednesday, Oct. 3. Haley is not leaving her position at the UN until the end of the year.
"As a strong supporter of term limits, I have long believed that rotation in office benefits the public," Haley's resignation letter reads. "Between the UN Ambassadorship and serving in the South Carolina Governorship and General Assembly, I have been in public office for fourteen straight years."
She also stated in her letter to President Trump: "We achieved great successes at the UN. We passed the toughest sanctions against any country in a generation, pressuring North Korea toward denuclearization. We passed an arms embargo on South Sudan that will help reduce violence and hopefully bring peace to that troubled country. We stood up for our ally Israel and began to roll back the UN's relentless bias against her. We reformed UN operations and saved over $1.3 billion. We spoke out resolutely against dictatorships in Iran, Syria, Venezuela, Cuba, and yes, Russia. Through it all, we stood strong for American values and interests, always placing America first. I am proud of our record."
Trump said during Tuesday's press conference that Haley's decision was not unexpected. She had shared with him six months earlier that she had plans to step down.
"Nikki Haley has been very special to me. She's done an incredible job. She's a fantastic person," Trump said. "She's done a fantastic job, and we've done a fantastic job together. We've solved a lot of problems, and we're in the process of solving a lot of problems."
Trump credited Haley with bolstering the United States' standing among the world's most influential countries through her United Nations work, and advancing U.S. foreign policy, specifically pointing to what he feels are improved situations with North Korea and Iran.
"We are respected again, that I can tell you. Very much respected again, and people want to be on our side," Trump said. "If you look at the votes in the United Nations. I mean, votes that we would normally get 'No' votes, we're getting very strong votes now. So, I just want to thank Nikki."
"We will miss you," Trump said to Haley. "You have done a fantastic job."
"Hopefully you'll be coming back at some point," added the president, saying "you can have your pick" of other jobs in his administration.
"I don't have anything set on where I'm going to go," said Haley.
The former governor of the state of South Carolina has been a relatively moderate voice in Trump's cabinet.
Her appointment as ambassador to the U.N. was seen as something as a surprise as she had been viewed as a critic of Trump's confrontational style during the 2016 presidential campaign, as well as a proponent of free markets and global trade, in contrast to the president's "America First" policies.
"Countries may not like what we do but they respect what we do," Haley said on Tuesday, summarizing her tenure as Trump's envoy to the world body.
Asked who he has in mind as Haley's successor, Trump responded: "We have a number of people that would very much would like to do it," adding that Haley had "made it a very glamorous position."
The president added that "within the next two or three weeks, maybe sooner" he is likely to announce who he intends to nominate for the post.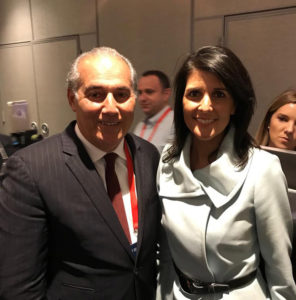 Haley responded recently to an anonymous opinion article in the New York Times by an unnamed senior official who claimed to be part of a "resistance" inside the Trump administration to thwart parts of the president's agenda "and his "worst inclinations."
Haley, writing in The Washington Post, said that she proudly served in Trump's administration and "I enthusiastically support most of its decisions and the direction it is taking the country."
As ambassador to the world body, Haley had clashed with her first immediate boss in the Trump administration, Rex Tillerson, who was fired by the president in March and replaced as secretary of state this year to make way for the director of the Central Intelligence Agency, Mike Pompeo.
"Nikki Haley has been a clear, consistent, and powerful voice for America's interests and democratic principles on the world stage," said Speaker of the House Paul Ryan, quickly reacting to news of the ambassador's impending departure. "She challenged friend and foe to be better. I am saddened that she is leaving the administration, but so grateful for her service."
As governor of South Carolina, Haley came to national prominence for taking down the flag of the Confederacy, a symbol of the losing Southern side during America's mid-19th century civil war, which had flown at the Statehouse.
Haley, whose parents emigrated from India, is one of six women in Trump's cabinet and is regarded as a potential future Republican Party presidential contender.
The reasoning behind her resignation is not yet known. Haley enjoys strong support among Republicans and has long been rumored to harbor future presidential ambitions.
"No, I'm not running for 2020," Haley told reporters, adding she would be campaigning for Trump's re-election in the next presidential election.
Israeli Prime Minister Benjamin Netanyahu and other Israeli leaders from across the political spectrum, thanked outgoing US Ambassador to the UN Nikki Haley for her support following her surprise resignation Tuesday, according to a report on the Israel National News website.
"I thank Ambassador Nikki Haley, who led an uncompromising struggle against the hypocrisy of the United Nations and the truth and justice of our country. Best of luck!" Netanyahu said.
President Reuven Rivlin said: "I would like to thank Nikki Haley, a true ambassador, from the bottom of our hearts and on behalf of all the citizens of Israel. Haley presented an uncompromising stance on US positions on the Middle East and Israel, and defended our clear right to protect the security of our citizens. Haley, in her direct statements, often led to the removal of the cynical mask from processes led by the United Nations and international organizations."
"I thank Mrs. Haley for her courage and for her tenure as a turning point in the US attitude toward the international organizations and for the discriminatory treatment that these organizations often take against the State of Israel," the president added.
"We will continue to see Nikki as a true friend and we will be happy to receive her at the President's Residence on her next visit to Israel," Rivlin concluded.
Education Minister Naftali Bennett wrote on Twitter: "Dear [email protected], on behalf of the Israeli people. Thank you for what you've done for Israel. We will not forget."
Former Israeli Ambassador to the US Michael Oren wrote: "It is with great regret that I heard about the resignation of Ambassador Nikki Haley, who worked for the United States, Israel and the enlightened world against the dark forces of the United Nations. The people of Israel will always appreciate her and wish her success in the future."
Yesh Atid faction leader Yair Lapid, who serves in the Knesset opposition, wrote: "Nikki Haley is a great friend of Israel and an important voice at the United Nations. She took on the hypocrisy and bias at the UN with conviction and clarity. Thank you."
By: Fern Sidman