Eliot Rabin (Peter Elliot) Calls for "Tolerance, Civility & Common Sense" in NY Congressional Race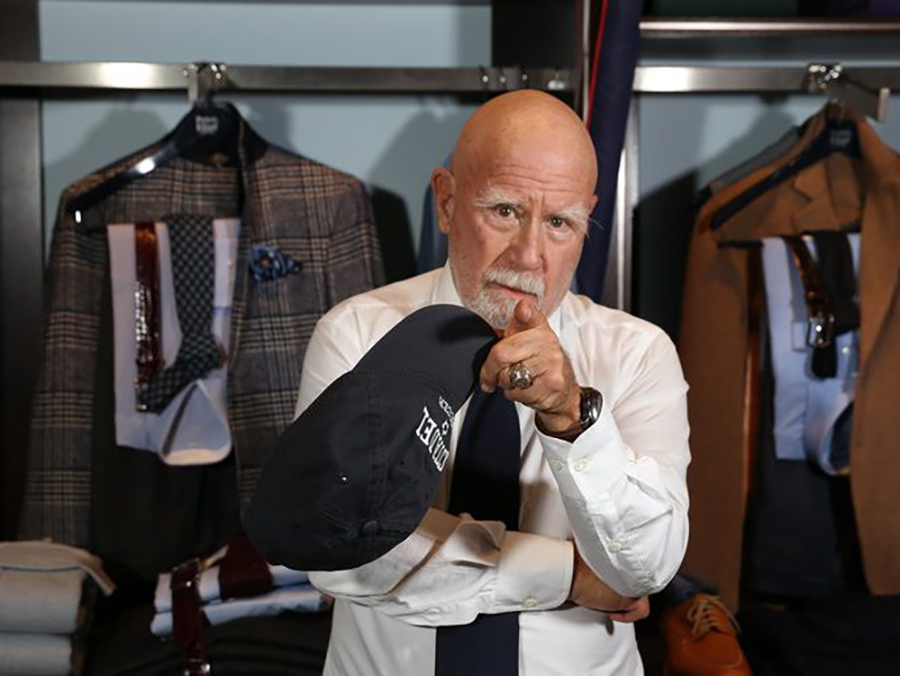 "Voters want change!" declared upper east side haberdasher and private business owner Eliot Rabin (Peter Elliott) during a recent interview with the Jewish Voice. The 76-year-old South Carolina native has now thrown his proverbial hat in the ring and is challenging the popular incumbent Carolyn Maloney (D) for her congressional seat in New York City's 12th district.
The congressional district is expansive to say the least and encompasses the upper east side of Manhattan, as well as Astoria in Queens, and the Greenpoint and Williamsburg sections of Brooklyn. So, will Mr. Rabin have his work cut out for him since he has never run for public office before and because some might perceive him as one without name recognition?
The feisty and sagaciously wise candidate offers a resounding no to that answer and he is confident that because he has his finger on the pulse of the people in his district, he can succeed in positively impacting the day to day lives of the people he will represent in congress and making New York a better place to live.
"I came to New York City in January of 1970 from South Carolina, where I was raised, " said Rabin, who still retains his charming southern drawl. He laughs and says, "No, I am not a carpet bagger, but rather a tried and true New Yorker and want to transform our city into a safe and attractive place for people to call home," he says.
The predicate of Rabin's campaign is reintroducing tolerance, civility, leadership and common sense to the national political dialogue. As a matter of fact his campaign slogan is "Tolerance is the Key; Civility is the Lock." Even though his web site says that he is running for office as a Republican, Rabin quotes our nation's first president George Washington who said that political parties and their inherent propensity for corruption are the "dearth of democracy."
As a former captain in the US Army and a company commander, Rabin has a keen grasp of the human psyche and knows how to treat people with respect and dignity and thusly can motivate them to get things accomplished.
"I do not aspire to be a career politician as some element of corruption eventually insinuates itself into your life. Also, career politicians don't want to lose their seats as this is their road to power as well as being their bread and butter. As a result they tend to flip flop on issues; they take on a chameleon like nature in order to pander to voters, and I feel that our political system has been plagued with such blatant hypocrisy and duplicitousness for way too long, " said Rabin with a palpable sense of conviction resonating in his voice.
As for his roots in South Carolina, Rabin takes a moment to heap accolades on his fellow South Carolinian, UN Ambassador Nikki Haley. "She is a very genuine person. What you see is what you get. She is totally above board and there is not a phony bone in her body. I praised her constant efforts to improve the lives of the people of South Carolina while she was governor and she is doing a stellar job as America's representative at the United Nations. I am sorry to see her leave that position, as she has played a major role in helping to shift world views of the US and now our country is respected again. I definitely think that Ms. Haley stands an excellent chance of becoming our nation's first female president, if she so desires."
Concerning the issues that New Yorkers are confronted with, Rabin raises the matter of the city seeking to build new prisons. "As a candidate that despises bureaucracy and disingenuousness, I am outraged that the hardworking taxpayers of New York City are now being asked to shell out even more money for the construction of four new prisons in 4 out of the 5 boroughs of the city. The developers say that our prisons are overcrowded which in their opinion would necessitate the building of new edifices, but the truth is that people behind this project want to enrich themselves and for political reasons have intentionally made sure that the prisons in question are overpopulated."
He adds that this is nothing more than a "real estate ploy" and that prime real estate will be utilized for this endeavor. "If these new prisons are built that translates into four new unions springing up, and four new bureaucracies emerging and frankly that is not what New Yorkers want or need. I will fight in congress against the nefarious agendas of special interest groups who have traditionally profited on the backs of the working class. That will not happen when I am in congress as the only people that I am beholden to are the people in my district; the people of this city and the people of this great country. I will represent all of the people in my district; even those who do not vote for me," said Rabin.
As for the city's beleaguered educational system, Rabin is not afraid to embark on the well-trodden path of those before him who attempted to craft a plan with an ultimate objective of rooting out corruption in the most powerful union in the city; namely the United Federation of Teachers (UFT).
"Look, ask any parent of a child who attends out city's public schools and they will tell you that there is always room for vast improvement. Our children deserve the very best education considering the staggering amount of money we dole out in our taxes for the education of each and every child, " said Rabin.
What irks him the most is the fact that teachers are being paid a full salary when "they do absolutely nothing." Rabin is referring to the "Absentee Teachers Reserve" or (ATR) which essentially boils down to teachers, who, for whatever reason, are still on the payroll and cannot be terminated due to union rules.
"There are a number of teachers who don't receive satisfactory evaluations, yet their jobs and pensions are secure and that is not fair to the taxpayers, " said Rabin. He added, "Each day they report to a work but many days it ends up that they just sit around waiting to be called to a particular school and that may not happen. If a teacher is not performing to the level that independent guidelines dictate and not the skewed guidelines that the UFT has imposed, then they should be shown the door."
In terms of improving the curriculum in the city schools, Rabin says that he is opposed to the common core standard of teaching. "I guess I am a traditionalist but I think (as do many parents) that our kids should be taught cursive writing in schools. I know that "script" writing has become an anachronism of sorts, and I think that is a shame."
New York City has historically built its reputation for diversity and tolerance on the fact that it became the nation's hub for immigrant arrivals since the early 19th century. On the hot button issue of immigration that has dominated the headlines, Rabin says that although most New Yorkers recoil in horror at the very thought of a wall being built on our southern border to keep refugees out, he feels that immigration represents a fiscal dilemma because the "socio-economic structure cannot afford to support illegal aliens."
Rabin emphasizes that he understands the importance of accepting refugees who are genuinely seeking political asylum but says that "they should come to these shores in a legal fashion, where they will be welcomed and absorbed."
In terms of precisely how to deal with the scores of Hondurans who comprise the current caravan heading towards the United States, Rabin said that "external sources" are supporting this venture and implied that the goal may be politically motivated. In addition, he duly noted that the trip on foot from Honduras to the US will undoubtedly cause some casualties. "The influx of illegal immigrants will also serve to overburden our medical facilities and considering the times in which we live, an emergency of mammoth proportions can happen at any given moment and we desperately need our hospitals and emergency staff to be available to American citizens; first and foremost," he said.
In the recent virulently anti-Semitic murder of 11 Jews who were gunned down on the holy Sabbath while praying at their synagogue in the Squirrel Hill section of Pittsburgh, Rabin said on his campaign web site:
"Once again, the divisiveness in our wonderful country has raised its ugly head… The current shooting in the Jewish temple in Pittsburgh, ironically named the TREE OF LIFE, reflects the universal disease of antisemitism and racism. Lives have been cut short in a house of God by a villainous cretin whom some call human. Local law enforcement and the FBI deserve praise for their efficiency and the swift arrest of the suspect.
From the mass school shootings, to the Charleston church massacre, to the late bomb scare, and to all those with guns who have killed their families and sometimes themselves; is this what the Second Amendment intended? I don't think so… As a US Army veteran (Captain) and gun owner, I abhor the insane lack of a common sense gun policy that should be made uniform throughout our country. Yes, bad folks will still get guns; but it can be made more difficult. I believe in restrictions on AR-15s and weapons of that ilk; a ban on high-capacity magazines and bump stocks. We must strictly enforce the existing gun laws. Both manufacturers and owners should be required to have trigger locks on any weapons to prevent kids from accidental harm.
As a candidate for the 12th NY Congressional District, it is imperative that Republicans and Democrats find common ground and emphasize courage, compassion, and communication. Again, with renewed civility and tolerance, we can keep our heterogeneous country united!!!"
By: Fern Sidman