Court Ruling Blocks 20-Story Nursing Home Planned for UWS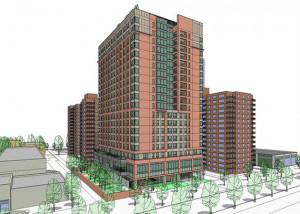 The Upper West Side was looking at having another nursing home until a state appeals panel took away the permit for this controversial project that's had the support of Mayor Bill de Blasio.
The Jewish Home Lifecare project is the controversial 20-story development, located at 125 W. 97th St. The project in question ran into problems when neighbors said that there are too many people living in the neighborhood as it is and then sued in order to stop the project. The residents took their case to an appellate court, and last week, the court cited zoning violations as a reason for the project's permit to be removed. The court left supporters of the project scratching their heads because of the use of "obscure definitions of open space," as described by The Wall Street Journal.
Despite backing from the mayor, the project was controversial out of the gate. A state environmental review found that the site had the potential to create more noise and hazardous materials during the construction process. The Office of Sustainability went ahead with the project anyway a couple years ago put forth by the New Jewish Home, formerly Jewish Home Lifecare. Along with being a projected supported by the mayor's office, New Jewish Home had the go-ahead from the Department of Buildings and Board of Standards and Appeals.
The Chetrit Group and Stellar Management in 2010 set the stage by putting up a 30-story apartment building at 808 Columbus Avenue, despite about 40 years of precedent regarding rooftop space.
The Wall Street Journal reports that "the court ruled 3-1 that a rooftop amenity space above the retail portion of that building could not count as open space, because it wasn't open to residents of older apartments nearby."
The reasons for pulling the permit have to do with the lack of enough rooftop space, though New Jewish Home senior vice president Bruce Nathanson said there should be adequate space. He said that they did their due diligence by having three independent government reviews, all of which okayed the project.
"While we will consider our options regarding this decision, the New Jewish Home remains 100% committed to serving older adults in New York City with an array of innovative health-care services," he said.
Attorneys for the project anticipate trying to get in front of the state's highest court in order to continue pushing for the project.
Community Board 7 deals with land use and zoning matters, the city budget, municipal service delivery, and multiple community concerns of the Upper West Side. This community district covers the Upper West Side from 59th/60th Streets to 110th Street.
In this community board, 80 percent of the calls to 311 are either building complaints, noise complaints, city property damage/complaints, and lost and found property. One of the most frequent problems was for residential noise complaints.
By: Kerry Levin