Ralph Lauren Celebrates Company's 50 Year Anniversary; Throws Out 1st Pitch at Yankees Game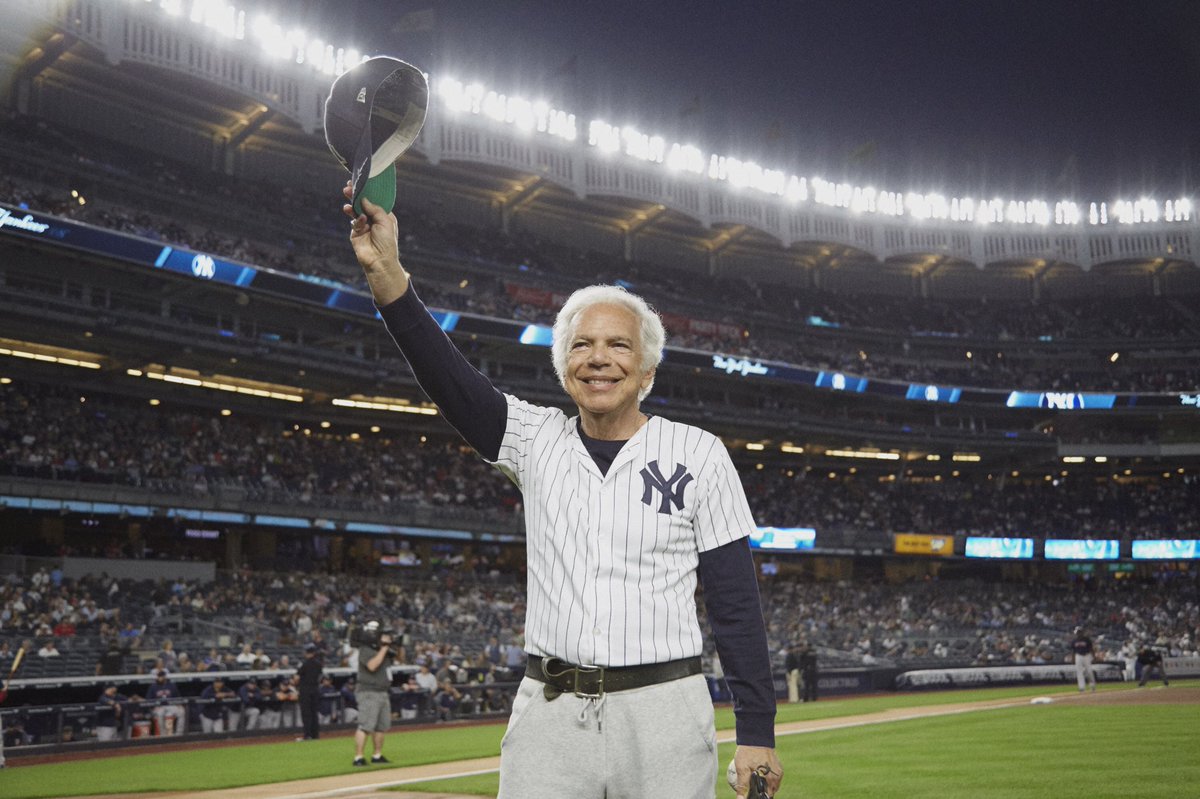 On September 20, Bronx native Ralph Lauren returned home to be honored by the New York Yankees in recognition of the company's 50th anniversary. Mr. Lauren was celebrated with a special pregame home plate ceremony and threw the ceremonial first pitch at the Yankees–Red Sox game, at Yankee Stadium in the Bronx, New York.
A lifelong baseball fan, Mr. Lauren (who pitches left-handed) was always inspired by the rich heritage of America's national pastime and by his favorite team, the New York Yankees. Having grown up in the golden age of baseball, Mr. Lauren idolized iconic Yankees players, like Mickey Mantle, and his love of sport has stayed with him throughout his life.
At Thursday's game, Mr. Lauren wears #5 in honor of his favorite player, Joe DiMaggio. Surrounded by his wife, children, sister and two brothers, Ralph was gifted a #50 jersey by Aaron Boone in honor of 50 years of timeless style.
In a New York Post article of September 17th, Mr. Lauren waxes sentimental about his formative years in the Bronx in 1940s and 50s. The now 78 year-old fashion icon, who was born Ralph Lifshitz, remembers a childhood filled with activities that were endemic to any New York City kid who grew up in that era. According to the article, Mr. Lauren (who graduated from DeWitt Clinton High School) played basketball and stickball at the neighborhood schoolyard that happened to be located next to his home on the what was then, the predominantly Jewish section of Moshulu Parkway.
Gaining a real love and passion for baseball as a young boy, Mr, Lauren became a die-hard Yankees fan; rooting for them in both the regular reason and the annual Fall classic; better known as the World Series. In the 1950s, there was hardly a year when the Bronx Bombers were not playing in it.
Mr. Lauren relates a story of child disappointment at the "House that Ruth Built." He and his friends had been sitting in the bleachers at the stadium to watch a game as they could not afford more expensive seats, says Mr. Lauren. When he approached the Yankee pitching legend Whitey Ford for an autograph, he was essentially told by Ford to go back to the bleachers. That setback however did not dim Mr. Lauren's abiding loyalty to his hometown team.
Mr. Lauren told the Post that "There's something wonderful about being at Yankee Stadium for me. I started with nothing, so being back here, it's a little different. It's thrilling."
Over the past 50 years, Mr. Lauren has celebrated the iconography of America and defined American style, translating his vision and inspiration into one of the world's most widely recognized brands. A prolific fashion designer, trailblazing entrepreneur, and dedicated philanthropist, he has made an indelible mark on the fashion industry at large—from his first menswear collection to pioneering lifestyle advertising campaigns, retail innovation, hospitality ventures, and philanthropic initiatives.
Celebrating a half century as America's premiere fashion designer who also has a formidable global footprint is no insignificant historical footnote. As such, on September 7th, it was reported that this major milestone was marked with a star studded fashion show at Central Park's Bethesda Terrace, according to the NYP article. Dominating the plethora of events at the annual New York Fashion Week, the grand soiree included such A-listers as Hollywood icon Robert DeNiro, pop star Kanye West, Anne Hathaway and legendary film director Steven Spielberg. His fashion contemporaries such as industry titans like Calvin Klein, Michael Kors and Donna Karan were all in attendance.
More than 150 models made their way down the proverbial runway including Gigi Hadad and many others.
Subsequent to the runway spectacular, Mr. Lauren was toasted by television talk show icon and possible political candidate Oprah Winfrey who said that Mr. Lauren "represents what is great about America."
Mr. Lauren expressed his appreciation for the heartwarming outpouring of love and support from  friends and colleagues on this special day.
To commemorate the event, Ralph Lauren and Major League Baseball have partnered on a licensing agreement to create a limited-edition Ralph Lauren Yankees collection. The collaboration will feature a classic baseball jacket ($398), a New Era baseball cap, ($98.50), a Wilson baseball glove, ($299) and a Rawlings commemorative baseball ($89). The collection will be available for purchase on the newly launched Polo App and in limited quantities at the Yankees Team Store behind home plate at Yankee Stadium on September 20, at the Ralph Lauren Madison Avenue and Prince Street stores in New York on September 21, and at MLBShop.com on September 25.
After Mr. Lauren's pitch, the game between the Yankees and Red Sox began at 7:05 PM ET and was televised nationally on the MLB Network and locally on YES Network in New York and NESN in Boston.