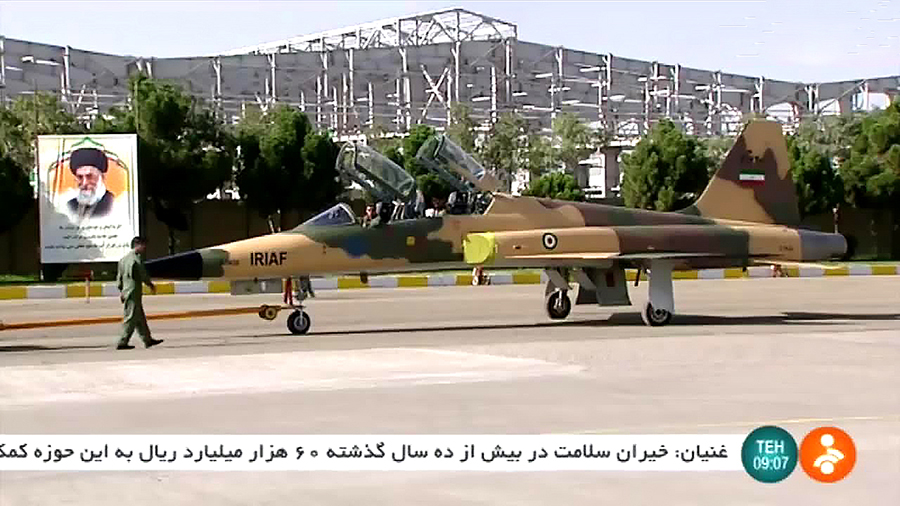 Iran has unveiled its first domestically designed and manufactured fighter jet named "Kowsar" on Tuesday, during a defense show in Tehran, according to a Press TV report.
The aircraft conducted its first public display flight during the ceremony in the presence of President Hassan Rouhani, Defense Minister Brigadier General Amir Hatami and other senior military officials of the Iranian government.
President Rouhani sat in the cockpit to order the flight.
Tasnim news agency reported that the fourth-generation Iranian fighter jet is equipped with "advanced avionics and fire control systems" and can be used for short aerial support missions.
It also uses digital military data networks, multi-purpose digital monitors, ballistic calculation computers and smart mobile mapping systems.
The jet has an advanced radar system, enabling it to detect enemy targets. It is also equipped with a head-up display or HUD, which promotes precision targeting.
The plane can be manufactured in both single- and double-cockpit types, the latter of which can be used for advanced pilot training missions in addition to its combat capability, according to Fars news agency.
The new defense achievement was unveiled on the eve of Iran's National Defense Industry Day.
Over the past years, Iran has made major breakthroughs in its defense sector and attained self-sufficiency in producing military equipment and hardware despite sanctions and economic pressures on the country.
The Islamic Republic maintains that its military power is solely for defensive purposes and does not pose any threat to other nations.
The Kowsar can be used for "short aerial support missions" and is equipped with systems that "promote precision targeting," according to state media.
In a speech during Tuesday's defense show, Rouhani called on the Iranian military to strengthen their readiness in the face of enemy threats, Press TV reported.
"When we say we are ready for defense, it means that we seek the establishment of sustainable peace," Rouhani said.
He called for "the discipline, education, faith, motivation, weapons and readiness of our Armed Forces to reach a level that no one would dare to attack us," adding, "Why does the US not attack us? Because it is aware of our power and the cost that it will entail."
Iran is currently under economic and diplomatic pressure from a raft of sanctions reimposed by the United States earlier this month, and the unveiling could be seen as a bid to show self-sufficiency and military might in the face of that pressure, according to a CNN report.
The announcement was made at the start of the Muslim holiday of Eid al-Adha, when many Iranians would be at home and more likely to be watching television.
Iran has unveiled several new fighter jets in the last few years. In 2013, the country unveiled the Qahar-313, a new fighter jet that Iran compared to the US F-22 and F-35, according to the CNN report. But many aviation experts voiced skepticism regarding the design and quality of the build of that plane.
Iran has sent weapons and soldiers to Syria during the country's seven-year civil war in support of Syrian President Bashar al-Assad.
But the country's air force comprises roughly a few dozen strike aircraft, largely Russian or American planes acquired before the 1979 revolution, according to Reuters.
The Times of Israel reported that a spokesman for Israeli Prime Minister Benjamin Netanyahu mocked Iran's revelation Tuesday of its "indigenous" new fighter jet.
Analysts quickly noted similarities between the plane and the F-5 fighter jet, made by Northrop-Grumman in the 1950s.
"The Iranian regime unveils the Kowsar plane and claims that it is 'the first 100% locally-manufactured Iranian fighter jet,'" Ofir Gendelman, Netanyahu's Arabic language spokesman, wrote on Twitter. "It boasts about its offensive capabilities. But I immediately noticed that this is a very old American war plane (it was manufactured in the '50s). It is from the F-5 class of jets which has not been in use for decades."
The Times of Israel also reported that Israeli Defense Minister Avigdor Liberman responded to the unveiling of the new fighter jet, saying it was a "natural reaction to an economical crisis."
"The Iranians are feeling very pressured by the continued US sanctions and in reaction they are coming out with these things, but we also shouldn't dismiss it," Liberman told reporters.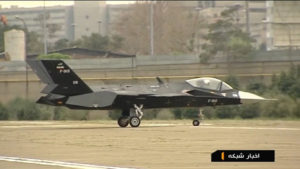 Last Saturday, the plane was publicly announced by Iranian Defense Minister Amir Hatami, who had said it would be unveiled on Wednesday.
He gave few details of the project, according to the TOI report, but focused instead on Iran's efforts to upgrade its missile defenses.
Hatami said the defense program was motivated by memories of the missile attacks Iran suffered during its eight-year war with Iraq in the 1980s, and by repeated threats from Israel and the United States that "all options are on the table" in dealing with the Islamic Republic's nuclear and ballistic missile projects and its threats to destroy Israel, as was reported by the Times of Israel.
"We have learned in the Iran-Iraq war that we cannot rely on anyone but ourselves. Our resources are limited and we are committed to establishing security at a minimum cost," he said in a televised interview.
The US has sold hundreds of billions of dollars of weapons to Iran's regional rivals, but has demanded that Tehran curb its defense programs, and is in the process of reimposing crippling sanctions in a bid to force its capitulation, according to the TOI report.
Tensions between Washington and Tehran have been on the rise since President Trump decided to withdraw the US from the 2015 Joint Comprehensive Plan of Action (JCPOA), more commonly known as the Iran nuclear deal.
President Trump had warned Iran not to threaten the US. Last month, he wrote on Twitter in an all cap message that Iran would "suffer consequences the likes of which few throughout history have ever suffered" if Tehran threatened his country.
He has also has offered to meet Iran's leadership, saying "if they want to meet, that's fine, if they don't want to meet, I couldn't care less," in an interview on Monday with Reuters.
Iran has rejected the offer and said the US could not be trusted. They said, "It's not only us who do not trust America. Today even Europe and China do not trust them, even American allies like Canada have lost their trust."
In a bid to salvage the accord, the EU and European parties to the deal — Britain, France, and Germany — presented a series of economic "guarantees" to Iran last month, but they were deemed "insufficient" by Tehran.
The sanctions that went into effect earlier in August target US dollar financial transactions, Iran's automotive sector, and the purchase of commercial planes and metals, including gold. Even stronger sanctions targeting Iran's oil sector and central bank are to be re-imposed in early November.
Two weeks ago, while in the midst of a working vacation at his Bedminster golf resort in New Jersey, Trump renewed his attack on the international nuclear pact, calling it "a horrible, one-sided deal" that "failed to achieve the fundamental objective of blocking all paths to an Iranian nuclear bomb," while giving it "a lifeline of cash" when earlier sanctions were lifted.
"Since the deal was reached, Iran's aggression has only increased," Trump said. He said Iran has used "the windfall of newly accessible funds" it received "to build nuclear-capable missiles, fund terrorism, and fuel conflict across the Middle East and beyond."
He added, "To this day, Iran threatens the United States and our allies, undermines the international financial system, and supports terrorism and militant proxies around the world."
Rouhani said Trump's calls for direct negotiations with Iran were "only for domestic consumption in America … and to create chaos in Iran."
Israeli Prime Minister Benjamin Netanyahu, like Trump a long-time opponent of the accord, congratulated him on the new sanctions. "This is an important moment for Israel, the U.S., the region, and the entire world," he said.
Israeli Defense Minister Avigdor Liberman also praised the re-imposition of US sanctions on Iran.
The defense minister wrote on his Twitter account: "Tonight, the sanctions imposed by the American administration on Iran will enter into force. In a courageous decision that will be remembered for generations, President Donald Trump has changed direction with regard to Iran. No more agreements and obsequiousness, but a determined struggle to stop the murderous ayatollahs regime, which spreads terror, violence and hatred throughout the Middle East."
By: Fern Sidman