Michael Hidary & Family to Make Aliyah; Hopes to Inspire Creation of Syrian Jewish Community in Israel
While many of us now look back on our summer vacations to Israel, we naturally reflect on the absolutely delightful memories of places visited, of socializing with family and friends and of just imbibing the special and unique aura that Israel is internationally known for. We begin making plans for our next trip and perhaps the trip after that. Let's face it. Our love affair with Israel never ceases.
At times, we might even give serious thought to making Israel our home, but there is always something that stands in our way – some litany of reasons why such a move would be impossible.
Of course, this is not the case for everyone. Enter Michael Hidary and his Sarah. Two outstanding members of Brooklyn's Syrian Jewish community and definitely two people who share an unconditional love for each other and for Israel.
It appears that Israel played a significant role in bringing Michael and his wife together many years ago. "When I was around 17 or 18 years old, I met my then future wife at a program that I was attending at Bar Ilan University in Ramat Gan. Sarah was also on the program as well, " recalled Michael. After finishing college in Boston and returning to New York, Michael and Sarah got married, but Israel was there abiding love.
"After we were married and began having kids, we wanted to visit Israel as many times as we could. We spent a lot of time there; almost as a second home. We always thought that we would live there; it was only a matter of when, " said Michael with a sense of excitement resonating in his voice.
Michael said that on August 22, his shipping container will be leaving for Israel as he Sarah and their four wonderful children, David 18, Aimee, 16, Joshua 14, and Chloe 12, will depart for their new home in the seaside city of Caesarea.
"We decided that now would be the right time to move to Israel as my oldest son just graduated high school and is going to attend the IDC program a ca computer science program in Be'er Sheva that is sponsored by the Jewish National Fund, " said Michael.
Michael, Sarah and their kids will be renting the house in Caesarea for two years to see how that goes. "It's a really nice house. It is close to the beach and it is only 25 minutes away from Tel Aviv and Haifa."
Being in fairly close physical proximity to these thriving centers of business are also an important selling point for Michael as he heads up Samba Energy; a vibrant smart technology company that offers solar panel installation to both residential and commercial facilities. "At Samba Energy, we also offer electric charging for Tesla vehicles," said Michael.
Michael is a fervent advocate of conservation and clean energy. His passion for reducing solar costs and educating people on green energy has resulted in accelerating solar adoption throughout the United States. Michael's management experience and belief in exceeding customer's expectations has helped turn Samba Energy into an industry leader in solar installations.
"Haifa is a technological hub; the Technion is there and for my business interests I am glad that we will be able to visit there on a fairly frequent basis, " said Michael.
Michael says that there are "great talents" in Israel and speaks of seeking out the latest technological advances there; ones that are proven successes so that his company can assist them in commercializing in the United States.
Michael speaks of "Binfire" – a software platform that manages various commercial projects and even manages the timetable and the budget of any given project.
Another popular technological asset is the HomiSmart program that is currently expanding on an exponential scale. HomiSmart is a high tech company that develops and manufactures smart electrical products suitable for regular electrical infrastructure. Now, anyone can control and monitor their smart home and office from anywhere in the world but just using their cell phone.
As for Michael, he plans to return to the States every month for a week to conduct business as well as returning to Deal, NJ to spend summers with family and friends. "I am hoping that others in the Syrian community will be inspired to move to Israel; just knowing that they can still conduct business in New York or elsewhere.
In terms of creating a community for New York's Syrian Jewish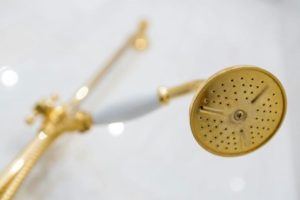 community in Israel, Michael thinks it is a very realistic plan.
"Each year I see large groups traveling to Israel for Passover and we have become acquainted with informal groups of people who can definitely see themselves spending more time in Israel or those who have children studying there, " said Michael.
Michael sees the key to success as crafting an infrastructure for Jewish communal life in Israel. He speaks of establishing a Syrian Jewish synagogue, building a mikveh and developing excellent yeshivot that remain committed to passing down the Syrian Jewish tradition.
"As Brooklyn becomes more dense in terms of population, I really hope that Syrian Jews will want to live in Israel. It would be not only historical but even miraculous," said Michael.
On that note, last week the Jewish Voice reported that 239 new immigrants from North America; including 57 lone soldiers left for their new homes in Israel via Nefesh B'Nefesh, the premiere Aliyah facilitator.
Last Tuesday's flight represented the second charter flight of the summer that brought a wide array of experienced and emerging leaders to Israel, including 57 future Israel Defense Forces (IDF) Lone Soldiers, 27 medical professionals, and 13 Jewish community professionals. This specially chartered flight was generously sponsored by Denver, Colorado local, Heidi Rothberg in coordination with Jewish National Fund USA and was facilitated in cooperation with Israel's Ministry of Aliyah & Integration, The Jewish Agency for Israel, Keren Kayemeth Le'Israel (KKL), JNF-USA and Tzofim-Garin Tzabar.
The new Olim hail from 24 U.S. states and three Canadian provinces, including 30 families, 90 children, and three sets of twins. The youngest person on the flight was two months old and the oldest person on the flight was 91 years old. The future Lone Soldiers—those volunteering to serve in the IDF without immediate family living in Israel—will join the close to 1,000 Lone Soldiers from North America, and the close to 4,000 Lone Soldiers from around the world. These young men and women, once they become Israeli citizens, enlist in the IDF as required of all Israelis at the age of 18.
By: Fern Sidman