PepsiCo Buys SodaStream for $3.2 Billion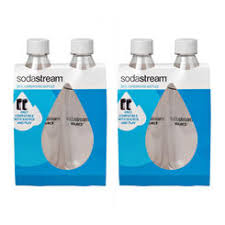 PepsiCo said to everyone in an announcement that the major company made on Monday that it will be purchasing SodaStream, a company best known for making home-carbonation machines. The price tag came in at $3.2 billion as PepsiCo tries to add some more healthful and less sugary options to its massive repertoire of beverages, according to The New York Times.
For quite some time, Indra K. Nooyi, PepsiCo's departing chief executive, wanted something like this to happen, especially as it become less fashionable to not offer healthier options. The New York Times points to premium bottled water, baked food and veggie chips as examples of how the focus had changed while Nooyi led the company, even as the moves were at times unpopular with people invested with the company. Nooyi points to the company's 81 percent growth in sales under her watch.
The New York Times also explained how the move could give Pepsico the ability to cash in on "refills of flavored syrups and carbon-dioxide gas, in what is often known as the razor-and-blades model." Similarly massive rival Coca-Cola Company tried making similar moves into healthier sectors of the market but didn't see much success, something which PepsiCo hopes will go much better for its bottom line and public image.
An example is how SodaStream, an Israel-based company, offers sparkling water meant to cater to the younger crowds who are into all sorts of healthy scenes and trends, according to Reuters.
"With sugary carbonates and juices struggling and no turnaround in sight, mitigating the losses through newer and healthier products will be essential for PepsiCo," Euromonitor International analyst Matthew Barry said.
Euromonitor said that there was a 6.2 percent compound annual growth increase in bottled water in the five years to 2017 although carbonated beverages didn't see any real increases or decreases.
Reuters reports that "PepsiCo will pay $144 per SodaStream share in cash, representing a 10.9 percent premium to Friday's closing price of SodaStream's U.S.-listed stock and a 32 percent premium to its 30-day average. The New York-based group will fund the deal with cash on hand."
SodaStream's U.S.-listed shares already saw an increase and signs that things will only continue looking up from here on out as investor money and excitement may pour in for quite some time.
PepsiCo can use SodaStream in addition to some similar products it already offers, like its bottled water line, Aquafina and other lesser known brands like Bubly and Lifewtr. The company is even getting into the pod gave with beverages like Drinkfinity, Reuters reports.
PepsiCo expects the deal to close by January 2019 in what the company says is its continued promoting of "health and wellness through environmentally friendly, cost-effective and fun-to-use beverage solutions."