NYS Legislative Agenda to Close; Sports Betting & Schools to Be Addressed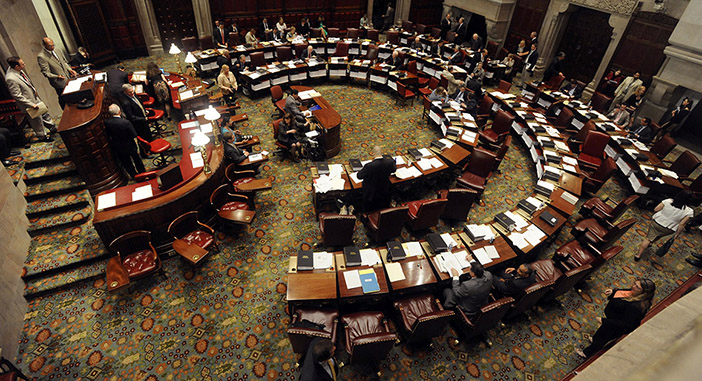 Time is running out on this year's legislative schedule in Albany. The past six months in New York's state capital have been interesting as always.
Before they adjourn on Wednesday, the New York Times reports that lawmakers can address several outstanding bills, including on such hot-button topics like school desegregation and sports betting.
The climate just may not be right though for anything to get through and become law, between the looming elections, a Senate not budging and partisanship and gain. It's likely going to be easier for these politicians to walk away rather than try making any last-minute changes to major policy.
Albany could still take up one or some of these issues, and even if it doesn't happen, these issues aren't going away, issues like standardized testing reform and sports gambling.
Mayor Bill de Blasio helped get the ball rolling on the issue of school segregation and standardized testing by recommending the elimination of a longstanding admissions exam to the city's elite specialized high schools, according to the New York Times. Like most issues in the city, they tend to be resolved upstate at the capital, which is exactly what happened when the mayor argued that the only was these issues could be resolved was by repealing a 1971 law, which would require the help of the legislature and governor. The New York Times spoke with legal experts who say that the mayor does have the legal means to make the changes himself if he wanted to do so.
Carl E. Heastie, the Democratic speaker of the Assembly who had initially called the committee vote a "first step," later said he would not take up the issue of making enrollment decisions based on academics instead of test scores.
Another issue the speaker recently brought up is expanding sports betting to allow it to happen online.
The US Supreme Court set the stage when it struck down a 1992 federal law that banned sports betting in most states last May.
"With the broad spectrum of concerns that members raised, I don't know if that can be resolved in a week," Heastie said last week about jamming through a last-minute gambling bill. The speaker also said "sometimes that can be a lifetime. But the broad spectrum of concerns members raised, I don't know if that can be resolved."
New Jersey wasted little time allowing its gambling facilities to accept sports wagers, with Monmouth Park racetrack in Oceanport and the Borgata casino in Atlantic City opening on Thursday to excited customers and profits.
In 1992, Congress passed the Professional and Amateur Sports Protection Act, which effectively banned sports betting nationwide. Provisions allowed some states to be grandfathered in, which is why Las Vegas has been able to offer sports betting. New Jersey failed to take advantage of the opportunity, and the window eventually closed.
Sports betting is expected to bring in $13 million in revenue for the state in its first full year. Gambling will be allowed on all professional and collegiate sports except for collegiate games involving New Jersey institutions and/or collegiate events happening in the state.
Assembly Racing and Wagering Committee Chairman Gary Pretlow (D-Westchester County), a sponsor of the bill, is fighting until the end. "I never give up," Pretlow said.
By: Yanny Frasseto